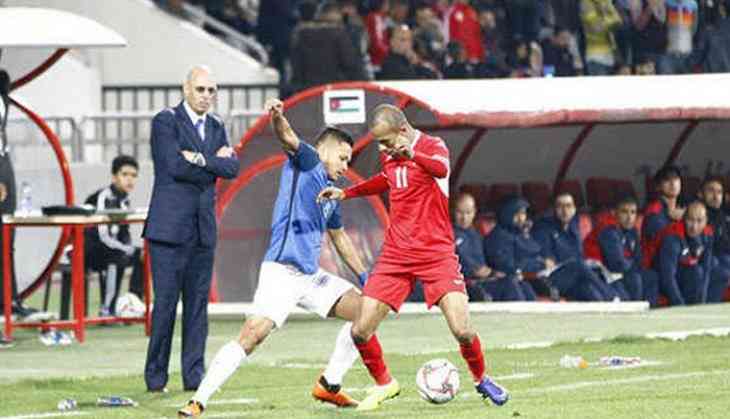 Indian national football team head coach Stephen Constantine, while talking about the team's narrow defeat at the hands of Jordan in a friendly match, stated that although India's performance was "outstanding", it was unfortunate that the team could not get the equaliser.
India had stumbled to a 1-2 loss against Jordan in a closely-fought friendly match.
Speaking on this, Constantine said: "The boys were outstanding and gave their all in the match. I could not have asked for more and I am extremely happy with the effort the bunch of players who played have put. We came here to play and gain valuable experience and I am delighted with the effort that they boys gave today while learning to cope under pressure and playing out of positions."
"I am disappointed as we lost but looking at the bright side of things, we gave a great performance in the first half given that most players played out of position and we did not play with a striker," he added.
The Indian contingent that had travelled to Jordan faced logistical nightmares, with 7 players including the likes of Jeje and Udanta Singh being stuck in Kuwait airport for more than 32 hours and arriving in the host city just a few hours before the kick-off.
Although the Indian Team did not have one practice session before their clash, Constantine did not want to let players succumb to injury with less than two months to go for the AFC Asian Cup in January 2019.
"We asked the 7 players that came in late how they were feeling and we gave them a few hours to find themselves. I did not want to risk any player that was not feeling right in his skin and we did not risk any on medical grounds. I am happy that no one got injured and that was one of my main concerns," he said.
Coach Constantine also handed out a debut to young Nishu Kumar, the 47th player to debut under the English Coach after he took charge of the reins in February 2015.
"It is always good to see young players make their International debuts. But most importantly it gives India a bigger pool of players to choose from as they gain experience. I am extremely proud of Nishu. He and every other player gave their best in the game and I am delighted to see him score, even when he was playing out of position", Constantine stated.
Enroute the AFC Asian Cup next year, the Indian National Team is slated to square off against Oman and play one other International Friendly in December, which is yet to be confirmed.
-ANI