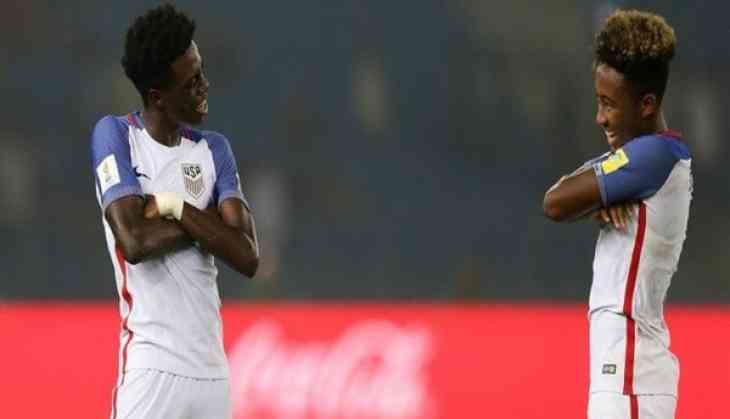 "First thing came to our mind before coming out of the tunnel that we're back home. Thank You for backing us", says USA striker Tim Weah, while lavishing praise on exuberant Delhi crowd, who were backing the team during their thumping 5-0 win over Paraguay in the last-16 clash of the FIFA U-17 World Cup at the Jwaharlal Nehru Stadium last evening.
Tim Weah, son of the legendary player Geroge Weah, who was the first African player to be bestowed with the prestigious Ballon d'Or award, scored a pristine hattrick to take the USA to the quarter-final of the 2017 FIFA U-17 World Cup.
"First thing came to our mind before coming out of the tunnel that we're back home. Thank You for backing us. India have always been friendly to us throughout the tournament, we thank you and we love you too," Tim said.
Meanwhile, Tim Weah's thunderous strike in the second half from the top of the box is the talk of the town now, which is being rated as one of the best goals scored in the tournament so far but the Paris Saint Germain-recruitee shares the credit with the entire team.
"I don't score a lot of beautiful goals so today it was really special. But, it could not have come sans the beautiful assist from Carleton and the run that Gloster made," Tim stated.
Tim Weah, who practices with the reserve team of PSG now, sounded pretty optimistic about breaking into the first squad of the French powerhouse this season."
"You know, I'm very positive about finding a place in the first squad towards the end of the season. Playing along with Mbappe, Cavani, Neymar will be a dream come true for me. I'm pretty happy practising with the reserve team now and I strongly believe that if coach Unai Emery feels, I'll be right there," confidence was oozing from Tim Weah's voice.
Having bagged three goals from four matches in the ongoing tournament, Tim revealed that he couldn't speak to his father before the match against Paraguay who is busy for the election campaign in Liberia at the moment.
"My father is busy right now, but I texted my mother and she is very happy with the result. I thank my parents and the entire coaching team for the wonderful result and we all hope that we can carry on with this", Tim mentioned.
The USA will now lock horns with the winners of the pre-quarter final clash between England and Japan in the quarter-final on 21 October.
-ANI