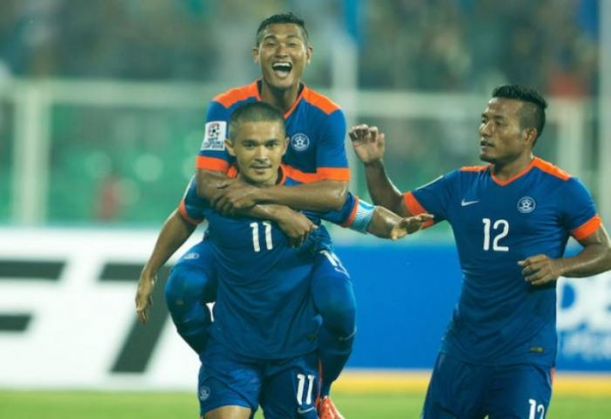 The Indian football team lifted the South Asian Football Federation Championship trophy for the seventh time on Sunday, 3 January.
Indian team captain Sunil Chhetri was given the man of the tournament prize.
With his goals in the tournament, he now has a better International goal scoring record than Wayne Rooney, Cristiano Ronaldo, and even Lionel Messi.
As India won the SAFF Championship trophy in Trivandrum for the seventh time on Sunday, 3 January, Indian skipper Sunil Chhetri became the holder of an unexpected but truly deserved record.
With 50 goals in 88 international matches played, he has a goals to matches ratio of 0.57. To put things in perspective, that is a better international goal scoring record than Wayne Rooney (0.47), Cristiano Ronaldo (0.45) and Lionel Messi (0.47).
Yes, he has scored his goals against relatively inferior opponents. Yes, he doesn't operate at the same level as the aforementioned players. But he has still done it at international level, regardless.
He has also done it with teammates who are not nearly as good as the ones that the likes of Messi, Ronaldo and Rooney play alongside. And that is what makes this achievement commendable.
In a nomadic career that has seen him play in the MLS, the Portuguese second division with Sporting Lisbon, the I-League and the ISL, one thing has always remained common - goals.
And he scores all kinds of them. Don't believe us? Well, sample a few.
From free-kicks...
To typical fox-in-the-box finishes...
There's the odd hat-trick too.
And the pure sublime...
At 31 years of age, skipper Chhetri is in the form of his life. And with just 12 more matches till he reaches the 100 international matches mark, here's to more magic from Captain Fantastic!