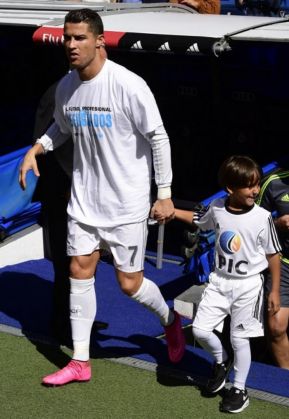 Seven-year-old Zaid Abdul Mohsen, the son of Syrian refugee Osama Abdul Mohsen, who was in the news recently after being tripped by a camerawoman while fleeing from the police in Hungary, accompanied Real Madrid star Cristiano Ronaldo onto the pitch before the club's La Liga clash against Granada on 19 September.
Real Madrid had invited Osama Abdul and his two sons to the match on Saturday, which saw the players of the club wear T-shirts in support of the thousands of refugees fleeing from the Syrian civil war.
The Santiago Bernabeu crowd was in good voice during the game, and greeted the duo of Ronaldo and Zaid Abdul with boisterous applause into the field. Real Madrid won the game by a solitary goal, which saw them move to the top of the table with 10 points from 4 games.
Earlier, Zaid Abdul Mohsen had moved to the Spanish capital with his father and sibling, after a local academy in the city offered a coaching role to Osama Abdul, in a bid to help the family rebuild their lives.
Speaking to reporters after the game, Osama said, "Seeing Real Madrid was absolutely amazing. I am happy and so is my family."
"Zaid kept saying: I have seen Ronaldo! I really love Ronaldo!" he further added.