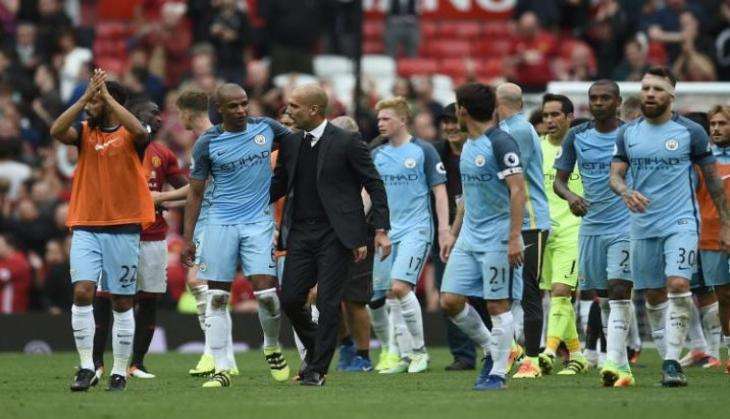 Manchester City manager Pep Guardiola has admitted that his side will have to play "almost perfectly" to avoid yet another loss against Barcelona and bring a great risk to their chances of qualifying for the Champions League knockout stages.
City lost to Barcelona 0-4 at the Camp Nou. However, Guardiola knows that another defeat against his former club could prove very costly, especially given the standings in the Group C and the possibility of Borussia Monchengladbach moving to the second spot provided they defeat Celtic.
However, if the result doesn't go in their favour, City would travel to Germany to face Monchengladbach on 23 November knowing that a defeat would put them out of the competition.
"I've never thought 'We cannot win a football match' and I will never start to think that way," Guardiola was quoted as saying by the Guardian.
"I have never entered a match thinking we can't win but we know we have to play almost perfectly to win. If not, we congratulate them and set our minds on the game against Celtic [on 6 December] and in Monchengladbach in a few weeks," he added.
Barcelona's visit, according to City manager, now represents "a final" and, therefore, he has told his players they cannot go into the match with an inferiority complex.
The 45-year-old Spaniard has insisted that they have to win two games from three, or at least get a draw and a win.
"We play the best tomorrow and we're going to try to win. I think we know what we have to do to beat them and hopefully our quality up front will make a difference. We have to play like a final," he said.
"It's not a final for them, it is for us. It's just three games left and we dropped two points in Glasgow [the 3-3 draw against Celtic], so we have to recover those points in the next two games," he added.
City have lost their previous five encounters against Barcelona and in four of those they have finished up with 10 men because of a sending-off.
"When you lose that way the only thing you can do is learn," Guardiola said. "You have to learn. It's always difficult against Barcelona, 11 versus 11, but when it's 10 versus 11 it's almost impossible," Guardiola said.
City are currently placed second in Group C of the Champions League while they stand at the top of the table in the Premier League.
(ANI)