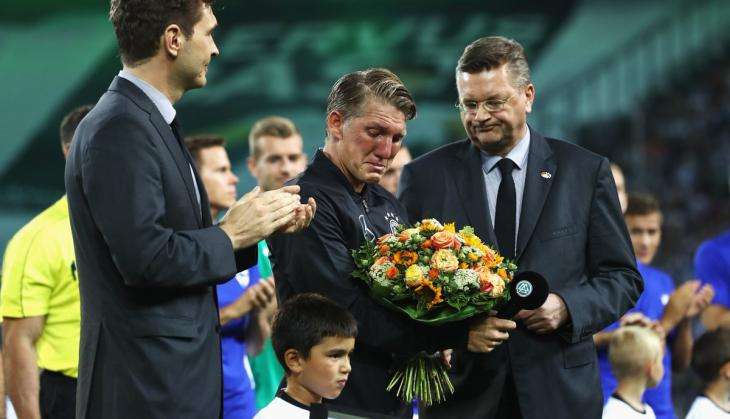 Bastian Schweinsteiger bid adieu to his international career as the captain of Germany after his team's 2-0 friendly match win over Finland at home in Moenchengladbach on 31 August.
Schalke's Max Meyer and Arsenal's Mesut Ozil scored Germany's second-half goals.
Schweinsteiger let his tears flow as the final whistle blew in his 121st and final appearance for Germany.
"I think you all saw how it effected me. I had just wanted to enjoy every moment, but I hadn't expected it to be so lovely," Bastian told reporters.
The 32-year-old announced his retirement at the start of August but Germany boss Joachim Loew gave the legend one last chance to captain his team.
German FA (DFB) president Reinhard Grindel, in the pre-match presentation, praised Schweinsteiger for his service to his nation. Unable to hold back his tears, Bastian said: "I didn't think that would happen. Thank you for coming, it means a lot to me. It was a huge honour for me to play for Germany and I just want to say 'thank you' for everything."
The game was stalled for a few minutes when a fan invaded the pitch, took a selfie with the star and jogged off the field.
Schweinsteiger was replaced by Julian Weigl in the 66 minute. He hugged his boss Loew and each member of Germany's bench, including Manuel Neuer, who is tipped to replace him as captain with Loew set to announce his new skipper on Thursday.