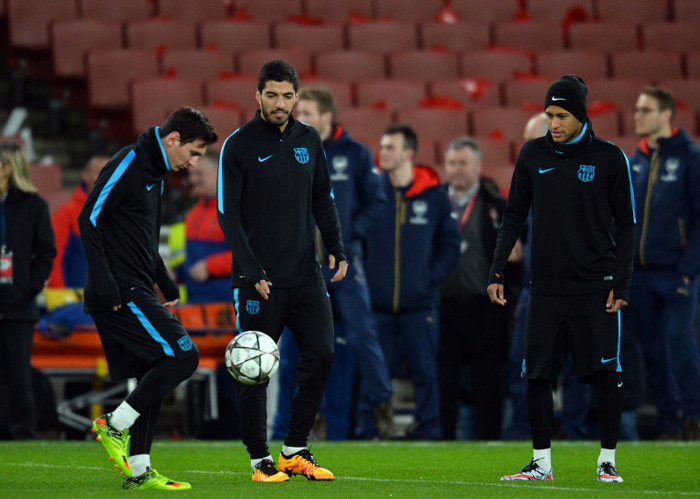 Lionel Messi, Luis Suarez and Neymar have scored a combined 58 times this season.
Barcelona\'s meeting with Arsenal in the Champions League round of 16 will be played at the Emirates Stadium on 24 February at 1:15AM (IST).
Arsenal midfielder Francis Coquelin in contention to make a return to Arsenal midfield after a lengthy injury lay-off.
A confident Barcelona will take on Arsenal in the Champions League round of 16 first-leg tie at the Emirates later tonight, as their 'chosen ones' - Messi, Suarez and Neymar look to add to their tally of 58 goals this season.
Arguably the most dangerous forward line in world football, the 'MSN' trio is not hard to manage as current Barcelona coach and former midfielder Luis Enrique mentioned in his press conference in the build-up to the crucial tie.
When asked what he does to keep the trio motivated to perform better, Enrique said:
"I tell them 'abracadabra' and the magic sparks, that's all I do. To be honest, I always work really hard but it's quite easy with them because in some situations in a game you don't have to wish what they do because they already do it."
However, Enrique stressed the importance of the trio in not only scoring goals, but also in contributing defensively by winning the ball back at crucial stages of matches. He said:
"They are the 'Chosen Ones' because they are fantastic and always eager to win. We also depend on the pressure they put on up front to get the ball off the opposition."
Barcelona are looking to retain the European Cup after their win last season - no mean feat considering that no team has been able to retain the cup in the history of the championship, with the exception of AC Milan, a whopping 26 years ago.