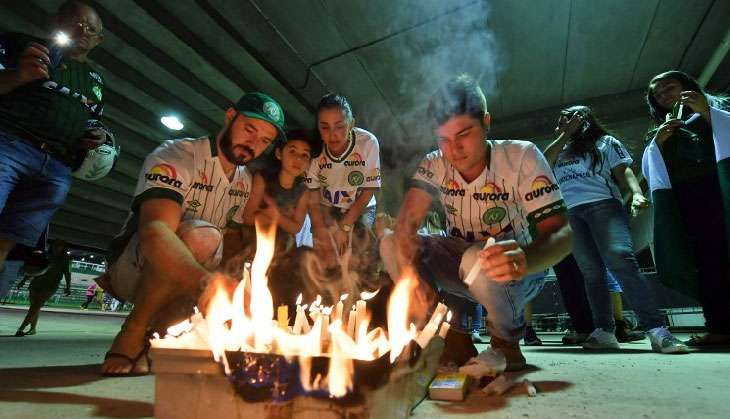 The footballing world was dealt a tragic blow on 29 November, when at least 71 people were killed in a deadly crash involving a British Aerospace 146 short-haul plane. Among the passengers on the fateful flight was the 22-member squad of the Chapecoense team, who were on their way to Colombia to play the first of the two-game Copa Sudamericana final against Atletico Nacional of Medellin on 1 December.
Only three of the 22-member squad - Alan Ruschel, Jakson Follman and Zampier Neto - survived the crash. While goalkeeper Marcos Danilo Padilha was rushed to the hospital after being pulled out from the wreckage, he later succumbed to his injuries.
Of the other passengers, only two of the flight's crew members - Ximena Suárez and Erwin Tumiri - survived the crash, while all 21 of the journalists who were accompanying the Chapecoense team to the finals. - with the exception of scribe Rafael Valmorbida - died on the spot.
Plínio David de Nês Filho, the president of Chapecoense board told reporters: "There were lifelong friends on this flight ... and we think it will have been very hard for them to have survived this accident. This wasn't just a group of people who respected each other professionally. It was a family, a group of friends".
"Everybody laughed so much, even in defeat... There was a great atmosphere, great joy. Yesterday morning, when I said goodbye to them, they said that they were going off to make our dreams come true. We shared this dream with all our emotion. And in the early hours of this morning, that dream came to an end," he was quoted as saying.
People pay tribute to the players of Brazilian team Chapecoense Real AFP PHOTO / Nelson ALMEIDA
People surround a church during a mass AFP PHOTO / Nelson Almeida
People pay tribute to the players of Brazilian team Chapecoense Real AFP PHOTO / Nelson ALMEIDA
As news of the crash broke, many were quick to draw parallels to the 1985 Munich air disaster, as well as other air tragedies involving footballers.
While tributes poured in from fans and supporters around the world, the footballing fraternity stood united in their sorrow.
"Real Madrid CF expresses its sorrow at the tragic air crash involving the Brazilian club Chapecoense and extends its condolences to relatives and friends of the victims. At the same time, wishing an early recovery for the survivors," the club said in a message on its official statement. The Real Madrid team observed a few minutes of silence to mark the tragedy on 29 November.
Real Madrid and Barcelona observe minute's silence for Chapecoense after plane crash... as Wayne Rooney tributes respects to the footballer pic.twitter.com/I3VVgO4c7h

— The Real Madridista (@Real_Madridstar) November 30, 2016
Football clubs released official statements expressing their condolences over the incident, while players took to their social media accounts to pay tribute.
Here's a roundup of social media tributes from the footballing fraternity:
Let us pray for all the families and souls of these true heroes. #ForçaChapecoense #RIP Brazil is crying now 🙏 #ForcaChapeco pic.twitter.com/Qdb7mtkTFV

— Leandro Barbosa (@TheBlurBarbosa) November 29, 2016
Fuerza a los jugadores de Chapecoense, sus familias y sus seguidores. El Fútbol está de luto. pic.twitter.com/0tA0pmRYTf

— Andres Felipe Arcos (@AndresFelipe) November 29, 2016
Brazilian football is in mourning. It is such a tragic loss. My sincere condolences to the families of the deceased. Rest in peace. pic.twitter.com/jfoTMUBWtN

— Pelé (@Pele) November 29, 2016
Minhas orações a tragédia de hoje, peço a Deus que conforte os familiares, amigos e envolvidos. Meu mais profundo sentimento. pic.twitter.com/RWGF2F9CzJ

— Kaka (@KAKA) November 29, 2016
November 29, 2016
Nossos pensamentos estão com o @ChapecoenseReal, todos os afetados pela tragédia e suas famílias. Não temos palavras. Muita força. pic.twitter.com/IcheVVNYEl

— Sergio Ramos (@SergioRamos) November 29, 2016
Centenas de torcedores cercam estádio da Chapecoense e rezam. Siga a cobertura minuto a minuto em https://t.co/GPBOIwqgHN #forçachape pic.twitter.com/Ee2yWyTZmA

— Folha de S.Paulo (@folha) November 29, 2016
FC Barcelona stands in solidarity with the victims of the plane crash in Colombia: https://t.co/OXdjwWTGza pic.twitter.com/36lgCoriGa

— FC Barcelona (@FCBarcelona) November 30, 2016
Minuto de silencio por las víctimas del accidente aéreo en Colombia.https://t.co/falHrCJv4k#RealMadrid #RMCity pic.twitter.com/waqMW5TCQW

— Real Madrid C. F. (@realmadrid) November 29, 2016
The thoughts of everyone at Manchester United are with @ChapecoenseReal & all those affected by the tragedy in Colombia.#ForçaChapecoense pic.twitter.com/EUjAnJQkaB

— Manchester United (@ManUtd) November 29, 2016
Absolutely horrendous to hear about the crash carrying @ChapecoenseReal My thoughts are with all the families of the passengers and crew!

— Gareth Bale (@GarethBale11) November 29, 2016
The entire world is with Chapecoense 💔😢 pic.twitter.com/2Pb9sBs4Jd

— Football Funnys (@FootballFunnys) November 30, 2016
Desolación total en el vestuario de Chapecoense. Los jugadores que no hicieron el viaje, devastados. Qué jornada tan jodida. pic.twitter.com/acgTMar1oC

— Invictos (@InvictosSomos) November 29, 2016
Wow. What a moving cartoon from the #Chapecoense FB page. Players arriving at their final destination...and getting their winners medals. 😢 pic.twitter.com/FdgtesKhOI

— Jake Humphrey (@mrjakehumphrey) November 30, 2016
Sad news to wake up to today. Thoughts are with @ChapecoenseReal and their family and friends.

— Wayne Rooney (@WayneRooney) November 29, 2016
Deeply affected by Medellin's plane crash. I shared locker with Cleber Santana and it's difficult to reveal how I feel. A huge hug. pic.twitter.com/TdeNzssZFN

— David De Gea (@D_DeGea) November 29, 2016
Mis condolencias por el accidente de avión en el que viajaba el @ChapecoenseReal. Momento duro para el fútbol! Mucho ánimo y fuerza! pic.twitter.com/8mVTZaETu3

— Iker Casillas (@IkerCasillas) November 29, 2016
Our thoughts are with everyone at @ChapecoenseReal and all those affected by the tragedy in Colombia.#ForçaChapecoense pic.twitter.com/I5CCI5MvvN

— Liverpool FC (@LFC) November 29, 2016
Consternado por la tragedia vivida por el @ChapecoenseReal . Todo mi apoyo en estos momentos tan difíciles #Chapecoense pic.twitter.com/CKXdMwllF6

— Fernando Torres (@Torres) November 29, 2016
Nuestras condolencias a los familiares de los fallecidos en el accidente de avión del @ChapecoenseReal. Descansen en paz.

— Atlético de Madrid (@Atleti) November 29, 2016
UEFA is shocked & saddened by the tragic events in Colombia.
Our deepest sympathy to the families.#ForçaChapecoense pic.twitter.com/zRK9eNAV8W

— UEFA (@UEFA) November 29, 2016
Que essa seja a última imagem dos nosso guerreiros.#ForçaChape pic.twitter.com/Q1ZxF5h4sV

— Chapecoense (@ChapecoenseReal) November 29, 2016
Familiares e funcionários da Chapecoense se reúnem à espera de notícias na Arena Condá #gechape pic.twitter.com/s6LYAi353F

— Cahê Mota (@cahemota) November 29, 2016