Joy Tirkey
| Updated on: 10 February 2017, 1:39 IST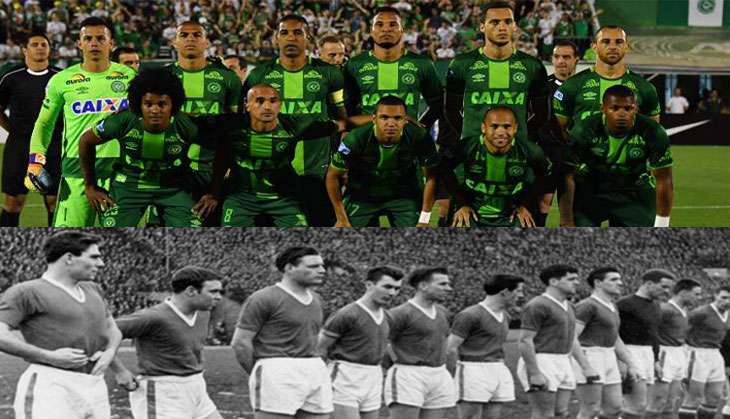 On 29 November, the world woke up to the news of the horrific plane crash in Columbia, which claimed the lives of at least 76 people.
The aircraft - a British Aerospace 146 short-haul plane operated by a Bolivian charter airline named Lamia - crashed due to a technical failure with 72 passengers and nine crew members on board.
On board were the 22-member squad of the Chapecoense team, who were on their way to Columbia where they were scheduled to play the the of a two-game Copa Sudamericana final against Atletico Nacional of Medellin on 1 December. Around 21 football journalists were also on board the flight.
Here are a few social media posts of the team just moments before the tragedy:
Fuerza a los jugadores de Chapecoense, sus familias y sus seguidores. El Fútbol está de luto. pic.twitter.com/0tA0pmRYTf

— Andres Felipe Arcos (@AndresFelipe) November 29, 2016
Alan Ruschel, Jakson Follman and Zampier Neto were rushed to the hospital after the crash. The tragedy has cut short the Chapecoense team's bid to win the Copa Sudamericana cup. The team beat all odds to make it to the finals of the prestigious South American tournament.
Familiares e funcionários da Chapecoense se reúnem à espera de notícias na Arena Condá #gechape pic.twitter.com/s6LYAi353F

— Cahê Mota (@cahemota) November 29, 2016
1958 Munich air disaster
Tributes and condolences poured in on social media, with many drawing parallels between the fate of the Chapecoense football team and the 1958 Munich air disaster.
On 6 February 1958, 43 people were killed when a British European Airways flight crashed while attempting to take off at the Munich-Reim airport. On board the fateful flight were eight Manchester United players and three club officers.
The team - nicknamed the Busby Babes - were on their way to England from Belgrade, Yugoslavia when their plane stopped in Germany to refuel. The first two attempts to take off from Munich airport were aborted. The plane crashed during the third attempt.
The similarities between the 29 November 2016 crash and the 6 February 1958 crash are eerie, to say the least. Eight journalists breathed their last in the Munich tragedy, while the Colombia plane crash has claimed the lives of 21 football journalists. Both days will be remembered forever as dark days in football history.
Desolación total en el vestuario de Chapecoense. Los jugadores que no hicieron el viaje, devastados. Qué jornada tan jodida. pic.twitter.com/acgTMar1oC

— Invictos (@InvictosSomos) November 29, 2016
Nuestras condolencias a los familiares de los fallecidos en el accidente de avión del @ChapecoenseReal. Descansen en paz.

— Atlético de Madrid (@Atleti) November 29, 2016
Mis condolencias por el accidente de avión en el que viajaba el @ChapecoenseReal. Momento duro para el fútbol! Mucho ánimo y fuerza! pic.twitter.com/8mVTZaETu3

— Iker Casillas (@IkerCasillas) November 29, 2016
Todo nuestro apoyo y solidaridad con las víctimas y los familiares afectados por la tragedia del @ChapecoenseReal en Colombia

— FC Barcelona (@FCBarcelona_es) November 29, 2016
Plane crash at #Colombia consisting of #Brazil football club team 😰...Reminds us of the #Munich air disaster in 1958 with #ManchesterUnited https://t.co/00URDO9dqd

— ARUP B (@arupneo) November 29, 2016
Following news about #Chapecoense and can't help but think of the tragedy of the Munich air disaster. Hoping to hear good news from Colombia

— Nipun 🗣⚽️🔬⚗️ (@NipunChopra7) November 29, 2016
The Munich Air disaster has repeated itself in Colombia. May their souls rest in peace.

— Muhammad Gambo (@Maybachfox) November 29, 2016
Heart goes out to the whole #Chapecoense team ... The Munich disaster all over again ... #Praying

— Irish (@irishjockey4) November 29, 2016
Chapecoense plane crash bringing back horrible memories of the Munich disaster

— Charming (@evaMUFC) November 29, 2016
Last time this happened was a century ago (Munich disaster)

— ㅤ (@RyanYeeh) November 29, 2016
History repeated.
Munich Air Disaster all over again. #LMI2933

— suhey yusuf (@SuheyYusuf) November 29, 2016
History repeated.
Munich Air Disaster all over again. Never thought I'd see something like this in my lifetime. Terrible. 😔#LMI2933

— Steven Burgos (@Burgenheim) November 29, 2016
Air disasters similar to Chapecoense team tragedy
Here's a quick look at other air disasters which claimed the lives of footballers:
1) Zambia national football team air disaster (27 April 1993)
Eighteen players and five team officials of the Zambia national football team died after their plane plunged into the Atlantic ocean while travelling to Senegal for a World Cup qualifier.
2) Dniprodzerzhynsk, Ukraine (11 August 1979)
A mid-air collision between two passenger jets claimed the lives of 178 people, including 17 players and staff of the then Soviet top division Pakhtakor Football Club team.
3) Superga tragedy (4 May 1949)
Over 20 players from Torino, an Italian football club, were killed after their plane crashed. Journalists and club staff also perished in the tragedy.