The desert states of India are flooding. What's really going on?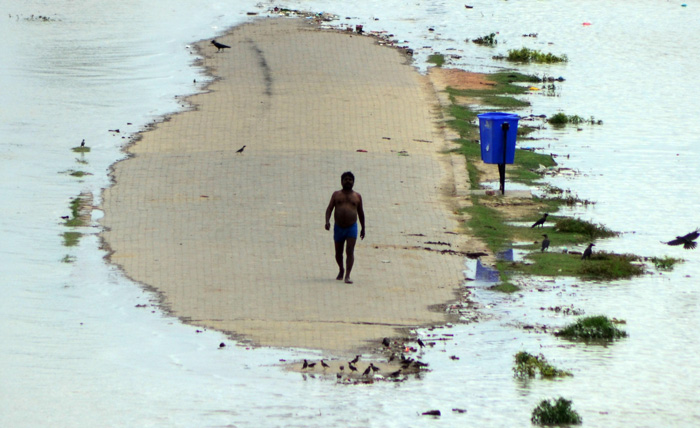 The flood
The Met department says the country received 21% higher than normal rainfall between 23-29 July
Eastern India is suffering under the heavy rainfall brought on by cyclone Komen
This has caused floods not just in the regular places like Mumbai, Assam, Uttarakhand, J&K
Even desert regions like Jaisalmer, Rajasthan, and Kutch, Gujarat, are flooded
The cause
Climate change has made erratic bursts of rainfall a reality
Poor planning and management of dams and canals adds to the problems
Canals saturate the small drainage capacity of arid areas, giving rise to floods when it rains
This monsoon has already brought floods in all the familiar places: Mumbai, Assam, Uttarakhand, Jammu and Kashmir and Odisha.
The latter and the neighbouring West Bengal have been dealing with the fallout of the heavy rainfall brought on by the approach of cyclone Komen.
But it isn't just the usual suspects who find themselves at the mercy of the weather - increasingly erratic each year - this season.
Also read: India is, literally, drowning - in pictures
Flood in the desert
We are now seeing reports of heavy rain and "flood-like situations" in Gujarat and Rajasthan, affecting even notoriously dry areas such as the Rann of Kutch and Jaisalmer.
Jaisalmer was so badly hit, a two-day holiday was declared across the district. By 30 July, Kutch had received 119% of its average annual rainfall - that's more than a year's worth in three days.
These are dry, desert landscapes. Elaborate canal systems have been constructed in Gujarat and Rajasthan to bring water to them. The idea that they could flood is, on first consideration, mystifying.
But there are multiple possible factors behind these "flood-like situations". The first and most concrete of these is: extraordinary rainfall.
According to a press release issued by the Meteorological Department on 30 July, the week between 23 and 29 July saw 21% higher rainfall than is normal for the country as a whole.
Gujarat, Rajasthan and Western Madhya Pradesh saw between 20 and 80% higher rainfall than normal.
But the "flood-like situations" seen in these regions are only partly explained by heavy rain.
As elsewhere, the way we manage rainfall, develop riverbeds, and interfere with the water's natural drainage patterns, reduces the capacity of our landscapes to manage heavy rainfall and exacerbates its effects.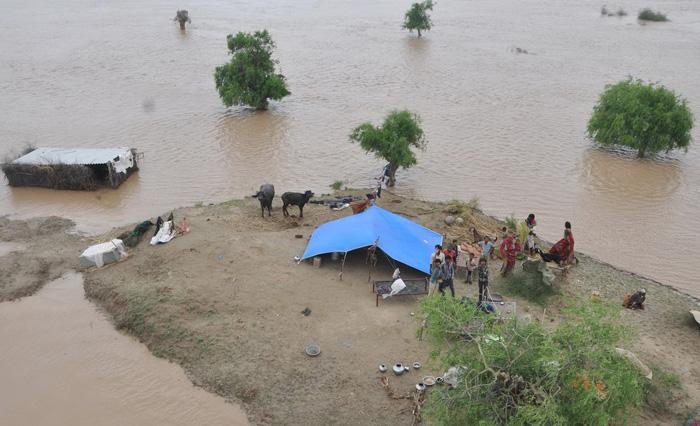 Primary factor: climate change
It is well established that climate change brings with it a new reality of extreme weather conditions and events.
According to the Intergovernmental Panel on Climate Change (IPCC), many areas are "very likely" to see "more intense precipitation events".
This does not necessarily mean more rainfall on the whole. It means that rain is increasingly likely to arrive in concentrated bouts, rather than staggered over a long season, or, indeed, over the year.
Anecdotal evidence, too, would seem to bear this out. "Rainfall events have become more erratic, more unpredictable," says Parineeta Dandekar of the South Asia Network for Dams Rivers and People (SANDRP). "This is a classic climate change pattern - extremely high rainfall in a short number of days."
By 30 July, Kutch had received 119% of its average annual rainfall - more than a year's worth - in three days
Intense, erratic rainfall is now a fact with which we have to live, to which we must adapt. "But is our infrastructure responding to the challenges posed by climate change?" asks Dandekar. "The answer is a big no."
Dams spilling over
A striking feature of news reports on the flooding in multiple districts of Gujarat through the week was the consistent mention of overfull dams.
Due to the sharp increase in water inflow from rain-swollen rivers, several big dams were on the verge of spilling over.
In this situation, there are really only two options: release water, or allow it to spill.
The enormous and controversial Sardar Sarovar dam on the Narmada River reportedly began overflowing on the morning of 30 July. Alerts were issued to areas downstream of the dam on the banks of the river.
But a deliberate release of water is often no better than an inadvertent one. In 2006, the sudden release of water from the Ukai reservoir on the Tapi river in Surat led to disastrous floods.
Dandekar says it's down to poor dam management. "We have a rule curve that shows you how water release has to be done when a reservoir starts filling up. We have not worked on these rule curves as the situation has been changing."
The situation she is referring to is both the increased incidence of extreme rainfall events and dam-specific factors such as silt-accumulation in each reservoir.
"Most big dams are built at the highest volume points in a catchment area," Dandekar explains. Plus, water is "hoarded" in dams in anticipation of low levels year-round, and poor monsoons. So when sudden rainfall does occur, they often have little room to accommodate it.
"Dams are dangerous tools," says Dandekar, "they must be used carefully. And our history of dam management has been very problematic."
Better management needed
Coupled with extreme rainfall events, poorly managed dams are an even more dangerous proposition. So managing our dams well is more important now than ever.
"Infrastructure, dam operators and decision-makers all need to be responsive to climate change," says Dandekar. "We have trusted methodologies and models to manage heavy rainfall in dams and dammed catchments. We need to follow them, update them, implement them."
Apart from possible flash floods downstream, dams cause problems for upstream communities too.
This is why communities have rallied behind the Narmada Bachao Andolan for decades, to resist each successive attempt by the Gujarat government to raise the height of the Sardar Sarovar dam.
Every increase in the dam's height has meant a corresponding increase in the river's backwater levels - and an increase in the area and people affected by the river's seasonal expansion during the monsoon.
In 2012, for instance, "there was a sudden inflow of water and the dam was full," says Shripad Dharmadhikary, coordinator of Manthan, an organisation that does analytical and advocacy work around water and rivers.
Because the excess water was not adequately "evacuated" from the dam, backwater levels rose and many villages upstream were badly hit.
This may have, in part, to do with poor cooperation between the two states involved: the dam is in Gujarat, while many affected by rising backwater levels are in Madhya Pradesh.
The lack of coordination between dams even in a single catchment is bad, says Dandekar. "The coordination between states [that share a single river basin] is really dismal."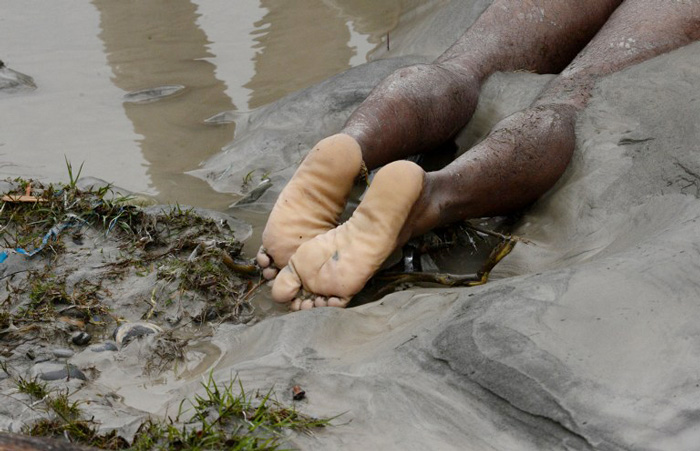 Power struggles
Part of the reason why Madhya Pradesh and Gujarat can't coordinate on Sardar Sarovar has to do with their different expectations from the project.
Madhya Pradesh, Dharmadhikary points out, is entitled to 57% of the power generated by the SSP. Most of the power comes from the riverbed powerhouse, which has a capacity of 1200 MW, as against the canal head powerhouse, with 250 MW.
It isn't hard to understand why Madhya Pradesh would much rather water be released onto the riverbed. "Gujarat wants the water to go into the canal for other purposes," Dharmadhikary says.
The Narmada canal, or "the main canal of the Narmada project", traverses more than 400 kilometres, from Kewaria in Gujarat, all the way to the state's border with Rajasthan.
One of its functions is to divert water from the Narmada toward irrigation in Gujarat. But it also takes water to the Sabarmati through the year, in order to keep its water levels respectable enough for its famed riverfront.
This week, the Sabarmati's levels rose to such an extent that parts of the riverfront in Ahmedabad were submerged. Dandekar is not surprised: "The riverfront itself is pinching the river. So it would flood. Riverfronts are invitations to floods."
The excess of water in the river also contributed to the inundation of low-lying parts of the city.
The Sabarmati's water levels reportedly rose "dramatically" after 2.5 cusecs of water were released into the river from the Dharoi dam in Gujarat's Mehsana district. That's a lot, considering the river normally handles about 1.8 cusec.
This, as water expert and SANDRP convener Himanshu Thakkar puts it, is what happens when you introduce extra water to an area, without regard for drainage systems.
Blocked drainage
That's how Thakkar accounts for the flooding in extremely dry areas like Jaisalmer. "These areas are known for a geological feature known as a 'hardpan'," he explains, "which does not allow water to percolate below it."
In other words, the landscape simply isn't built to absorb or drain away a high volume of water.
The introduction of water through irrigation canals, says Thakkar, "has already saturated the area." An excess of rain was probably one straw too many.
Plus, the canals themselves interfere with natural drainage patterns. In the case of Rajasthan, this interference comes in the form of the mammoth Indira Gandhi canal system.
But Dharmadhikary cites the same problem in Gujarat. The Narmada canal, he explains, is a "contour canal". This means it is built along a topographical contour, whereas water flows perpendicular to contours, from higher contours to lower ones.
Jaisalmer is suffering because the landscape simply isn't built to absorb or drain away a high volume of water
"When canals are built, partly they are dug into the ground, and partly there are embankments on their sides, especially for the bigger canals. This actually acts as an artificial dam, miles long. The movement of water, running perpendicular to the canal is stopped."
That's just one canal. As a whole, "canal networks have completely cut through all the natural drainage systems" in the state. In effect, this means that, by attempting to control where water goes, we've cut off all its natural routes to drain away into the sea.
Other interferences
There are other interferences besides canals, too, and they're not unique to Gujarat and Rajasthan. As in the Kashmir valley, in Uttarakhand, and in Mumbai, deforestation, building up of catchment areas and constricting encroachments on river beds all contribute to the build up of silt, a decrease in a river bed's water carrying capacity, and the likelihood of water-logging.
This, combined with the web of canals and roads through which water must weave to find its way, spell trouble for these states' long-term abilities to cope with what will only be more and more frequent occurrences of extreme rainfall.