Sorry state of Indian wildlife - these numbers will tell you why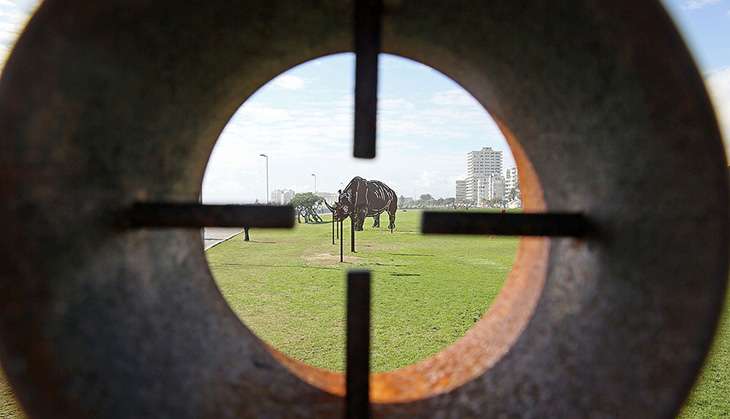 Profit. The word is integral to this neo- liberal world that we live in. To maximise profit, we are racing to perdition. And we are doing it by cutting down forests and indiscriminately killing animals.
World Environment Day (WED), marked on 5 June, is also observed as 'people's day'. A day when you ideally do something to take care of Mother Earth. But as our fate is, it might have well been another day of ruining environment.
Ironically, WED 2016 was themed - 'Go Wild for Life' and focused on illegal trade in wildlife.
Here are a few numbers which show the plight of wildlife in India:
Number of rhinoceros poached in Kaziranga Tiger Reserve, Assam from 2012 to April 2015.
During the same period, about 39 poachers were killed and 154 were arrested.
"Rhino horn is a highly valued component of traditional Chines medicine, practiced in China, Vietnam and other parts of East Asia. Hundreds of rhinos are killed illegally for their horns every year," says Humane Society International.
The price of one kilogramme of rhinoceros horns in Vietnam.
In Vietnam, the price of rhinoceros is worth more than the price of gold.
Number of tigers in India as of 2014.
According to government data, India has 70% of tiger population among the 13 tiger-range countries across the globe.
Significantly, 2.06% of India's geographical area host about 47 tiger reserves in 18 states.
The percentage of tiger deaths that occurred in 2014 due to poaching in India.
From 2005 to March 2016, a total of 347 tiger poaching cases were registered in India, according to Wildlife Protection Society of India estimates.
According to the website poachingfacts.com tiger bones are ' highly sought after for use in medicines and health tonics and in the past few years tiger bone wine has become a curiosity, despite being illegal.
In traditional Chinese medicine a tiger's penis is believed to be a natural enhancer of male virility and in 2006 a dish was sold for $5,700 in Beijing (about $6,800 in 2015).
Number of steps taken by the government to stop the menace of poaching.
These are:
Wildlife Crime Control Bureau to assist states in collection intelligence against organised crime against wildlife.
Special Tiger Protection Force with 100% central funding
Strict provisions for legal actions
Deployment of front-line staff who are well equipped with commutation and weaponry.
The most important question- Why is illegal wildlife trade a problem?
The answer is simple - it destroys balance of nature, which impacts of human livelihoods. The solution is nowhere in sight as the magnitude increases daily.
And yes, illegal trade of wildlife in India does not only mean tigers or rhinoceros. It has a host of other endangered animals including blackbucks, star tortoise, other marine animals and much more.
Edited by Jhinuk Sen