Rhinos to get new homes in India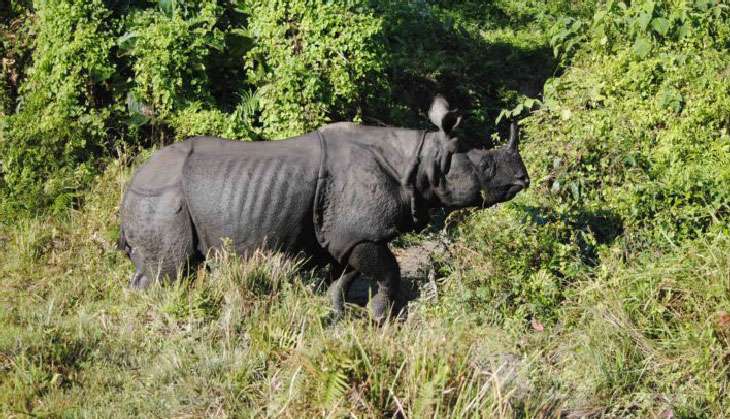 All of the 250 rhinos in West Bengal are concentrated in just two locations -- Jaldapara and Gorumara National Parks.

Forest officials say rhino numbers in these parks exceed carrying capacity and some rhinos need to be shifted to new areas.

The state plans to establish new populations in Buxa Tiger Reserve and Patlakhawa in Cooch Behar.

Plans area also underway to create new rhino areas in Uttar Pradesh.
The greater one-horned rhinoceros (Rhinoceros unicornis) in India is set to get two new homes in the state of West Bengal.
All of the 250 rhinos in West Bengal occur in just two parks -- Jaldapara and Gorumara National Parks -- in northern part of the state. Jaldapara is home to nearly 200 of these threatened animals, and has the second-highest population of rhinos in India. Gorumara, located about 60 miles away from Jaldapara, hosts some 50 rhinos.
Forest officials claim that rhino numbers in the two parks have increased beyond the parks' capacity, and some individuals need to be shifted to newer areas to ease the pressure.
In October, West Bengal Forest Minister Binay Krishna Barman announced that the state forest department has identified two new areas for the "excess" rhinos in northern West Bengal: Buxa Tiger Reserve and a small reserve in Patlakhawa in Cooch Behar.
"We have more than 255 rhinos in Jaldapara and Gorumara," forest minister Barman told the Times of India. "The number is more than the carrying capacity of both parks. Hence, we are planning to relocate a few rhinos."
Once widespread, the greater one-horned rhinoceros has disappeared from much of its range, largely due to poaching for its horns and destruction of its habitat. About 3,500 greater one-horned rhinos are estimated to remain in India and Nepal today, with India hosting around 2,500 of these animals. But the rhino populations are concentrated in just a few protected areas.
In India, rhinos are currently found in three states: Assam, West Bengal and Uttar Pradesh. Their numbers seem to be growing, but their distribution remains highly restricted, conservationists say. More than 90 percent of the rhinos occur in a single park -- Kaziranga National Park in Assam -- making this population especially vulnerable to catastrophes such as floods or disease outbreaks.
"It's like keeping all your eggs in one basket," Amit Sharma, WWF India's senior coordinator for rhino conservation, told Mongabay. "If something happens to your population, it's gone. Moreover, if you have a small and closed population, its genetic quality is likely to go down. So it is best if you spread out your rhino population, give them enough space or connectivity, so they can also have a healthy gene pool."