Odd-Even no solution: Pollution actually increased from last year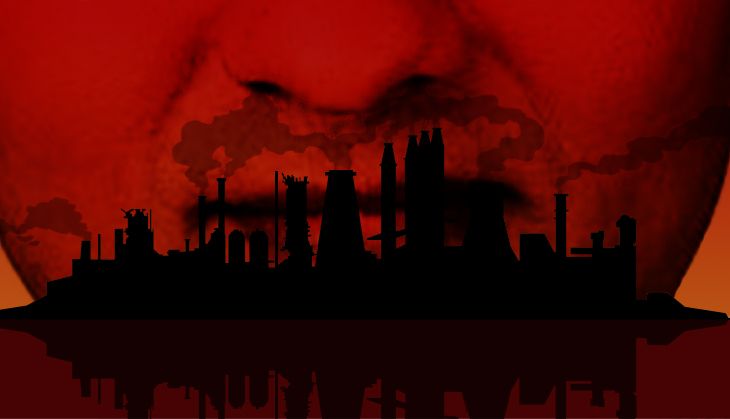 The latest phase of the odd-even scheme only reinforces the fact that cars aren't the biggest culprits behind Delhi's air pollution. Air quality in the national capital was a mixed bag between 15 and 30 April. But all in all, average levels of PM2.5 - the main pollutant - did not fall. They were actually higher in some areas in comparison to April 2015.
Odd-even is a great way to make car owners use public transport, and ease congestion. But for our policymakers, the lesson from the odd-even is very clear: it isn't a solution to air pollution unless they begin restricting other sources of pollution like dust, industries, waste burning - a lot of which happens outside Delhi's borders.
Also read - What PM2.5 really means. And what it's doing to you and your kids
No effect on air quality
Odd-Even phase 2 was from 15-30 April. Levels of particulate matter of various sizes - Delhi's main pollutants - did not fall because of odd-even.
Air quality data from the central government's System of Air Quality and Weather Forecasting and Research (SAFAR) shows that the pollution trends didn't really change after 15 April.
The chart shows that:
Average daily PM2.5 levels remained above the maximum allowable limit of 60 micrograms per cubic centimetre.
From 17-25 April, PM2.5 was lower than last year.
But it increased from 26 April, way beyond last year's levels.
Levels of PM1 - particles under 1 micron in diameter, hence deadlier than PM2.5 - also increased.
Data measured by Delhi Pollution Control Committee, which falls under the Delhi government, isn't optimistic either.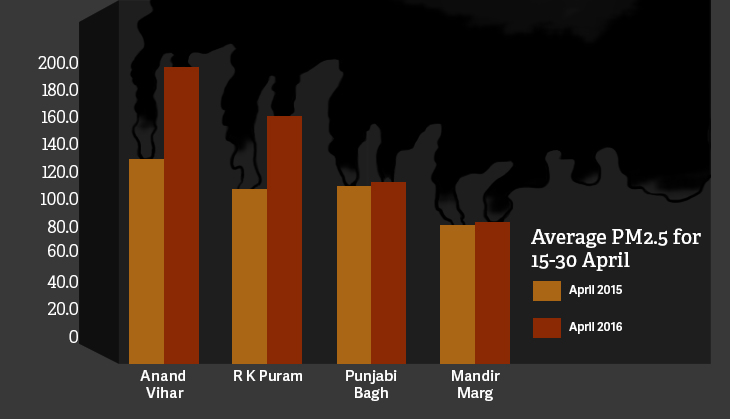 Arya Sharma/Catch News
Average PM2.5 from 15-30 April was higher than in the same duration last year in Anand Vihar, RK Puram, Punjabi Bagh and Mandir Marg. Data wasn't available for DPCC's two other monitoring stations in the city - in Civil Lines and IGI Airport.
Why doesn't odd-even work?
The Odd Even policy applies mainly to private cars. Diplomatic, military and commercial vehicles are exempt, as are cars driven by women alone, and all two wheelers.
But unlike popular perception, private cars aren't the biggest contributors to Delhi's air pollution. The most recent research on the city's pollution confirms this. The Delhi government had commissioned IIT Kanpur in 2013 to study how much each source contributes to Delhi air pollution.
The report was submitted in late 2015. According to it, cars contribute only 10% to the city's load of PM2.5 pollution. PM stands for particulate matter, 2.5 is their diameter in microns. These fine particles can enter the bloodstream through the lungs, and even cause problems in the heart.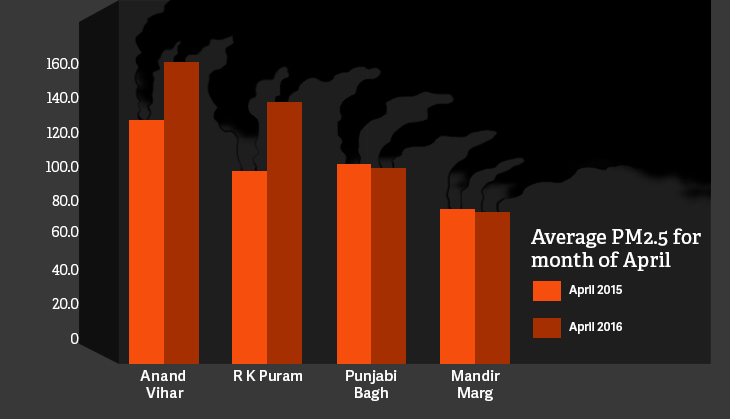 Arya Sharma/ Catch News
Trucks and dust are more responsible for the deteriorating air quality in Delhi. Road dust contributes 38% of the pollution. Industries and 'domestic sources' are responsible for 13% and 10% respectively. Other sources, including waste burning, concrete batching, etc are responsible for the remaining. That means focussing on odd-even as a tool for improving Delhi air quality ignored almost 90% of the other sources.
ALSO READ: Air quality aside, Odd-Even has changed something bigger - Delhi's mindset
After the first odd-even experiment from 1-15 January, the Delhi government said that the peaks had fallen. But this is also not the case in April.
After the first odd-even experiment, the Central Pollution Control Board said:
"It is evident that the meteorology and emissions from other polluting sources have been major factors impacting air quality of Delhi during the period. Overall, it can be stated that while some reduction in air pollution is likely to happen due to odd-even scheme, a single factor or action cannot substantially reduce air pollution levels in Delhi. Therefore, a comprehensive set of actions following an integrated approach is required to make substantial improvement in air quality."
It repeated this before the National Green Tribunal recently.
A study conducted by The Energy and Resources Institute (TERI) after the January odd-even also said that cars have a "marginal" effect on air pollution, and the policy "cannot be relied upon for achieving air quality standards." It suggested that
Analysis and action move beyond Delhi to sources in the wider National Capital Region
Bharat Stage IV emission norms be applied to trucks - it has much stricter standards than the prevailing BS III.
Ensure 24x7 electricity so that diesel generator sets are not used as they emit significant quantity of PM.
Control pollution from the "significant" number of industries operating around Delhi.
Agricultural waste burning should be controlled (although this is a prominent cause of pollution in winters, not April).
More in Catch:
Odd-Even 2.0: Here's all you need to know