India's #ClimatePledge is a bargaining chip to shut the West up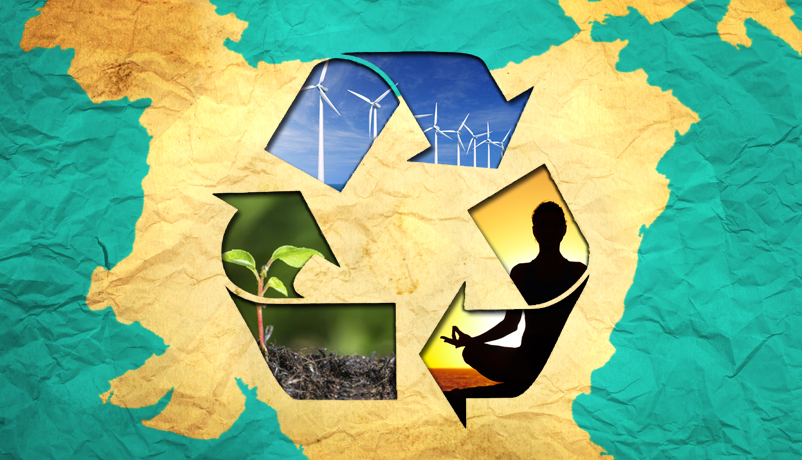 Big on promise
India has pledged to cut emission intensity by 33-35% in 15 years
It\'ll require increasing solar power 25-fold, nuclear power 10-fold
India must plant enough trees to capture 3 billion tonnes of CO2
Short on detail
Carrying out the promised climate action will cost $2.5 trillion
Actual emissions may double by 2030 even if the intensity is reduced
The plan doesn\'t explain how India will adopt to climate change
Ambitious. That's the word used by most experts to describe India's pledge to cut emission intensity by 33-35% over the next 15 years.
Honouring the promise will entail increasing solar power 25-fold and nuclear power 10-fold, doubling wind energy and planting enough trees to capture 3 billion tonnes of carbon dioxide - all by 2030.
Also read - India's climate pledge: keeping promises will be a tall order
These commitments, called Intended Nationally Determined Contribution, or INDC, were submitted to the UN Framework Convention on Climate Change on 2 October.
Not just India, every country is submitting its INDC ahead of the Paris climate summit in December. The hope is that the total emission cuts will be enough to keep global warming at reasonable levels, so that no nation has to face the adverse effects of climate change.
India's pledge sounds too ambitious for a country where millions of people lack access to even the most basic amenities. But being the world's fourth largest emitter of greenhouse gases, India is using INDC to position itself as a country that is serious about climate action.
Looking for a bargain
But not just that. The commitments come with a demand for developed nations to help meet them by giving India both money and new technology.
This is generally seen as the moral responsibility of industrialised nations. Their economic growth over the past 200 years was accompanied by huge carbon emissions, which accumulated in the atmosphere and are causing climate change. Even today, the US and Europe continue to be among the worst polluters on earth.
The developed nations, however, have resisted pressure to take the lead in not just cutting emissions but also helping poorer countries grow in an environmentally-friendly manner. Instead, they keep blaming the developing countries, such as India and China, for not doing enough on their own.
Rich nations can no longer ask India what it has done. It's their turn to say how they will help us
Now, by presenting an ambitious plan, India has forced them into a corner, says Harjeet Singh, climate policy manager at ActionAid International. Since it promises to do more than what is considered its fair share in solving the climate problem, Harjeet says, the INDC is a "masterstroke".
"The developed countries can no longer ask India what it has done. Now it's their turn to say how they will support us," he says. "Expect fireworks at the Paris summit as well as during the interim talks in Bonn."
Indeed, India's estimate of the financial cost of carrying out its climate action is huge. At $2.5 trillion (at 2014-15 prices), it is the biggest bill put forward by any country, according to an analysis by Carbon Brief, a British climate change research and communications agency. The next highest is Ethiopia, whose $160 billion cost estimate is nearly 16 times less than India's.
The INDC states that although India will bear much of this cost, it expects international funding to play an important role.
Cracks in the design
Carbon Brief's analysis suggests that even if India achieves all the announced goals, its actual carbon emissions will nearly double by 2030. India has committed to a 33-35% reduction in emission intensity - which is the amount of emissions per dollar of the GDP - not absolute emissions.
So, even as the emission intensity decreases, a rising GDP would mean that the total emissions could still increase.
Being the world's fourth largest polluter, India is using INDC to convey it's serious about climate
The INDC provides details mostly for mitigation actions, that is, what India plans to do to cut emissions. The other half of climate action, adaptation, isn't detailed out as well, according to the Development Alternatives, or DA.
Adaptation includes measures to tackle the effects of climate change like disaster management as well as to make people more resilient to a changing climate.
Also read - Shyam Saran: India needs to switch to a less wasteful model of development
However, other than listing the key sectors in which adaptation is required such as agriculture and Himalayan ecology, there are few details about what exactly the government plans to do about it, according to DA's Gazala Shaikh.
In the case of water resources, for example, how will adaptation happen in cities? Given that the country is rapidly urbanising, measures like rainwater harvesting needed to be examined in detail.
"INDC does not unpack its adaptation plans. It mentions that 2.5% of the GDP will be spent on capacity building. But it's ambiguous about the exact role adaptation efforts will play in this."