India calls out rich nations' figures on climate funds. Here's how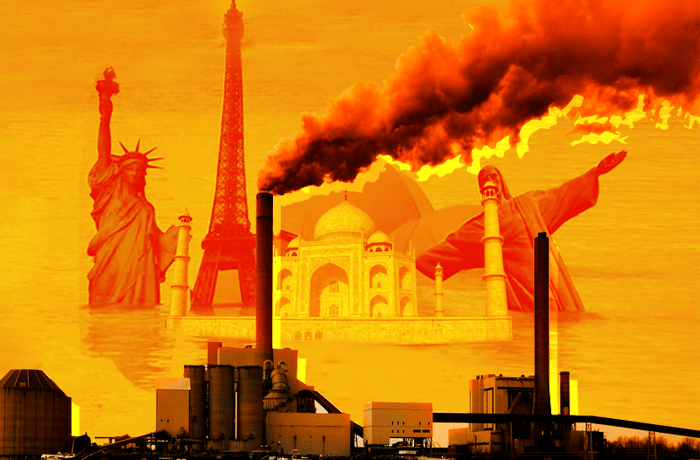 In order to help developing countries emit less carbon and deal with climate change, rich countries promised to pay poorer nations $100 billion each year until 2020. This promise was made at the 2010 climate change summit.
But the funding has barely crossed $2 billion, or 0.5% of the promised amount, according to a Finance Ministry study.
This is in sharp contrast to a report by Organisation for Economic Co-operation and Development (OECD), a grouping of rich nations, claiming in October that an average $57 billion flowed in 2013 and 2014.
The differences are steeped in accounting definitions. Still they are important as such funding is crucial for India and other developing nations to deal with climate change. That money is meant to be used in areas such as clean technologies, cheaper renewable energy, disaster management and flood control measures.
'Climate finance' - that's what it is known as in climate jargon - is an important part of the climate negotiations that start today in Paris. India will bargain hard for not just the $100 billion to be paid until 2020, but also for a plan for financing beyond 2020.
But if the finance ministry's report is to be believed, rich nations are counting money spent on projects with very little climate component. They are also believed to be diverting development aid to pay up for climate finance.
What rich nations say?
An average payment of $57 billion in 2013 and 2014, according to OECD.

But that included aid to developing countries if any project had any climate-friendly component.

At $22 billion, such "bilateral" finance was almost half the total climate finance.

$18 billion came from multilateral institutions such as World Bank (read below how only 7-9% of this was found to be actually for climate change-related projects.)

Japan and Australia have included funding clean coal plants as climate finance.
Predictably, this report was flayed by developing countries, who called it 'green washing', claiming that very little funding has actually come in. They especially quoted the "new and additional" clause in climate finance - that it should not be a part of existing development aid or even private investment. Climate finance has to be in addition to such "business as usual" funding.
What India has said
The finance ministry's report was prepared by the Climate Change Finance Unit of the Department of Economic Affairs (DEA). It was put out on 29 November.
The strongly-worded report say the OECD report has "serious problems on all counts". It accuses the OECD of
not using a definition of climate finance, on a par with the United Nations Framework Convention on Climate Change

"bending" the method of finding the amount of money to show more than real fund flows

relying on self-reporting by funding bodies rather than "independent and credible "sources"
Although the report starts with the disclaimer that these view are not necessarily those of the Government of India, that isn't strictly true. Much before the report was released, Environment Ministry officials have been highlighting "double-counting" of development assistance as climate finance. They even said this will be one of the points to fight out at Paris.
The DEA's report says:
OECD's calculations include commitments on paper. Instead, actual money transferred should be calculated. Commitments can be included only if they have been fulfilled for "several" years.

By this logic, while $32 billion have been pledged, only $17 billion have actually been mobilised. Just $14 billion was committed to projects.

Of this, just $2.2 billion was actually disbursed.
It goes on to attack OECD about the way it calculates different kinds of funding as climate finance:
Aid agencies like the World Bank classify several projects as "climate" projects even though they may have nothing to do with climate. In 2014 and 2015 only 7-9% of World Bank's claimed climate funding actually had something to do with clean energy or to adaptation to disasters and floods.

OECD had claimed multilateral development banks (like World Bank) are the largest contributor to total climate funding. This too has been contested by the DEA paper that says even though OECD claims the amount to be about $18 billion, it is actually around $3.4 billion.

The report says that rich nations are diverting their developmental aid into climate finance. This is proven by how the amount of climate finance aspect has increased significantly even though total aid has not risen since 2008.

Such diversions accounted for almost half the $24 billion total bilateral climate commitments in 2013-14.

Here, too, the ministry says that climate finance has to be "new and additional". This means that climate finance worth $100 billion has to be over and above usual investments that a country may do in renewables or to improve its response to extreme climate changes like storms and floods.
What's the way ahead?
The problem is that each agency has its own way of defining climate finance. So far the ministry's approach appears to be the most pragmatic - of calculating only the actual money inflows (and not commitments) since there is no fixed definition of what exactly constitutes climate finance.
Yet, rich nations may just choose to exploit the OECD method and reduce their own responsibility to pay up. Expectedly, US negotiator Todd Stern welcomed the report when it was released.
At Paris, it will likely become one of the many tools the developed world will use in the 12-day long negotiations to show that they have put in enough efforts already. But coming on the very eve of the summit, the ministry's strong rebuttal signals that the Indian side will not go down easily.