How to kill a mockingbird: lessons from the Greenpeace crackdown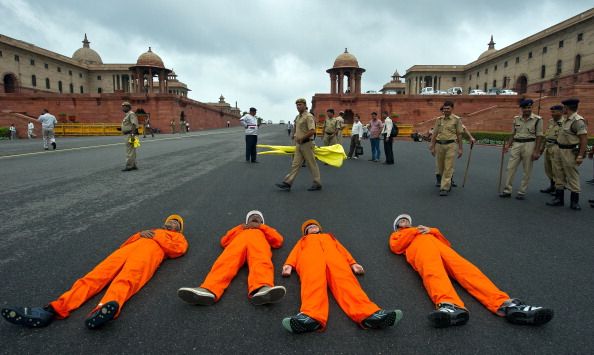 The attack
Modi government cuts off Greenpeace funding, both foreign and domestic.
Intent: to crush its resistance to mining projects.
180 NGOs and individuals write to Home Minister Rajnath Singh in protest.
Condemn government for trying to \'browbeat civil society\'. Call it \'blatant violation of the Constitution\'.
The weapon
The FCRA - Foreign Contributions Regulation Act. Used in arbitrary ways to stifle voices, freeze funding.
Government just needs to say a NGO is working against \'economic interest\' or \'public interest\' of the country.
Irony: Amendments by Indira Gandhi during Emergency to stop Jayprakash Narayan being used now.
The evidence
Greenpeace activities show they uphold Indian laws, not break them.
They support Bhopal gas victims, ecological farming, and sustainable energy.
They are anti-GM seeds and rampant mining.
Have pushed for responsible behaviour on e-waste, nuclear liability and toxic dumping in India, among other activities.
Court rescue
Supreme Court upholds Greenpeace stand on Mahan forests against Essar mine.
Delhi High Court says Greenpeace India not damaging country\'s \'economic interests\'.
In a different case, Delhi High Court says contrarian views cannot be automatically described as anti-national.
Why this matters
The government\'s crackdown on Greenpeace is a symptom.
It could happen to anyone who disagrees.
The Narendra Modi government's unrelenting clampdown on Greenpeace India's operations has left sections of the NGO world strangely silent, particularly those who depend on donations from international donors and foreign aid agencies.
Recently, 180 organisations and individuals signed an open letter to Home Minister Rajnath Singh in support of Greenpeace.
The signatories included several respected names like Aruna Roy, Anand Patwardhan, Ashish Kothari, Paranjoy Guha Thakurta, Harsh Mander and Swami Agnivesh, among others.
But there was not a single prominent international NGO or conservation body - barring Amnesty International - among them.
Prominent environmental and conservation NGOs such as Centre for Science and Environment, Wildlife Trust of India, World Wildlife Fund and The Energy Research Institute have maintained a studied silence over the issue.
This writer tried to speak to Sunita Narain of CSE, well-known tiger conservationist, author Valmik Thapar as well as the Wildlife Trust of India, among other environment and wildlife NGOs.
All of them either declined to comment or did not respond.
This could point to the sense of vulnerability in the sector, as the government can suspend funds for most NGOs dependent on foreign aid, through the FCRA or Foreign Contributions (Regulation) Act, 2010.
Fortunately, others have spoken up more emphatically.
A necessary pushback
"The government's attempts to browbeat civil society will not make the issues of social and environmental injustice disappear," wrote the signatories of the open letter to the Home Minister.
They went to say: "The move by the central government to freeze Greenpeace India's bank accounts is a blatant violation of the constitutional rights to freedom of expression and association.
"It also seems to be an attempt to warn civil society that dissent regarding development policies and priorities will not be tolerated, even when these are proving to be ecologically unsustainable and socially unjust.
"The notice charges Greenpeace with adversely affecting 'public interest' and the 'economic interest of the State'.
'Browbeating civil society will not make social and environmental injustice disappear,' say NGOs in a protest letter
"However, dissenting from the government's development policies, helping communities who are going to be displaced to mobilise themselves, and generating public opinion for the protection of the environment can by no stretch of imagination be considered anti-national, or against public interest.
"We assert that as long as these issues remain unresolved, civil society actors will continue to do all that is necessary towards a just and sustainable society."
But, the shadow of the FCRA remains. Governments no longer need to send political opponents to jail: they can just cut the money supply.
How dissent is crushed through 'rule of law'
The crackdown on Greenpeace - and earlier crackdowns on funding for NGOs - demands a scrutiny of the FCRA itself.
The present law provides a powerful, almost arbitrary, handle to the government by allowing it to cancel an NGO's registration for violating 'public interest' or the 'economic interest' of India.
It first suspends an NGO's registration, freezes 75% of its funds, then asks for its defence. If the government is dissatisfied with the defence, it can cancel the NGO's registration altogether.
The trouble is, what constitutes 'public interest' or the 'economic interest' of the country is a highly contested space. Arguments over it lie at the very heart of democratic dissent.
It is an additional irony that the present law is an amended version of a 1976 Act, enacted by Prime Minister Indira Gandhi during the Emergency.
She had cited fears of a 'foreign hand' in the political opposition she was facing from socialist leader Jayaprakash Narayan.
An auditor working with several international NGOs, who does not wish to be named, feels that almost every FCRA-registered NGO is in a precarious position and could be indicted over some technicality related to accounts.
Irony: Modi government is using an Emergency-era amendment by Indira Gandhi to crush dissent
Governments usually look the other way. "In the case of Greenpeace," he says, "their aggressive campaigning against certain mining projects has made them a target. Their actions stop the rapid economic development the government wants."
This brings one to the centre of the debate. Is Greenpeace's work really prejudicial to national interest?
Is 'rapid development' the only valid parameter there is?
What is Greenpeace's footprint in India?
Here's a look at some of their key projects in India over the last 10 years:
A solar power micro grid in the village of Dharnai in Bihar bringing electricity to a village that has been 'off grid' for the last 30 years
Advocating the shift to an energy infrastructure that is sustainable
Highlighted the true cost of coal in terms of its impacts on water diversions, health, forest destruction and air pollution
Protected the rights of forest communities enshrined under the Forest Rights Act and highlighted the violations in this respect in the Mahan forests of Madhya Pradesh
Promoted Ecological Agriculture (EA)
Challenged the spread of corporate-controlled, genetically modified food crops, propagated by companies like Monsanto (Many RSS-affiliated farmer groups also hold this position)
Supported the victims of the Bhopal gas disaster in their claims for justice from Dow Chemical, another US-based multinational
Supported the rights of India's artisanal fishing communities against foreign fishing fleets operating in India's EEZ (Exclusive Economic Zones)
Successful in ensuring that France did not dump its toxic aircraft carrier - Clemenceau - in Alang and adhered to the International Basel Convention
Highlighted the constitutional discrepancy in the Nuclear Liability Bill with regard to 'unlimited liability'
Convinced the IT industry to come together with civil society groups and experts to formulate e-waste management rules
None of this can be labelled as being against public interest. The government's brazenness in holding this position is highlighted by the fact that two Delhi High Court judgments and one Supreme Court judgment have already ruled that Greenpeace's work is not prejudicial to India.
Are Indian courts 'anti-national' if they disagree with government?
In January 2015, the Delhi High Court observed: "Non-Governmental Organisations often take positions which are contrary to the policies formulated by the Government of the day. That by itself cannot be used to portray petitioner's action as being detrimental to national interest."
Again in March 2015, the Delhi High Court observed that "contrarian views held by a section of people cannot be used to describe such section or class of people as anti-national."
The court also observed that there was nothing on record to suggest that Greenpeace India's activities "have the potentiality of degrading the economic interest of the country."
In the case of the Mahan coal block in Madhya Pradesh, which the government singles out as one of Greenpeace's 'flagship protests', the Supreme Court upheld the organisation's stand that the coal block lies on the periphery of the Mohan Reserve Forest and is essentially a no-go area for mining.
The Supreme Court had also directed the government to roll back its controversial travel ban on Greenpeace activist Priya Pillai, holding such a move to be untenable and a violation of her rights.
Despite this, the government has not only frozen Greenpeace's foreign funding but blocked even those accounts in which it receives contributions from citizens in India - which incidentally make up the bulk of its funding.
Does this make all Indian supporters of ecologically sustainable development also automatically 'anti-national'?
Democracy doesn't take to easy lids
Noted conservationist Rishad Nauroji, well-known for his work to preserve raptors, says, "The government has no idea about protection of wildlife or forests. We all agree we need development but what kind of development? One kind of development is myopic and only wants economic growth, while good development is inclusive and sensitive to not just local communities' interests but towards ecosystems and forests. We are lucky we have a good judiciary, otherwise many more magnificent forests would have been ruined in the name of development by now."
Delhi High Court says 'contrarian views' cannot be used to describe a class of people as 'anti-national'
Dunu Roy of Hazards Centre, a Delhi-based NGO, and one of the signatories to the letter to Home Minister Rajnath Singh, says, "If Greenpeace has broken any law then it should be punished. But our stand is simple: this government cannot be both the prosecutor and the judge. It has to uphold the constitutional rights to freedom of expression and association.''
Other activists point out that protest movements in the country are never successful only on the strength of people's resistance. Be it the opposition to the Vedanta bauxite project in Niyamgiri, the Narmada Dam, the various Special Economic Zones, the POSCO port in Odisha or the Mahan power plant in Madhya Pradesh - all these projects were reversed or stalled because the government had not implemented its own laws.
"In most of these cases, people have only demanded that the government implement the law, whether it is environmental clearances, the Forest Rights Act or other laws. The government has to follow the law, then it can do as much development as it wants," says Anil Chaudhary, senior member with INSAF, a national alliance of NGOs.
Pointing to another essential contradiction in the government's position, Chaudhary asks, "How is it that Essar, the company in the Mahan case, can be registered in the UK, while Greenpeace cannot get funds from abroad? Why is all Foreign Direct Investment (FDI) into development projects deemed benign, whereas organisations that highlight violations of law with or without foreign money are labelled anti-national?"
INSAF is an umbrella organisation for people's movements, supporting communal harmony and tribal rights across the country. In 2010, the FCRA wing of the Home Ministry froze INSAF's bank account for 180 days, stating that the forum's activities are 'prejudicial and against public interest'. However, the Delhi High Court overturned the suspension in 2014.
The Ministry of Home Affairs (MHA) claims that Greenpeace did not inform the authorities concerned about the transfer of foreign contributions received in the designated account to the FCRA utilisation account and then to five other accounts. The other alleged violations are that the NGO under-reported and repeatedly state incorrectly the amount of foreign contributions received. According to the MHA, its foreign account's opening balance for 2008-09 was listed as nil in the auditor's certificate, when it was actually over Rs 6.6 crore.
Greenpeace India Executive Director Samit Aich is confident that their stand will be vindicated. "We have not violated any FCRA rules in the way we have accepted or utilised FCRA funds. We will be reiterating this in our response to the MHA notice."
He added, "This is not just about Greenpeace - the government is using strong arm tactics to clamp down on dissenting voices in civil society. We have been vindicated in our position more than once in the courts."
Embarrassingly for the government, the US State Department has now sought a 'clarification' from the Indian government for its clampdown on both Greenpeace and the Ford Foundation.
"We are concerned that the recent ruling limits the necessary and critical debate within Indian society," said Marie Harf, State Department Deputy Acting Spokesperson.
Given the hotline friendship between US President Barack Obama and Prime Minister Narendra Modi, it would be doubly embarrassing for India if any shift in position were to arise out of this intervention. Instead, it would be much better for Indian democracy if its government would respond fairly to critics at home first.
The views expressed here are personal and do not reflect those of the organisation.