Hit & miss: what Delhi's commuters think of the odd-even policy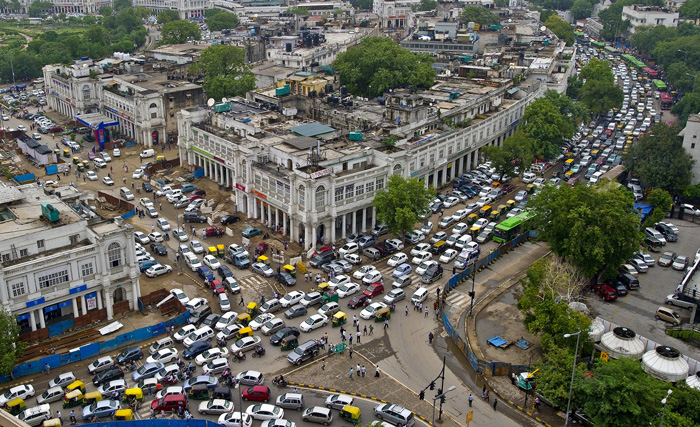 Delhi is about to witness one of the strongest measures ever to curb pollution in the city. Starting 1 January 2016, the odd-even policy, which aims to halve the number of cars on the streets for a 15-day trial period, will be implemented.
The central government has called it a "headline-grabbing" move. But what do the people of Delhi feel about Chief Minister Arvind Kejriwal's plan?
Also read - #OddEven goes live: Delhi, 1 January 2016, at a glance
Catch spoke with commuters from different sections of the society - men and women, young and old, car owners and public transport users. Here's what they had to say.
KK Aggarwal, 57, cardiologist & Padma Shri awardee
Commutes within Delhi by personal car
The odd-even formula should apply only for days when the pollution levels are dangerously high. You can't have a 15-day experiment and expect things to change. If pollution level is alarming, the government has the wherewithal to declare it so as it does in the case of a flood or an earthquake, and then put strict measures in place.
Also, the government should publish convincing data to show that vehicular emission is a major cause of pollution.
Bagmisikha Puhan, 24, lawyer, TMT Law Practice
Commutes within Delhi by personal car
The people will have to rely extensively on cabs and autos for point-to-point travel. The autos will start charging exorbitant fares and people will have no option but to pay. I do not see how this will reduce pollution as most of the commuters would opt for private cabs, which would produce the same amount of emissions as their own cars.
I don't think pollution is very high but the ban will ease traffic jams, which is good, says cabbie
Shiv Kumar Singh, 35, Ola cab driver
Works within Delhi and NCR
I am not convinced that pollution is at alarming levels, but the move would definitely ease traffic congestion which I believe is much-needed considering the amount of time you have to spend in traffic jams. Frankly, I'm also hoping to get more customers because of the ban.
Sukant Kumar Das, 32, autorickshaw driver
Works within Delhi
I believe it's a good move. I'm not saying this because I am looking to ask for higher fares. Autos can maybe ferry multiple passengers between important location points. I mean, there is going to a substantial increase in the number of passengers. Ride sharing will benefit both the customers and the driver.
Plus, I believe it will reduce pollution, which makes the move a positive one on the whole.
Rahul Jaiswal, 27, software developer, Sapient Consulting
Commutes between Delhi and Gurgaon by personal car/cab
"Even if the pollution levels drop by 1%, it would be worthwhile considering the current pollution levels in the city. It is an alarming situation and such stringent measures have to be adopted.
As for inconvenience to the commuters, companies and enterprises can adopt different approaches to deal with it - half-days, work from home. On the whole, I believe it is a positive move.
It's a good move. I'm not saying this because I want to raise fares, says auto driver Sukant Das
Avijeet Mohapratra, 23, corporate trainer, Vertex Customer Solutions
Takes the bus between Delhi and Noida
Commuting will become a hassle. Even now buses are usually overcrowded. At times, there is little space to even stand.
Instead of this ban, the government should make it mandatory for vehicles that can be converted to CNG to do so. Plus, making sure every vehicle conforms to the Euro IV emissions standard, like in Europe, would help reduce pollution levels even more substantially.
Ramesh Yadav, 32, janitor at Grofers
Takes the metro between Delhi and Gurgaon
The metro ride has been largely comfortable so far. But if more people start taking the metro, it won't be so comfortable. My commute 25 km each way daily, so it'll take a toll on my health if I'm forced to travel in overcrowded metros for two hours or more everyday.
I understand that pollution levels are alarmingly high, but those who already travel by public transport should not suffer because they don't cause it.
Also read - #OddEven is a great move. We need even more extreme measures: planning guru KT Ravindran
Suresh Pandit, 46, security guard at a South Delhi hospital
Relies on public transport to commute within Delhi
I don't know much about the law but from what I have read in the newspapers, I believe this ban won't make much difference to the pollution levels, especially if it's implemented only for 15 days.
What the government should do instead is limit the number of vehicles each family can own. This ban will just inconvenience people who travel by buses or metro.
And why are they making an exception for VIPs?
More in Catch - BS Bassi unaware of odd-even formula dry run on 30 December
Congress calls Delhi odd-even formula 'stupid', says it will cause chaos
Odd-even formula: Delhi CM Arvind Kejriwal not exempt, but find out who is