#COP21 may decide on 1.5 degrees Celsius target. And that's a great thing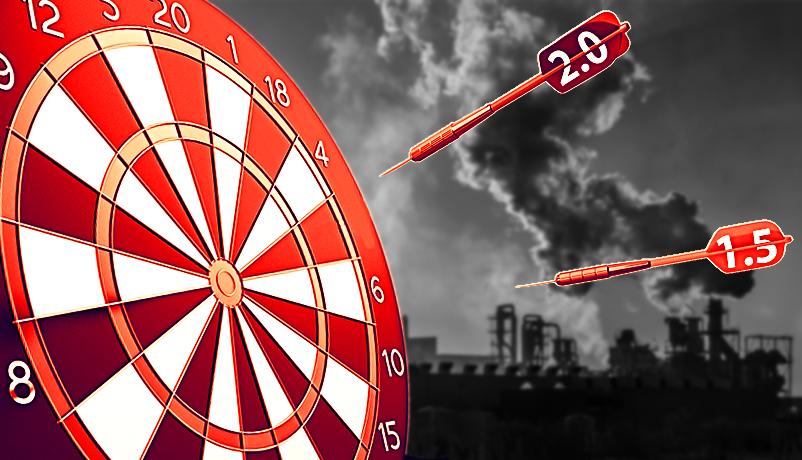 Is 1.5 degrees the new 2 degrees? Don't be surprised if you face this question in the next few days. The world's target for global warming may just change.
Most of us can barely make out a 0.5 degrees difference in temperatures. But it's the best thing that might come out of COP21, the climate change conference under way in Paris.
A mammoth task
Since 2010, the world has kept 2 degrees Celsius as its target to limit global warming. It is the most we can allow the world to get warm, compared to pre-industrial era temperatures. The number was agreed to by all nations at the UN climate change summit in Cancun, Mexico.
Now, at the climax of the Paris summit, 1.5 degrees has made an explosive entrance onto the stage, and may end up stealing the show.
Also read - #COP21: despite Modi's strong speech, India is losing out to the West
Some reports suggest that it was introduced by the United States-led developed nations as a diplomatic strategy to stall the climate summit, by dividing small island nations and other developing nations like India (which may have to cut more emissions to make 1.5 degrees a reality).
Indeed, bringing down warming to 2 degrees is already a mammoth task, so 1.5 degrees seems difficult, almost outlandish. It requires carbon emissions in 2100 to fall by nearly 90% of 2010 levels, against a 40-60% fall demanded by the 2 degree target.
Even with the kind of commitments made recently by the world's nations to cut carbon emissions, global temperatures are still expected to rise between 2.7 and 3.7 degrees Celsius. So, is it worth the trouble to keep a 1.5 degree target?
Here are seven reasons why we need to junk the 2 degrees Celsius goal and embrace 1.5. It could just mean the difference between life and death for millions on the planet.
It is important to note that there is nothing new about the new goal. Climate scientists and policymakers have known for years that 1.5 degrees is the better goal to have. In total, 112 nations want the goal to be 1.5 degrees Celsius (that's more than half of the 190-plus nations participating in the climate deal).
These are typically low-lying and low-income nations. In contrast, as one study found, the countries supporting the 2 degrees target are mostly high- and upper middle-income countries. Not surprising.
02
Risk of vanishing islands
The difference between 1.5 and 2 degrees can literally mean the end of the world for many low-lying island nations. While Tuvalu, Kiribati and the Maldives will entirely disappear with a 2-degree rise, southern Bangladesh, China's Mekong delta and parts of Florida in the US will also vanish.
03
Threat to coastal areas
Coastal areas across the world - including Mumbai and London - will partially submerge if there's a 2-degrees Celsius rise. This means that if we follow the goal the world has set for us, London's Big Ben will be accessible only by boat, and we won't be able to walk to the Gateway of India to take pictures. Shanghai would resemble Venice. Isn't that a good enough reason?
For those who plan to escape islands and coastal areas and move inland, there's bad news too. According to a World Bank analysis, which it presented to the United Nations, summer extremes will nearly double between a 1.5 degree rise and a 2 degree rise. The study says that the share of land that will experience "unusual summer heat extremes" is 20-25% at 1.5 degrees Celsius, compared to 45% at 2 degrees of warming.
Also read: #COP21: Modi ambushes Obama. Ticks off the US & other rich nations
There will be no water to quench your thirst under the extreme summer. One direct impact of excess summer heating is on water resources. It will also affect food supplies. There is greater scope for agriculture to adapt to climate change at 1.5 degrees Celsius than at 2 degrees, according to one UN-commissioned study comparing the two targets.
A 2 degrees Celsius rise is expected to cause the extinction of nearly one-third of animal species. According to the Intergovernmental Panel on Climate Change, this is because at 2 degrees, climate change would be too fast for many species to migrate to regions with favourable temperatures. At a 1.5 degrees rise, most organisms on land and in freshwater bodies will get enough time to migrate.
More than anything else, keeping a target of 1.5 degrees Celsius is a good safety net to have. This is because the effects of temperature change are not point-by-point. They can be sudden and drastic - called "non-linear" in science jargon. This means that the effects seen from 1.5 to 2 degrees may be much, much faster (and drastic) than the pace of changes seen between 0.5 to 1, or 1 to 1.5 degrees. The UN, thus, calls 1.5 degrees a "guardrail" for a 2 degrees target.
It's no surprise, then, that some experts have gone to the extent of calling the shift to a 1.5 degree target the "morally correct decision for humanity".
If this isn't convincing enough, here are the words of Enele Sopoaga, the prime minister of Tuvalu, one of the nations that will submerge if global warming reaches 2 degrees Celsius.
Speaking alongside world leaders at the inauguration of the Paris summit, he demanded that people think "carefully about their obsession with 2 degrees".
"No leader around this room carries such a level of worry and responsibility. Just imagine you are in my shoes, what would you do? We want to be assured that our children and our grandchildren have a future," he said.
If this were the US President speaking, would the climate negotiators have thought twice before reaching a strong climate treaty?
MORE IN CATCH - Tough Love: Angela Merkel is TIME's 'Person of the Year 2015'
The future is curved: Samsung's folding phone may finally be around the corner