Can GM Sugarcane really make a difference in drought-hit areas?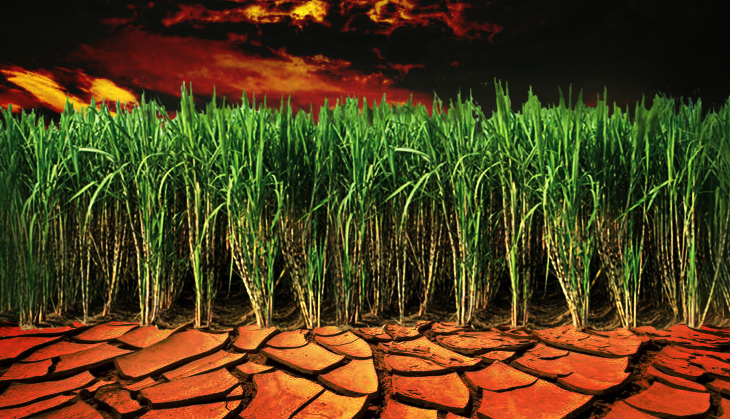 GM Sugarcane
Govt believes that GM Sugarcane will reduce drought
India is even contemplating importing a genetically modified variety from Indonesia
More in the story
Why GM crops aren\'t the right solution
Why is the Modi govt pushing for GM Sugarcane?
Will genetically engineered sugarcane be the panacea of drought-hit Karnataka and Maharashtra? The two states are suffering not just from shortage of drinking water, but also from economic losses from cash crops. Sugarcane, in turn, is being blamed for making the drought worse as it is a water-intensive crop.

In Maharashtra, while sugarcane occupies under 10% of cultivated area, it guzzles three-fourth of all water used in agriculture.

Now there are reports that the Modi government is interested in introducing a sugarcane variety that is genetically altered to grow with less water. This means that farmers won't lose money during drought and can save water too.

The environment minister Prakash Javadekar has reportedly written to former agriculture minister Sharad Pawar, that the government intends to encourage field trials of the GM sugarcane developed by Indian Council of Agricultural Research's Sugarcane Breeding Institute, Coimbatore.
GM crops have always bred controversy
GM Cotton - the only commercially used GM crop in India - has often been susceptible to new varieties of pests like the whitefly. Critics say that genetic changes also come with health risks. Field trials for GM Brinjal were famously cancelled by the UPA government under then environment minister Jairam Ramesh, over biosafety concerns.
Now, with a second successive drought affecting 33 crore Indians, the Modi government appears to be interested in pushing for the introduction of the drought-resistant GM sugarcane. The proposal for its trial is sitting with a scientific panel of the biotechnology department. Once approved, it will be put before the Genetic Engineering Appraisal Committee (GEAC) of the environment ministry, which will take the final call on allowing field trials.
If allowed, this will be the second GM variety of sugarcane to undergo field trials. In July 2014, the GEAC had permitted field trials of genetically modified sugarcane in Uttar Pradesh developed by the Uttar Pradesh Council of Agriculture Research, but that was a pest-resistant variety.
The drought-resistant variety was developed by the Sugarcane Breeding Institute in Coimbatore. According to the 2014-15 annual report of the Institute, various varieties of genetically modified sugarcane (with different combinations and amounts of five genes) were tested for drought tolerance. The crops were not watered for 10 days in the initial 120-day growth period. The researchers found that the GM varieties performed better than non-GM.
Finally, 18 combinations were selected for further trials, the report adds. India may be taking a cue from Indonesia, where a drought-tolerant GM Sugarcane was introduced in 2013. In field trials, it was found to have 20-30% higher sugar yields during a drought than 'conventional counterparts'.
The country's GM safety panel found it to be safe. An eight-month-old crop was said to have survived without water for four months. In fact, India is interested in importing it. The Vasantdada Sugar Institute and the Indian Council of Agriculture Research have also visited the country.
GM Sugarcane won't solve everything
Optimistic as it may sound, GM Sugarcane may not be the answer to droughts.
In a 2012 note, the Union of Concerned Scientists said that GM crops haven't performed well in drought conditions. Studying GM crops in the US, they found that:
- Drought-proofing a crop requires interaction of many genes, but GM can only manipulate a few.
- Genes can be modified only to survive specific type and intensity of droughts. But in the real world droughts can be of varying intensity.
- If a GM variety is developed to tolerate extreme droughts, it will also have a slow growth rate. So there is a compromise between drought tolerance and overall productivity.
The report adds that traditional varieties and hybrids may be better at tolerating drought, and cheaper than GM.
In fact, with sugarcane, government research bodies in India have developed several hybrid varieties to withstand drought conditions.
In a paper published in Current Science in 2011, scientists from the Indian Institute of Sugarcane Research in Lucknow, listed 23 drought-resistance types of sugarcane they developed between 2000 and 2009. None of them was genetically modified. Interestingly, the paper never mentions GM, or the need for it.
The paper also mentions other ways to improve sugarcane crop during a drought. These include innovative irrigation techniques like drip irrigation, water only in critical growth periods, preventing soil dryness by mulching, laser levelling of fields, etc.
The Sugarcane Breeding Institute itself had released eight varieties of drought-resistant sugarcane seeds that are not GM, according to several statements issued in the Lok Sabha.
The Modi government's enthusiasm for GM crops is apparent. Since coming to power, it has approved 80% of all proposals to conduct field trials of GM crops, including rice, maize, chickpea, brinjal and potato.
It has been pushing for approval of GM Mustard, although it has been reluctant to release data on whether the GM variety outperformed hybrid varieties.
Sridhar Radhakrishnan, convenor of the Coalition for GM-Free India, said that although hybrid and traditional varieties offer many solutions to problems like drought, governments prefer GM varieties as they offer a chance to own (and earn royalty from) seed technology.
"Scientists are lying when they say that the days of hybridisation are over. Even in rice, we have natural drought-resistant varieties. It is possible to safely improve them. But the government doesn't pursue it, because it would rather make seeds its proprietary property using GM technology," Radhakrishnan said.
Edited by Anna Verghese