Bagpat villagers wait for clean drinking water, get toilets instead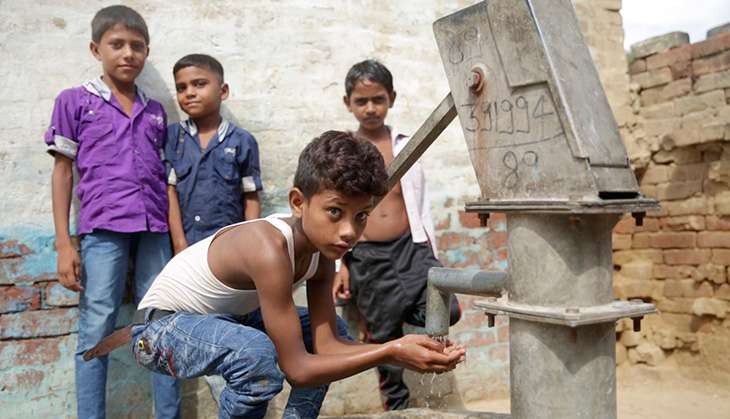 Recently, Catch reported how villages along the Hindon river in Bagpat, Uttar Pradesh, are drinking water laced with heavy metals. For almost two decades, industrial effluents and excess chemical agriculture have poisoned both the river, and the groundwater that villagers pump out to drink, wash and irrigate farms, causing physical and mental illnesses.
This story talks about the UP government's proposed solution, which has failed so far. In it lies the story of our country's confused priorities on drinking water and sanitation.
Also Read: 70 kms from Capital, Bagpat villagers wait for freedom to drink clean water
The UP plan was this: handpumps drew water from around 200 feet below the ground - but at this depth its water was contaminated by the polluted river. However, water found 500 feet below was not polluted. So the state decided to instal deep borewells that could pump water into overhead tanks. Pipes from these tanks would supply water to each household.
This was to be done using funds from the National Rural Drinking Water Program (NRDWP), which aims to provide at least 40 litres of drinking water per person per day to all rural habitations.
Tabela Garhi, the village we visited to profile the water pollution, sure needs this - around one in ten houses reported having at least one member suffering from diseases caused by the water, many of them chronic and permanently disfiguring.
The government could have made villages like Tabela Garhi an example of the NRDWP's success, a symbol of its commitment to providing safe drinking water to all.
But actual details on the ground show how far away the village is from this ideal future.
According to the NRDWP website, in 2011-12 Rs 93 lakh was sanctioned to ensure 70 litres per day piped drinking water supply to each villager in Tabela Garhi. The scheme was initiated in December 2011.
Five years since, just Rs 14 lakh or over a tenth of the funds have actually been spent.
Out of the total budget, the state was to spend Rs 52 lakh and the centre's share was the remaining Rs 41 lakh.
In fact, no money was spent in the 2015-16 financial year, during which a petition on the water pollution in Tabela Garhi and its adjoining region was being argued before the National Green Tribunal.
On 19 July, the NGT invoked Article 21 of the Constitution to direct the state government to make urgent arrangements for safe drinking water through tankers or bottles. It threatened the state chief secretary with "punitive and coercive" orders otherwise. As our report found, no water was provided at least until 9 August.
Also read: UP villagers crippled by polluted water appealed to green court for relief. Here's what happened next
Besides Tabela Garhi, the whole Bagpat district was ignored.
In 2015-16, of the Rs 193 crore reported to have been spent in Uttar Pradesh under the NRDWP, just 0.73% was spent in Bagpat district, although by then it was clear that villages around the Hindon, Kali and Krishna rivers were facing a water pollution crisis.
Still, out of 76 districts in the state, Bagpat had the 10th lowest expenditure on the scheme (many of the districts lower down were urbanised districts like Lucknow, Kanpur and Gautam Buddh Nagar).
The response
On Twitter, responding to Catch's report, Sudhir Panwar, member of Uttar Pradesh Planning Commission had said that while overhead tanks budget is under process, the centre's share has been shrinking.
"When budget is most needed on this head, the central government slashed it," Panwar tweeted, referring to the NRDWP funding.
This is partly a result of the 14th Finance Commission, which recommended that the centre's share of expenditure on specific schemes reduce.
For NRDWP, the centre-state proportion fell from 75:25 to 60:40.
But, the truth is that it's not just the share that's falling. Accounting for the changed centre-state shares, the total money available for the program is estimated to have dropped 25% from 2014 to 2016. The scheme is allocated barely one-third of the funds demanded by the ministry of drinking water and sanitation.
The ministry looks after two major programs - besides, NRDWP, the more glamorous Swachh Bharat Mission.
Swachh Bharat, being a flagship project of the Modi government has been given a higher priority than the drinking water programme.
Swachh Bharat has never had funding issues, even though its centre-state share was 50:50, worse than NRDWP.
When the government was still short of funds for building toilets, it introduced a Swachh Bharat cess to raise Rs 10,000 crore each year, besides a $1.5 billion grant from World Bank over five years.
No such luck has landed at the drinking water programme's doors, and this skewed priority is visible in Tabela Garhi, where there is more activity on building toilets than on drinking water projects.
Indeed, while the villagers wait for clean drinking water, there has been frenzied construction of toilets. Since the Swachh Bharat Mission was announced in October 2014, around one-fifth of the 488 households in Tabela Garhi that didn't have toilets now have one.
On the other hand, the water supply scheme meant for the village is pending completion for over five years due to lack of funds.
Rajiv Kumar, the gram pradhan, or head of the local village governance body of Tabela Garhi, is busy processing applications for toilets and inaugurating built ones.
But when it comes to the overhead drinking water tank project, he said that while the panchayat had completed its job of handing over the necessary land to the UP government, there was no progress on the ground because of a funding crunch.
He said that the one tank that was built has fallen into disrepair, with insects entering its cracked pipes. "The tank water is also poisonous," Kumar told Catch.
Building toilets is important, but as the Tabela Garhi case shows, our priorities probably need to be revisited
Also read: Drought: Centre showers funds on Swachh Bharat, starves drinking water