AOL's event given go-ahead. Can this enzyme really clean up after itself?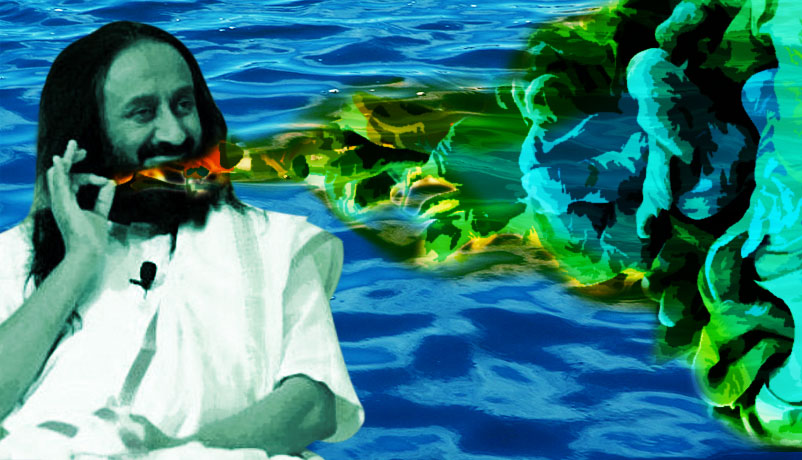 It is not just the Yamuna river's floodplains in Delhi that are under threat from the Art of Living (AOL) foundation's mega cultural event due to take place from 11-13 March. For the last three weeks, AOL's followers have poured over 10,000 litres of a liquid it claims contains enzymes into the Yamuna, with a purpose to clean it up.
This activity hasn't gone unnoticed and has drawn major criticism. One petitioner has sued AOL in the National Green Tribunal (NGT).
In its order on 9 March, the NGT restricted AOL from pouring the enzyme without permissions from the Central Pollution Control Board and the Delhi Pollution Control Committee.
Also read: Sri Sri Ravi Shankar has sentenced the Yamuna to death, says Vimlendu Jha
And for good reason.
The criticism is that AOL's 'eco-enzymes' are not laboratory tested. It is also highly likely that they are not approved by any government agency. As such, it is no different from pouring any other form of liquid into the Yamuna.
What are these enzymes?
What AOL calls 'eco-enzyme' is more commonly known as 'garbage enzyme', based on its main ingredient.
Enzymes are a category of organic chemicals that help break down other chemicals. In organisms, including humans, this means that they can digest food molecules.
In the context of pollution, they can break down pollutant molecules, either making them less harmful or easier for marine life to eat them up.
Also read: A-Z of the row surrounding Sri Sri Ravishankar's World Culture Festival
According to AOL as well as several do-it-yourself and eco-friendly lifestyle websites, the 'garbage' or 'Eco' enzyme is prepared from garbage, sugar and water.
One part jaggery or brown sugar and three parts kitchen waste (vegetable remains, peels) are mixed in ten parts water. The mixture is kept sealed to ferment for three months. (While AOL strictly prohibits adding meat waste, this doesn't seem to be problem elsewhere).
One litre of the resultant liquid is claimed to be capable of 'treating' one thousand litres of polluted water.
AOL's claims
Sri Sri Ravi Shankar has tweeted that over 1 lakh households in Delhi have prepared 15,000 litres - 10,000 of which has already been poured into the Barapullah drain that meets the Yamuna - of the fermented solution.
The AOL claims that its enzymes are breaking down heavy metals in the Yamuna, which is what causes 'bubbles' when it is poured into the river.
AOL has quoted unnamed villagers and site workers claiming they are sleeping better because the river smells less.
Ravi Shankar also tweeted in favour, quoting unnamed villagers that buffaloes "who never ventured near the water are now entering the water."
What is the opposition?
Anand Arya, a bird watcher from Noida, has contested these claims in the NGT.
Arya told Catch that while he is not against enzymes or finding solutions to the Yamuna's pollution issues, one still needs to understand the source, composition and shelf-life of the enzyme before using it in the river. Without such scientific validation, it is as good as any other waste.
Also read: Sri Sri Ravi Shankar's Art of Living event gets NGT go-ahead with Rs 5 crore fine
"For the love of God, I cannot figure out how kitchen waste and jaggery fermented together can clean the river," he said.
Arya questioned how large quantities of the chemical were poured without prior tests or certification.
"Are buffaloes going to give us a certification?" he asked, referring to Shankar's tweet. "You have to develop a scientific protocol for delivery of the enzymes. This can include even a simple laboratory experiment."
What scientists say
The "garbage enzyme" is said to have been developed by Rosukon Poompanvong, a Thai citizen known as an "alternative medical practitioner". This is a video of her prescribing deep breathing and tea consumption as a cure for Ebola:
There are no peer-reviewed studies showing what the enzyme actually is; just one or two describing its general effects.
A 2011 university study in Sarawak, Malaysia, found that it has a limited impact on curing wastewater. The garbage enzyme, the paper said, can remove phosphates and ammonia nitrogen.
The paper highlights that there is another side to the coin. The enzyme increases acidity and the amount of BOD (a measure of how many microbes there are in a water body, usually a higher BOD indicates higher pollution).
Also read: Zenspeak: Sri Sri and the art of brainwashing
The study advises that only a specific quantity and concentration of the enzyme can be effective -- it found 9% concentration to be ideal.
Has the AOL followed this? This brings us back to Arya's claim, that a scientific method for introducing the enzyme has to be found out before it can be poured into the river.
Prashant Rajankar, programme coordinator at Toxics Link and author of a 2014 study on Yamuna pollution, agrees with this. He said that a laboratory experiment has to be conducted with the enzyme to understand how much amount is needed, and for how many days.
There need to be safety studies as well, Rajankar adds.
"An activity like this can be done with proper scientific references. Because, being a bio-enzyme doesn't necessarily mean it is good for all, maybe it harms some part of the river ecosystem. Like in developing medicines, side-effects have to be studied for all possible combinations before finalising it," he said.
AOL has so far not shared any such information.
Edited by Sahil Bhalla
More on Art of Living:
Pranab withdraws from Yamuna Art of Living event
Sri Sri Ravi Shankar's event low on security, safety: Delhi police report
Delhi Police warns of 'pandemonium' at Yamuna Art of Living event
PM Narendra Modi unlikely to attend Art of Living's World Culture Festival
Sri Sri Ravishankar's mega event spells trouble for the Yamuna