9 reasons why the NDA's #NationalWaterwaysBill is out of its depth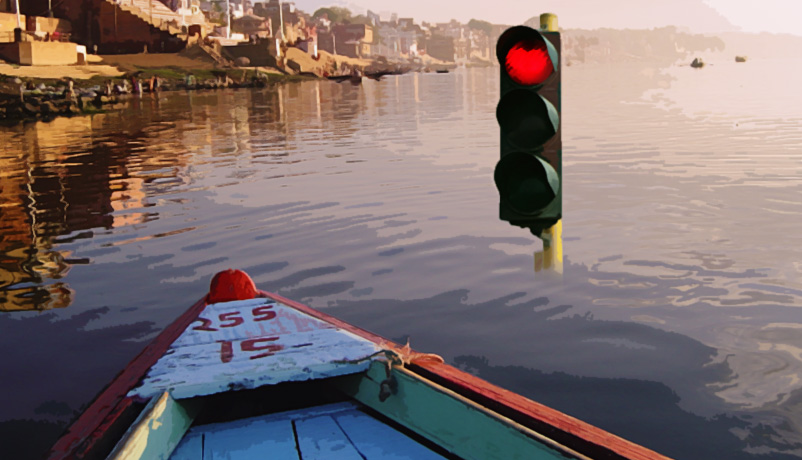 The National Waterways Bill, 2015 was passed by the Lok Sabha on 21 December. It seeks to declare 101 stretches of various rivers and canals as national waterways, to add to the five that already exist.
Nitin Gadkari, the shipping minister, claimed the waterways "will reduce the cost of transporting goods and help industry, farmers, fishermen".
What he didn't say is that ships aren't going to start sailing down our rivers anytime soon. In fact, the bill, even if passed into law by the Rajya Sabha, may be a symbolic gesture at best.
Also read: Sagarmala project: why India needs to revitalise its shipping gateways
Setting up and operating a waterway requires huge investments in infrastructure, apart from several environment clearances.
Then, the government must ensure that ships sailing the waterways do not destroy local fishing economies or pollute the rivers. In a country where half of all rivers are badly polluted, this would require strict implementation of green standards, something that doesn't enthuse this government much.
What are National Waterways?
National Waterways are parts of rivers and canals that can be used by ships. The government will build harbours, cargo hubs, jetties along the river, and also de-silt the rivers to ensure there is enough depth for ships to pass.
While passenger ships can also sail, inland waterways are typically meant for cargo ships.
While such inland waterways are at a nascent stage in India, they are quite common abroad. The US has a 40,000-km long network of waterways that are used to ferry $73 billion worth of goods a year. By one estimate, moving goods by ships instead of by road saves Americans $7 billion a year. China boasts an even bigger network, about 1.1 lakh km long.
Also read: How not to crash the Indian Railways. The Bibek Debroy Report explained
India has over 14,000 km of potential waterways but less than a third are National Waterways, and only 3% of all goods are transported by these.
What's in the National Waterways Bill?
The NDA government has argued that unlike roads and railways, inland waterways haven't received much attention so far. So, it wants to develop these as a fuel-efficient, cost-efficient and environment friendly-mode of transport.
India already has five National Waterways. The first, the Allahabad-Haldia stretch on the Ganga, was announced in 1982, while the Sadiya-Dhubri stretch on the Brahmaputra was declared a waterway in 1988. Another, on the West Coast canal, was declared in 1992, and two more were announced in 2008. All these are operated by the Inland Waterways Authority of India, or IWAI.
The bill plans to add 101 more waterways. Some of the important ones are proposed on the rivers:
Narmada

Indira Canal

Jhelum

Beas

Mahanadi

Yamuna
Also read:
India's Act East Policy: why Kolkata Port will not die
Why the proposal may not take off
It's unlikely that most of the 101 proposed waterways - each takes about 10 years to develop - would ever be functional. Here's why:
1. The existing waterways have seen limited success. Of the five, only three are functional, that too partially. The biggest customer is the state-owned NTPC, which transports coal along the Farakka section of NW-1.
2. In a report on the bill in August, a Parliamentary Standing Committee said the primary challenge facing these waterways is feasibility -- there may not be enough water in the rivers for ships to sail.

This is because many of the rivers are rain-fed, drying up in non-monsoon months. "Techno-economic" feasibility studies are needed for each waterway to know if they are navigable at all.

3. So far, the government has considered just 12 of the proposed waterways to have "good potential to attract attention", and has reportedly issued tenders for developing terminals on these.

For 44 waterways, it is inviting consultants to do a feasibility study. In the case of the remaining 45, even this is yet to happen.
Also read:
How the govt lets green sinners judge themselves
4. When it's passed, the bill would only declare the 101 stretches as National Waterways, it won't provide for money. The waterways would require over Rs 35,000 crore to develop. Where would this money come from?

This is a crucial question given that the parliamentary panel has found that work on the existing waterways was hampered for lack of funds.

The finance ministry admitted to the committee that developing waterways involves "substantial expenditure" and that it may, at least initially, fund only a handful of cost-effective waterways.

The government could get loans from the World Bank and the Asian Development Bank, but it still would need to find money to repay them.

5. Developing waterways isn't a standalone project. Roads and railway lines have to be laid to link the new harbours and jetties; and mega warehouses need to be built as well. Without these, the waterways would be useless.

6. Waterways have a tricky constitutional status. While the shipping lanes are the Centre's responsibility, the river water and the ground underneath belong to the states.

Along many stretches, buildings, ghats and other structures may have to be cleared to make the waterway wide enough for ships to pass. It also needs a minimum height clearance, for which bridges may have to be demolished and rebuilt. Ports and harbours require land. All this would require the Centre and the states to coordinate closely.

7. According to the environment ministry, each waterway requires 3-4 green clearances - related to forests, wildlife, general environmental impact and coastal zone regulation. Moreover, depending on its ecological makeup, each waterway may be studied in parts, each part requiring separate clearances.

8. Ships can pollute rivers through fuel leakage and dumping of waste. They may also carry polluting cargo like coal. But the government has no clue yet how it will ensure the ships operate in an eco-friendly manner.

In fact, the IWAI told the parliamentary panel that they may give this responsibility to the ship operators themselves, which is preposterous, to put it mildly.

9. Waterways may not be cost-effective after all. The IWAI admitted as much when it told the parliamentary panel that not all waterways would be cheaper for transport than rail or road.

The current success story of inland waterways is of NTPC transporting coal by NW-1. Even there, the cost saving is less than 10%.

Waterways have to be more than 2.5 metres deep to be profitable, which means the government may have to frequently dredge silt from the riverbeds, which is likely to be way costlier than maintaining roads and railways.
Also read:
How Shivaji Memorial was cleared in 19 days despite environmental concerns