YouTube vs TikTok: Youtuber Carry Minati's viral video taken down by YouTube, fans come in support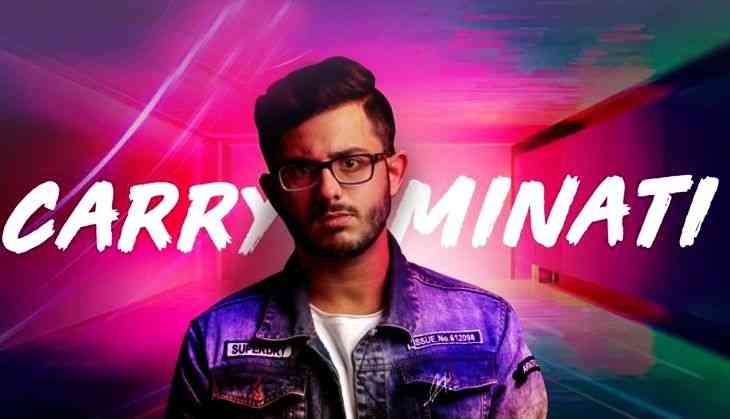 Youtube vs TikTok has become the hot debate these days. Both platforms have their different fan base and hence, their followers have jumped on the bandwagon. Now the latest thing added into this debate is that YouTube India has deleted the viral video of YouTuber Carry Minati.
Know about Carry's viral video:
CarryMinati, whose real name is Ajey Nagar, had posted his video on May 2020 in the wake of the ongoing debate with TikTokers.
He uploaded a roast video for TikToker named Amir Siddiqui. Within 24 hours, his video has brought the Internet by storm.
In the video, Carry was directly targeting Amir Siddiqui and claimed that TikTok is an inferior platform as there is a restriction on a time limit and video content.
In his roast style, he brutally trolled Amir and the video content that he shared on TikTok.
Interestingly, Carry's road video garnered 6.70 million views until YouTube Indian deleted it. His video has shattered several records in one day.
YouTube India has cited the reason for the removal of CarryMinati's viral video that the video has violated its terms of services.
Shortly after the video was deleted from YouTube, Carry's supporters have come in support and slammed what YouTube has done.
#CarryMinati and #JusticeForCarry are trending online. Even actor Himansh Kohli also joined the bandwagon of Carry's supporters and wrote, "It was just a fun roast, @CarryMinati. Everything else aside, I'm rooting for you. Keep the good content coming in buddy."
It was just a fun roast, @CarryMinati. Everything else aside, I'm rooting for you. Keep the good content coming in buddy 👍⚡🔥 #carryminati #carryminatiroast

— Himansh Kohli (@himanshkohli) May 14, 2020
Check out who wrote what:
Same on u @YouTubeIndia

#carryminati pic.twitter.com/Ya05CV4BPY

— Munna kushwaha (@Munnaku32300493) May 15, 2020
SHAME ON YOUTUBE :(#justiceforcarry #shameonyoutube #carryminati pic.twitter.com/tGnCmLUyhp

— ɪɴꜱᴏᴍɴɪᴀᴄ♠️ (@iAbhiSaxena) May 15, 2020
YouTube after making money from carryminati's video #carryminati pic.twitter.com/KPY2cNz69g

— Dhotar_chor123 (@DChor123) May 15, 2020
Youtube deleted #carryminati video.

Me to youtube: pic.twitter.com/VqqIDCuNXk

— Pareshan Banda (@BandaPareshan) May 15, 2020
This is not done @YouTubeIndia

Why you Removed Most Liked Indian Video?? We want that video back or apology #JusticeForCarry #carryminati pic.twitter.com/QH88vITirH

— SidharthShukla Fc2❤️ (@SidhartFc2) May 15, 2020
whole memers support #carryminati
memers to Youtube pic.twitter.com/RRI9K9FFdf

— Mr. Irksome (@mr_irksome) May 15, 2020
He also slammed the YouTube community and said that they are only bickers. While the TikTokers community is more united and supportive of each other, Siddiqui said.
After his video, Carry uploaded his video and replied to every accusation made by Amir Siddiqui.
Carry's video has received a more positive response and people were trolling Siddiqui badly.
Also Read: This TikTok user dance performance on Street Dancer 3D's Muqabla song left Hrithik Roshan go crazy! [VIDEO]