World Brain Tumour Day: Bollywood films that made a tamasha out of tumour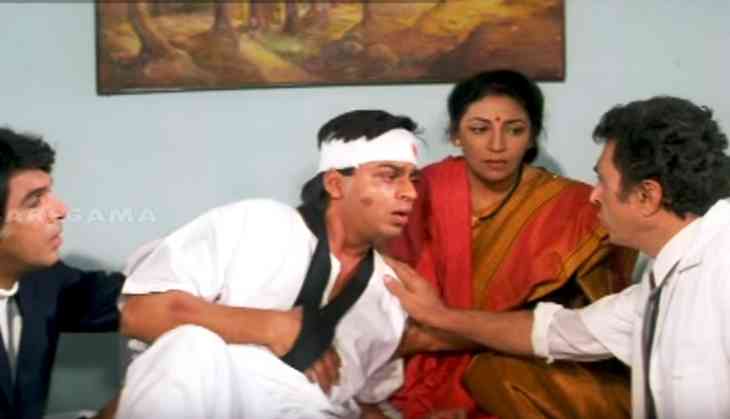 Every year, over 40-50 thousand cases of brain tumour are diagnosed in India. Of this, according to various news reports, 20 percent are children. Up until 2015, this number was at 5 percent and in one year, the incidence grew by an alarmingly high margin.
There are two types of brain tumours, namely malignant and benign, and it's only the former that is cancerous. Some common symptoms of brain tumours are headaches, numbness, seizures, memory issues, change in mood or even personality, difficulty in balance, nausea, difference in speech, vision, or hearing.
Given the extensive list of symptoms, it isn't surprising that popular culture has used brain tumour as an effective plot device to introduce drama in a story. Bollywood though, may have taken it too far.
Bollywood films through the 80s and 90s have treated brain tumour, not as the serious disease it is, but as a trope, for simplification, and more tragically, for diversion. As fantastic as the tumour is the resolution or treatment for the tumour, in almost every case.
Laughable as these scenes are, they're watched by millions who could form completely absurd notions about the disease based on them. On 8 June, World Brain Tumour Awareness Day, we thought it was important to look at some of these films and the ideas they propagate and, well, dismantle them.
Because 'chamatkar'!
We understand cinema can explain magic, but why not invent a disease and fix it with magic then? Why brain tumour?
In Mimoh's – yes, Mithun Chakraborty's son – cringey debut Jimmy, he develops brain tumour. An hour and much pointlessness later in the film, 'DJ Jimmy' finds himself in a prison cell surrounded by tinier men.
Jimmy fights the baddies hard, and just as he's about to choke a guy to death, another breaks a chair on his head. Ouch? Nope, because this chair is a lifesaver. It makes Jimmy's tumour go away.
Fun fact: Mimoh got a Best Male Debut Filmfare nomination for this disaster.
But the problem chamatkar isn't limited to terrible films alone. In Sanjay Dutt's Kabzaa, an otherwise tolerable Bad-Boy-Dutt film, doctor Dimple Kapadia rushes out of the ward to tell Amrita Singh the good news. "Chamatkar ho gaya!" she says, because you see, Dutt's tumour evaporated post a fight scene.
Magic failism
In Jitendra's Shiv Ram, the tumour leaves his brain with a passing bullet. Yeah, someone specifically shoots him in the tumour. And you though Rajinikant movies were larger-than-life.
For Bollywood though, there's nothing more magical than maa ka pyaar. In Guddu, Shah Rukh Khan's character Guddu develops a brain tumour. He gets a terrible headache while driving and meets with an accident. In that accident, Manisha Koirala's character Salina loses her eyesight.
Fast-forward to the melodramatic end, and Guddu is getting operated on. His maa locks herself up in the puja room chants 'Hare Krishna' for 5 days. Tumor is fixed. Maa dies and her aankhon ki roshni flies into diyas. Maa's eyes go to Salina. Salina and Guddu live happily ever after.
Medicine whaa?
Another completely strange scene in Guddu is when he wakes up post accident. He tells the doctor he got a headache, and doctor asks his maa if this is a first (because of course, maa has to know), and she tells Doctor Sahab that there's been a headache a week ago too.
Just a headache, no other symptoms, right? The doctor tells them they best get a brain scan because it could be a grave matter. That's right, the doctor scares the life out of a patient who just learned his girlfriend has gone blind because he couldn't apply brakes on time.
Never mind.
Doctors being strange about brain tumour isn't specific to Guddu though. In Amitabh Bachchan's Majboor, Bachchan's doctor tells him he must have his tumour operated on immediately.
Bachchan asks what would happen if he fails to. Here's the conversation that follows.
Bachchan: Operation na karne se kya hoga?
Doctor Strange: Agar tumhare sar pe bomb phat jaye toh kya hoga? Yeh tumour ek bomb hai jo tumhare shareer ke andar hai.
Awkward.
So Bachchan ends up on death row in this film. He's obviously innocent, but he doesn't care, because tumour and impending death. He suffers a seizure, is operated on, and well, the tumour is removed.
More drama ensues.
Better representation
According to the Brain Tumour Foundation of India, the disease is the second most common cancer among children, after leukaemia. Official data states that while it is entirely curable, only 6 percent of these children actually get access to treatment.
Mani Ratnam's Anjali, a film that was dubbed into a whole range of languages (including Hindi), sensitively represented the problem of brain tumour in children. Anjali doesn't have a happy ending, but it rightly shows a girl child – far more common than boys, and grown men – suffering from a cancerous tumour.
Another film that shows a child as a brain tumour patient is Kaash, where Jackie Shroff and Dimple Kapadia play parents. While this too has a tragic end, the film is centred more around the crumbling marriage of the parents, and it manages to give that a happy ending.
A completely non-tragic reference to brain tumour in Bollywood is in Abhishek Bachchan's Bluffmaster. Bachchan's character is fooled into believing that he has the disease, only to learn later that it was a lesson in reminding him the value of life.
While brain tumour may seem lampooned in this film, it is actually possibly the least offensive of the lot. Plus it proves Bollywood's obsession with the disease, almost rubbing it in other films' faces.
If only we could be less dramatic and more educative, it would probably result in far more people, especially children, getting adequate treatment.
Because honestly, humein dua nahi, dawa ki zarurat hai.