Three Billboards Outside Ebbing, Missouri review: Francis McDormand channels her inner rage in this darkly comical take on a US sleepy town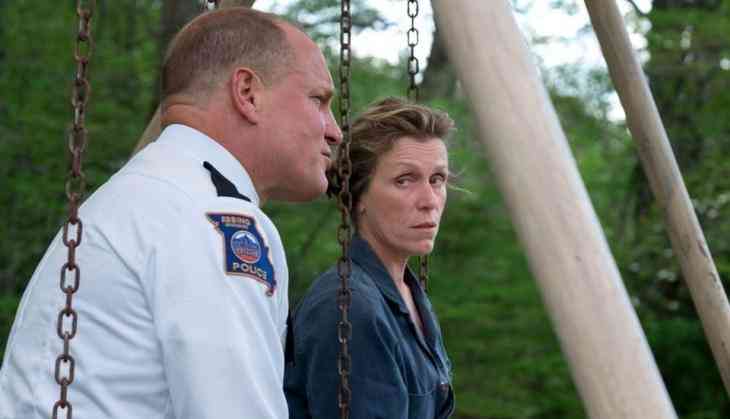 (Three Billboards Outside Ebbing, Missouri film still)
It just won five awards at the 71st British Academy Film Awards on Sunday, 18 February including Best Film, Best Actress & Best Direction - in the run-up to the 90th Academy Awards on 4 March. It's also rare that the movie mentioned above makes you cry because of the situation the lead character is left in and simultaneously laugh because you know that it is out of their hands.
That movie is a British film directed by Martin McDonagh. It's none other than Three Billboards Outside Ebbing, Missouri, the front-runner for the Best Picture award at the Oscars, other than Guillermo del Toro's irresistible fantasy romance Shape of Water.
Three Billboards Outside Ebbing, Missouri may sound like a drab on the surface, but don't let the title fool you. It is anything but. It's a black comedy and a 'burning' drama mixed into one. It's about vengeance coupled with violence and the embracement of death.
The lead character, Mildred (an outstanding performance by Frances McDormand) is a grieving divorcee, who hasn't heard from the local police enforcement many months after her daughter was raped and killed. To instigate the police into getting back to her case, which she thinks they have completely forgotten about, she decides to wage war. Mildred rents three billboards, in a town in the southern United States, for one whole year, each with a red background and a simple sentence.
Raped While Dying;
And Still No Arrests;
How Come, Chief Willoughby?
McDormand puts in her best performance since being a pregnant Minnesota police chief in the Coen Brothers' Fargo, which is eerily similar. The fictional town is Ebbing, Missouri.
Mildred is a toughened middle-aged woman, battered down by the happenings around her. Her husband Charlie (John Hawkes) has left her for a 19-year-old and her son Robbie (Lucas Hedges) doesn't much like her. She's singlehandedly fighting the battle if getting some closure on her daughter's case. The three billboards, providing some kind of a relief to Mildred, anger the locals, and indeed the police force.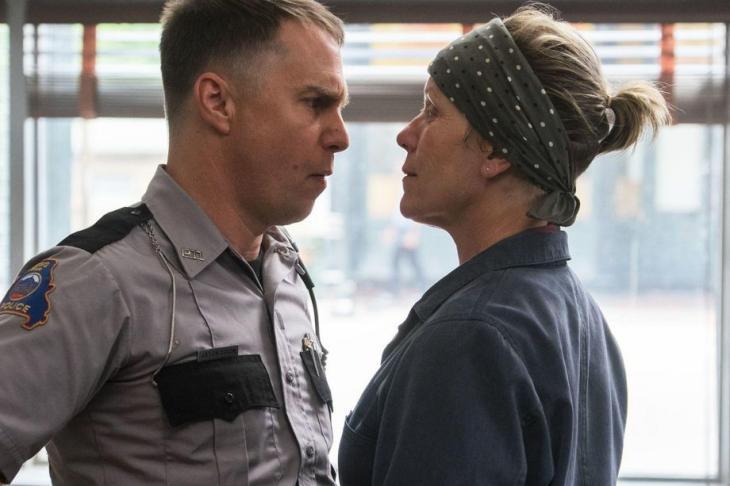 Three Billboards Outside Ebbing, Missouri movie still
Police chief Willoughby (another fantastic performance by Woody Harrelson), refuses to get instigated by the billboards. It's his college and racist deputy Dixon (Sam Rockwell) who goes to the other extreme. The three billboards, seem to heighten things in Ebbing, whether or not they are directly connected to the murder of Mildred's daughter.
Within the first twenty minutes of the movie, a sombre tone is laid out. What the director McDonagh smartly does is intertwine the somberness with comical moments encouraged by the 'I-don't-give-a-crap' attitude from Mildred, and from Dixon's mom who constantly schools her policeman son.
While some might think of the onest, that this is a simple crime thriller, it is totally not. It's a lot more about the human connections and a lot less about what happened to Angela, Mildred's daughter. McDonagh allows for the growth of each and every character, with none of them overwhelming the others. Mildred and Dixon being the most complex among them. What binds them together is the fact that the two of them have been screwed over and that in turns, fuels their anger.
Still, if one had to pick an outstanding actor from the movie, it would be McDormand. There's a scene with a priest in which she destroys a monologue, that has gotten wide praise. Then, McDormand also does small little facial movements so as to hold back the tears. It's a stunning performance, from a woman, still at the peak of her acting career.
It's a movie where the cops are neither good people nor bad. There's a lot of pain in the movie that is channelled through rage and violence. There is also the lurking racism that isn't much surprising in the context of the movie.
In McDonagh's bleak but humorous land of Ebbing, there aren't any easy answers. There's no one particular hero and there aren't a number of villains. Some may question Mildred and defend Dixon and others may do the opposite. It's the direction that powers this movie from start to finish.
You get a sense of the complexity mainly through the thorough work of Ben Davis, the film's cinematographer. Davis assures that the sleepy town is awoken with his delicate touch. The rusty charm of the town is not forgotten upon the viewer. Double that up with the way the film uses Carter Burwell's score, and the well-balanced mood of the film never wavers
Much of what is to like about the film boils down to the camaraderie of the actors. The fact that they all get along so well, both on and off the screen, elevates this film to another level
That isn't to say there aren't problems with the film. No film is perfect. There is the underlying racism that stays like a stench throughout the movie. There is the fact that the Sheriff falls in love with a much younger woman. It asks the question as to why he couldn't fall in love with someone more closer to his age.
Three Billboards Outside Ebbing, Missouri is a standout film in times of Fast & The Furious and Pacific Rim series and even on its own. It's one of the movies that is grounded. It's one of those rare movies, like mentioned above, that make you cry and then laugh, in the same vein.
Should you watch it?
This movie is sure to win a couple of Oscars - probably the Best Picture - come 4 March. Racism aside, this is worth it for a multitude of reasons - Francis McDormand, Sam Rockwell, Woody Harrelson, the cinematography, and the deft direction by Martin McDonagh - mentioned above. There is also a small little role from everyone's favourite Game of Thrones actor, Peter Dinklage.
If you can, head to the big screen to catch this movie. It's a movie we've been waiting for since Fargo and that was 1996. Twenty-two years on, we have our 21st century Fargo. Take a bow McDormand and McDonagh, you two have anchored a movie that will be talked about for years to come. It's a thumbs up from me.
Rating: 4/5