The Space Between Us movie review: The fault is in us humans & weak scripts
Jhinuk Sen
| Updated on: 11 February 2017, 5:39 IST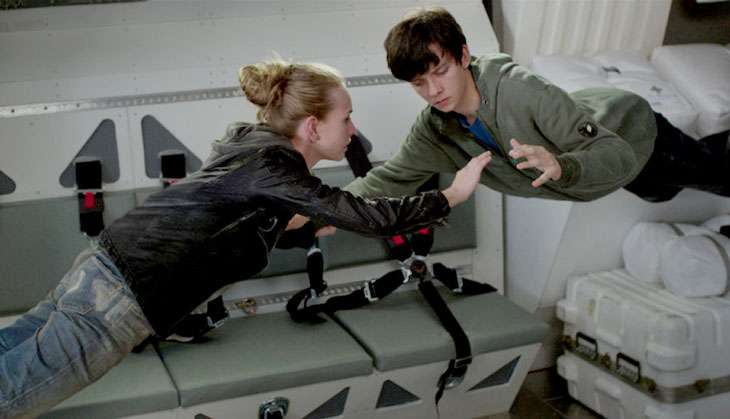 I for one am not someone who actively believes in deriving a lesson of sorts from a movie. But when one is sitting with an entire hall to their disposal - one tends to think about the life and universe and everything. Also, lessons that young romance can teach you.
The Space Between Us has been described by Wikipedia as a 'romantic science fiction' film. Romance - yes, science fiction - no.
There is nothing science-fictiony about a 16-year-old boy falling in love with the only girl he chats with - except that a 16-year-old is chatting with only ONE girl with the entire web at his disposal.
Gardner Elliot (Asa Butterfield - you'll remember him from TheBoy in the Stripped Pyjamas, Hugo and Miss Peregrine's Home for Peculiar Children) is the first human to be born on Mars. His mother Sarah finds herself pregnant; just as she along with a team of astronauts are on their way to Mars. Very The Martian - you'd think, but no - it's 2018 and there's almost a small colony on Mars called East Texas.
Secret Gard(e)ner
Sarah dies while giving birth to Gardner and he grows up on Mars as NASA and the man who created East Texas, Nathaniel Shepherd (Gary Oldman), decide that they need to keep this boy a secret - better for PR.
We next see Gardner when he is 16, super smart since he has been 'raised by scientists', tinkering away with bots, hacking systems, unlocking doors with the magnet put in his body to check on his vital organs - also chatting with a teenage girl called Tulsa (Britt Robertson).
Please don't ask HOW Gardner and Tulsa got chatting when the boy was meant to be a 'secret' - they didn't tell and no one asked.
Gardner's not all super-IQ-therefore-almost-droid. He watches old German movies, like Wings of Desire, steals his mother's belongings and sheds a quiet tear, learns about courtship from what looks like a video from the 1960s. Also, he promises Tulsa that he will meet her when he can.
And then just as 'logically', NASA & Shepherd had decided to keep Gardner a secret - pushed by Gardner's half-guardian Kendra (Carla Gugino) - they decide that it is time Gardner comes to Earth.
Teenage angst, love etc
Once back on Earth, Gardner has two things he must do -
1. Meet Tulsa.
As Kendra explains - she's the only person he knows and he's a romantic.
2. Find his father.
All that Gardner has is a picture and a ring that belonged to his mother.
Let's throw a third in this to-do list -
3. Fall in love.
It says romance in the movie description and you are not a cool alien, Gardner. You didn't even grow potatoes from your poo.
Gardner's body cannot handle Earth's gravity and he has an enlarged heart. All in all, it doesn't look too great for our hero, but he ticks off all the things on his list. He almost dies, but well...then he doesn't.
Love, science and let's go back to Mars
Let's not wonder otherwise, Gardner can't live on Earth so he must go back to Mars. However, the real crusaders of love - director Peter Chelsom and writers Adam Loeb, Stuart Schill - leave you with some hope as Tulsa starts training to become an astronaut. See boys and girls? Science CAN fix things, even love - so do your calculus and eat your veggies.
So did I learn anything from this movie? Actually - I did.
I learned (re-learned actually) that the biggest problem that human beings have - is themselves. Clearly, the less you interact with other people - the better the chances are of you speaking your mind and falling in love.
Gardner is polite, he speaks his mind because he doesn't know otherwise. He asks everyone he meets on Earth what their favourite thing about Earth is. Let's be honest - it IS endearing when you understand that it helps him figure out people (who are not scientists) and emotions.
Gardner tells Tulsa that she's beautiful. Tulsa tells him that he can't just blurt such things out. "Why wouldn't I?" Gardner asks. Here's how the conversation then goes:
Tulsa: "Because you may wanna play it cool you know...ease yourself into the love game..."
Gardner: "But I do think you are beautiful...you are the most beautiful girl I've ever seen..."
Tulsa: "...slow your roll kid, you're...you gotta calm down."
Gardner: "But I don't wanna calm down and I don't understand why this is making you so upset..."
Tulsa: "First of all, I am not upset, I am uncomfortable...secondly, people don't go around saying what they feel, whenever they feel it. They have guards and shields and other metaphors..."
Gardner: "Why?"
Tulsa: "Because we are all messed up, scared and trying to be something we are not and if we all went around just declaring our inner-most desires to the exact people we felt them for we'd all end up...happy or something..."
By the time Tulsa's done - she's confused herself about how happiness works and how people make it work.
Let's go back to Mars - people are nicer there.
That, personally, was one of the best scenes in the movie. But then frankly - the movie doesn't have too many other solid scenes to boast of before it all turns into young-romance mush.
Butterfield and Robertson are convincing in their roles. The former seems to have effectively learned to work out his wide-eyed confused look really well. He could have walked out of Miss Peregrine's and into The Space Between Us and you wouldn't bat an eyelid.
The veterans Oldman and Gugino are good, but they aren't great. Oldman almost fails to sell his role to you - but I'd blame the script for that.
Don't watch it if you can't handle teenage love, otherwise, it is a pretty ok movie to enjoy in a (empty/half-empty) theatre.
Rating: 2.5/5