The 11 best TV shows of 2016: television's 'golden age' packs a suckerpunch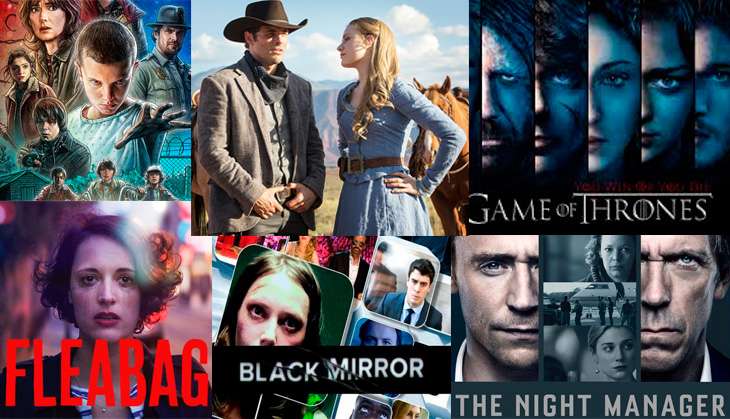 The past year may have been filled with too many horrors on the news front, but 2016 was a strong year for good television. The 'golden age of TV' continued unabated with fresh, fantastic offerings from nearly every network.
The phrase "like nothing else on TV" got tossed around a billion times, making it a ridiculously hard task to pick a top 11. And considering what a mediocre year it has been for films, we're grateful.
Even the very nature of TV is changing from the simple 21-minute sitcom and 42-minute drama formats to miniseries, anthologies, spinoffs, TV specials and reboots. The shows themselves are getting far more self-contained, with an aggressive idea sustaining it and better clarity behind the storytelling.
Here are some of the small-screen essentials you should catch up on if you haven't already devoured them already:
1. Stranger Things
Netflix's breakout hit of 2016 - the Duffer brothers' meticulous mix of '80s pop culture, nerds, sci-fi and horror - was ridiculously original and immersive in every way possible. It managed to appeal to one and all, not just fans of the horror genre, Stephen King and Steven Spielberg - but everyone, by powerfully transporting viewers to a time, place and a feeling.
Set in the fictional Indiana town of Hawkins, the shows tells the story of the mysterious disappearance of Will Byers, one-quarter of a gang of Dungeons & Dragons-playing nerds. Over the next eight episodes, we get a nutty mix of nostalgia, sci-fi horror, CIA conspiracy theories and even a little high school romance.
Just good, pure television.
Also read - Netflix's '80s sci-fi throwback Stranger Things is 2016's best TV show
2. Westworld
We were told it was going to be an "epic show", "HBO's bid to stay at the top", but no one was sure about what to expect. Produced by Jonathan Nolan, Westworld is among the more mind-bending TV shows to hit the small screen ever, with a powerful upward narrative where things just keep clicking into place as you watch episode after episode. There were a billion fan theories on the way, of course, and a lot of ambiguous details thrown in, but it all works itself out.
It was also the stellar performances that made it addictive and essential viewing - from Anthony Hopkins to Thandie Newton, Jeffrey Wright and Evan Rachel Wood.
The biggest first season of any show in HBO history, the story follows several robotic "hosts" in a Wild West theme park. It's their job to pleasure humans and entertain them in any way a human deems fit - be it rape or murder.
But the robots are developing signs of consciousness. The key takeaway seems to be that only suffering makes you alive, which may be a pretty bleak conclusion, but the show also asks a very relevant question in a year where "surreal" became the most searched for word: what does it mean to be "human" anyway?
3. Black Mirror
The disturbing anthology series made its debut on Netflix this year, and we got some gems, particularly episodes like 'Nosedive', 'Playtest' and 'Hated in the Nation'.
The purpose of the show remains the same - to drive home the point that the technology we rely on to live our lives is likely to consume and destroy us entirely in horrifying ways. So even though the show leaves you feeling like you should switch off your screen, all you can do is hit 'play next'.
But not every episode was as satisfying. A military themed episode - 'Men Against Fire' - set in the future that revolves around soldiers protecting frightened villagers from infected mutants is too heavy-handed with its social commentary. And 'Shut Up and Dance', while not a bad episode, is a super frustrating watch.
4. Game of Thrones (Season 6)
Season 6 of
Game of Thrones
moved well past
A Song of Ice and Fire
, the incomplete fantasy series by George RR Martin that it is based on. The whole season was explosive, with many jaw dropping moments, and even gave us empowered female characters - heroes and villains alike, making it all the more satisfying.
The season easily ranks among the series' most impressive to date, what with HBO correcting a series of missteps, giving us great production value like in "Battle of the Bastards", and giving us payoff after payoff.
Winter has finally come, but Season 7 can't come soon enough.
Also read -Game of Thrones Season 6 Episode 10 recap: The great game begins again
5. The Night Of
British actor and rapper Riz Ahmed has been popping up everywhere this past year, from Jason Bourne to Rogue One: A Star Wars Story.
But Ahmed's best offering in 2016 was HBO's slow burner eight-episode miniseries about a young man of colour accused of killing a young white woman.
From the very first episode - in which a Pakistani-American college student from Queens named Naz (Riz Ahmed), has a drug-fuelled night with a mystery girl only to wake up to find her dead, and is then arrested for her murder - it is clear that the show isn't a detective story in the traditional sense, but a deep study of a young man caught in a dysfunctional justice system.
And that's what we got - the episodes then follow Naz's trial and the toll it takes on him, his parents, and his lawyers (John Turturro and Amara Karan).
It's a complicated, delicate story, threading in post-9/11 fear of Muslims, the machinations of the legal system, and the paradoxes of Rikers. And definitely one of the better offerings of the year.
6. The People v. O.J. Simpson: American Crime Story
FX's latest true-crime mystery took a case that has been over-analysed for decades, but flipped it on its head and managed to focus on the people and prejudices that turned the clear cut homicide into the publically-played out judicial farce of a century.
It was a timely show, and has been among the more nuanced and weighty examinations of media culture and reality television than we've ever seen.
Ryan Murphy may have seemed ill-suited to many for the subject matter, but the American Horror Story and Glee creator gathered a perfect team to execute his dream with powerhouse performances: Sarah Paulson's fierce but overwhelmed Marcia Clark, Courtney B Vance as the silver-tongued Johnny Cochrane and Cuba Gooding Jr as a the self assured yet sad OJ Simpson. We even got treated to some David Schwimmer and John Travolta.
7. Last Week Tonight With John Oliver
There aren't many who can tell it like it is like John Oliver. With exhaustive research and fact-checking, his shows have provided deep dives into many subjects in a year that we needed him more than ever. The satirical current events show doesn't shy away from complex topics - Donald Trump, Brexit, fake news, credit reporting, refugee crises, opioids, Guantanamo and police accountability - and the Oliver's razor sharp wit and sarcasm help bring attention to relevant issues.
Let's not forget how his show discovered that the Trump family's original surname is actually "Drumpf."
He has become one of the most sought out voices of our times. I'm sure 2017 will be full of dark days where we'll need him.
8. The Night Manager
It ended on a much emptier note than you would have expected, but The Night Manager was nonetheless one of the glossiest and most entertaining miniseries of the year.
Based on John le Carre's novel, the BBC-AMC coproduction follows ex-British soldier Jonathan Pine (Tom Hiddleston, who proves that he wouldn't make a bad Bond himself should the need arise) who is recruited by MI-6's Angela Burr (Olivia Colman) to bring down arms dealer Richard Roper (Hugh Laurie).
Directed by Susanne Bier, The Night Manager has something for everyone - fans of spy dramas, fans of cinematic television, fans of good storytelling or just of Tom Hiddleston or Hugh Laurie. It's glitzed and sexed and violenced up and all the better for it.
9. London Spy
Ben Whishaw is probably best known for playing Q in Daniel Craig's James Bond movies, but in 2016, it was his subtle, heart-wrenching, multilayered performance in London Spy that should bring in the accolades.
This five-part series, which has sensational performances from Whishaw, Jim Broadbent and Charlotte Rampling, is a spy story and a psychological drama which centres on identity and loss. It asks what it takes to be a player in the spy game, and what it means to be gay in a world that would rather one weren't.
Whishaw gives this haunting drama as Danny, the protagonist who falls for Alex (Edward Holcroft) right before he disappears. Danny is then forced to learn how to open locked doors and discover secrets not meant for him, while attempting to survive the many forces fighting to undermine him all the while.
It's a rare show with a rare perspective. Give it a shot.
10. This is Us
"Refreshing" is the word that has been used the most often for this comedy drama from NBC. Despite being a family melodrama that aims to make your cry as much as possible, this network offering is just that: refreshing.

Dan Fogelman's show fills an emotional gap that been missing from TV, which may just partially be the reason behind the warm reception it's got.

It offers a compelling drama of how Randall Pearson (Sterling K Brown), an adopted black child in a white household (with Mandy Moore and Milo Ventimiglia), adapts to growing up with twins (Justin Hartley and Chrissy Metz) who also share the same birthday as his.

The story is told over two different timelines, adding a charm as you get to shift between see the children as kids and as adults to see what truly defines who they are.

It's welcome respite and the ideal escapist television show for 2016.
11. Fleabag
Fleabag is a new dark comedy from the BBC and Amazon, giving us a feminist glimpse of the single life in London above 30. The main character, played by the wryly infectious Phoebe Waller-Bridge, is known to us as only Fleabag, gives us a tonne of poignant moments over the eight episodes. As much as you'll feel tugged into wanting to hate her, you simply won't be able to. Instead you'll giggle at moments of stupidity and then cheer her on for her petulance and dry self loathing.
The show funny as hell, with a dark bite and it breaks the fourth wall to create something a bit more intimate that we're used to. It's probably among the more crass offerings of the year, but one that shouldn't be forgotten too quickly despite how short and sweet it was.
Honourable mentions: Silicon Valley, Narcos, American Horror Story, The Crown, Transparent, Danny Glover's honest sitcom Atlanta, a very on point Black-ish, The Get Down, Stephen King's 11.22.63, Guillermo del Toro's The Strain, ESPN's OJ: Made in America, Orange is the New Black, The Flash, Luke Cage, The Man in the High Castle, BoJack Horseman, Catastrophe, Vikings, Marco Polo, Mr Robot, Life in Pieces, The Good Wife, Crazy Ex-Girlfriend, The Americans and the consistently excellent Jane the Virgin.
More in Catch -Monster guide: 21 new TV shows you shouldn't miss in 2016