Sonita Alizadeh and how rap music drowned the noise of Taliban bullets
Asad Ali
| Updated on: 10 February 2017, 1:40 IST
Everyone breaks rules in some way or another in Sonita, Rokhsareh Ghaem Maghami's latest documentary, screened recently at the Dharamshala International Film Festival.
Afghanistan, where the film's protagonist - a young 16-year-old Afghan Sonita Alizadeh - hails from, breaks rules. But in a way that adversely affects the lives of its citizens. And, as Sonita plays out we see both filmmaker and her subject, break rules as well in their dangerous journey together.
As Sonita, an aspiring rap artist uses her music to beat down convention, Rokhsareh disrupts what's often seen as cinematic convention - by appearing in her own documentary and actively influencing the fate of her film's protagonist by literally buying her freedom for $2000.
The film has already won the Audience Award for Best Documentary at the IDFA Amsterdam Film Festival and the 2016 Sundance Film Festival.
The Sound of Sonita's Fury
Rokhsareh says she met Sonita through a cousin, who worked in a nonprofit to support child labourers. Over the course of about three years, Rokhsareh traced Sonita's life and the decisions that were to change Sonita's life forever.
An Afghan refugee in Tehran from a very young age, Sonita always dreamt of becoming a famous rapper. In the film she is asked, given a choice, who her parents should be. Sonita writes out her answer: Michael Jackson and Rihanna.
She is also a huge fan of Yas - an Iranian rap artist, co-incidentally one of the first rappers given official sanction to perform in Iran. However, talented and tenacious as Sonita may have been, the film shows how Sonita's mother visits her in Tehran, asking her to return to the shadows of sharia in Afghanistan - Sonita must marry the man her mother has looked for her. The marriage would give Sonita's family about $9,000 in dowry, a sum that'll be needed for Sonita's brother in turn, to buy himself a wife.
At this point in the film Sonita actually asks Rokhsareh, "Would you buy me?" The filmmaker, despite objections by her crew, decides to pay $2000 that buys Sonita 'freedom' in Iran for some more months.
She also helps Sonita produce a music video called "Brides for Sale." Dressed in white brideswear, with a telling barcode pasted on her forehead, it's a powerful rendition of all the helplessness that rages within Sonita and moulds her music. Sample some of the lyrics:
Let me whisper to you my words
So no one hears me speak of selling daughters
My voice shouldn't be heard, as it's against sharia
Women must remain silent, this is the tradition of our city
Sonita's music gets noticed and she finally gets an offer to attend Wasatch Academy in the US on a full scholarship - her shot at education, more music and an unshackled life.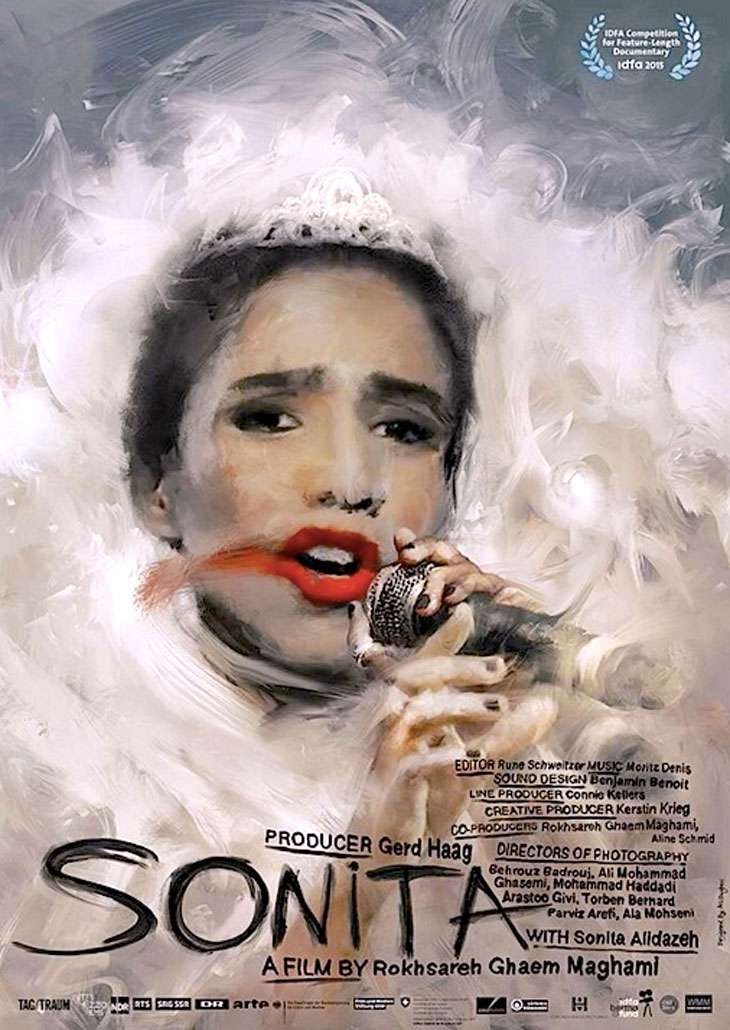 Rules of the Game
Rokhsareh seems tired of the obvious question of objectivity. How could she, as a dispassionate documentary filmmaker, step into the narrative herself and offer money to buy out her subject? Accusations of ethics and self-interest (she's buying Sonita freedom to ensure the film keeps going) aside, how would she justify the necessity of the decision in the rest of the documentary?
Rokhsareh is pretty blunt with her views as she dismisses all notion of objectivity: "You can never be a fly on the wall, you're always making subjective choices. You're always like an elephant in the room instead. When you're there with a family, just your presence changes everything. Their behavior, mood everything. Objectivity in that sense is just a claim, it's not for real."
Agreeing that the genre of documentary needs to redefine itself, Rokhsareh says that there are prominent examples of filmmakers who don't shy away from appearing in front of the camera, Michael Moore, for instance.
One aspect where the film lagged a bit was in capturing Sonita's political views. Rokhsareh explains that though Sonita's music has political resonance, "somehow it didn't seem to match the structure I wanted when I was doing the final edit." She says that Sonita might have political views but "she wasn't in a position where she can have overtly strong views."
A note that goes off key
The irony is hard to miss. Sonita is the happiest when the news of her acceptance to a US school is confirmed. The filmmaker in fact, plays an active role in helping Sonita towards a brighter future.
However, isn't it jarring that the country Sonita looks at with wide-eyed optimism as the pinnacle of freedom, has mostly been accused of disrupting freedom there in the first place? In one particularly poignant scene, Sonita is on the phone with her mother and says, "Mom, there are no Taliban here!"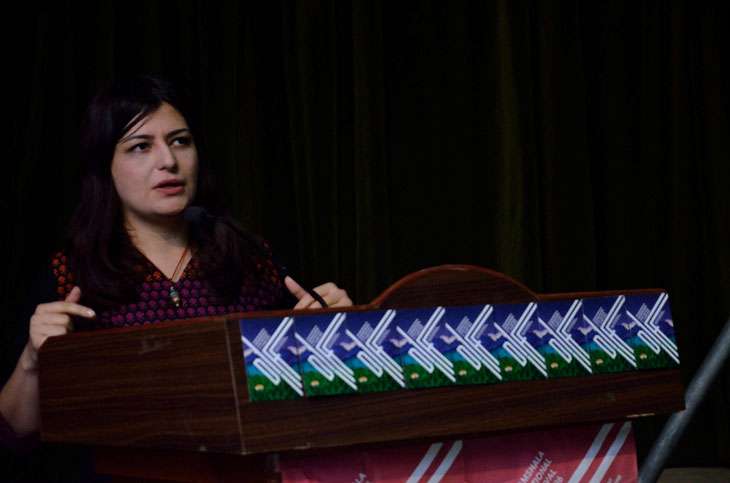 Rokhsareh Ghaem Maghami speaks at the Dharamshala International Film Festival, 2016
Asked about the reality of Sonita's Taliban-less utopia, Rokhsareh gives a candid reply. "Usually when America is supporting something, you should ask yourself why!" It's a place of great contrast, she says, where individual freedom is definitely valued but if you look at their foreign affairs policy "it gives a lot of countries a hard time to ensure freedom and welfare for itself."
Have Sonita's circumstances and the need to succeed hemmed in her ability to ask difficult questions in her country of choice? Rokhsareh says that she's definitely young and "she's too overwhelmed with all the star status around her." In the long term, says Rokhsareh, "she'll start thinking more independently" but concedes that America's "culture of philanthropy" has helped a lot of people including Sonita.
"For Sonita just going to the school in US was like a dream. I suppose for some lucky few, America can be a paradise."