Rivals in Law: Saas-bahu meets Masterchef on Indian TV. God save us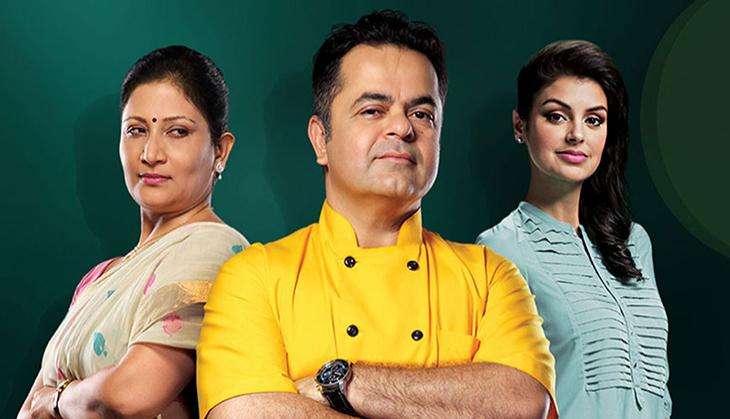 What's worse than Indian reality TV? The answer, quite simply, is Indian saas-bahu soaps. Except now, there's something far worse out there.
In what seems to be the stuff television nightmares are made of, these two regressive formats have had a monster love child of a show called Rivals in Law.
A recipe called patriarchy
Before we get get started on the horrors of this show, here's a quick explanation. Far from being a legal drama, as the title might lead you to believe, this FYI TV18 product is a cookery show where mothers-in-law and daughters-in-law engage in cook-offs. While that only seems borderline offensive, the real clincher here is that the all-powerful judge is the husband/son.
That's right. Apart from copious amounts of life-gyaan that celebrity chef and host Vicky Ratnani provides on the show, the winner is ultimately declared by the man in the family, the one who gets to lounge and judge, and nitpick where not needed.
Also read - Is consent sexy? The women behind this webseries say F*ck Yes
As the FYI website describes it, "It's always a competition between the mom-in-law & the daughter-in-law to fight for the affection of their son & husband respectively. Presented by Chef Vicky Ratnani, Rivals In Law is not a typical saas-bahu saga, but a friendly competitive cookery show with relationship at its core."
In short, the show is a celebration of pretty much everything that's wrong with the patriarchal family setting. And as if the show's synopsis wasn't barf-inducing enough, the promo trailer will have you running to the nearest toilet to hurl.
The new TV channel FYI TV18 currently has two desi shows running. And despite the other - Real 2 States Couples - being hosted by none other than Chetan Bhagat himself, Rivals in Law takes the cake (and bakes it too). For a show's regressive content to beat Mr Bhagat's narcissism is a feat in itself. But Rivals in Law serves as a point-by-point lesson in understanding patriarchy, and can thus be used as guide to The Sort of Family You Can Do Without 101.
Also read - One Indian Girl... not: Every Chetan Bhagat book has the same woman
Whether it intends to or not is quite simply immaterial.
That this show is problematic is beyond questionable doubt. But the ways in which it is problematic can be deduced from four distinct types of episodes.
1. The traditional family
Prabhjot's was an arranged marriage. His wife, Sonia, wants him for saat janam. While that's cute and seemingly idyllic, Prabhjot takes great pride in lovingly declaring his wife and mother his slaves.
He responsibly delivers on his role of slave-driver - also known as son/husband - and makes is known that he is hard to please. Positioning himself as a household food critic who refuses food on the basis of its smell, Prabhjot proudly says, "I just like to taste and find out the mistakes."
The women are only too happy to feed into his fantasies as much as feeding him in general.
"Every time he asks for food, both of us run to the kitchen to please him," says his mother, thrilled at the prospect.
When asked about the competition, she says that no matter what, it's her victory. Because she gave birth to Prabhjot.
The patriarchy is so beautifully inherent in this family that Prabhjot's only function seems to be to order. And unlike on Zomato, he needn't wait nor pay. Plus he can return the food by just saying that it's nothing new.
Meanwhile the women spend their days fretting over how they can improvise on dishes in order to ensure it gets consumed. And they smile painfully through it all.
2. The urban elite family
The Bangeras look like they've walked out of Select Citywalk on a Tuesday afternoon. As they appear elite, educated and unusually good looking, their presence is a great way to ensure upper-middle class viewership for the show.
However, when it comes to regressive attitudes, more than the family, the host shines through here.
Vicky Ratnani asks Karan Bangera if he didn't know the format of his show. When the latter appears confused, Ratnani, in a desperate attempt to hit on his mother, says, "You had to bring your wife and mother, not your sister."
Everyone laughs uncomfortably but Ratnani cracks himself up. After all, it's totally cool to hit on an older woman if she wears pants and appears modern, isn't it.
Karan's wife, Maithilee, is a working woman who makes the time to cook for him over the weekends. "I had no interest in cooking [before marriage]," she says, adding, "Karan loves food so I learned for him."
Karan nods his approval and says, "Food is one way my wife shows me how much she loves me." Because of course, it is on her to repeatedly prove her love to the husband. Never mind that she comes from a more "open family" and has had to "adjust" with the Bangeras.
3. The roles-reversed family
Remember Ki & Ka and the hullabaloo around the over-simplistic role reversal the film showed, to the point of it being closer to tokenism than any reality? This is no different.
This episode, starring a Malayali husband Shrikanth Nair and his wife Reena Soni, as Ratnani repeatedly exclaims through the show, reverses roles, where the son-in-law must cook off with his Punjabi mom-in-law. Reena Soni, for a change, was the judge.
Having spotted the only episode with this reversed format, I was hopeful that perhaps for once the wife wouldn't be questioned about her cooking skills. Obviously, I was wrong.
Unlike in every other episode, where the judge gets to be judgmental and never answerable, Vicky Ratnani was quick to ask Reena why she doesn't cook.
"I'm not excited about cooking," she utters, and soon enough she gets called lazy. Reena understands the kitchen as the most important room of the house as "food brings the family together", however, it isn't enough that she loves food.
Despite having two stellar chefs in the family Reena must explain why she doesn't cook, because what good is a married woman if she cannot.
4. The celebrity family
I was uncertain about watching this episode as I imagined actor Rohit Roy, his wife and actress Manasi and his stoic Bengali mother would, after having years of experience in front of the camera, be politically correct.
But despite having a tabloid-friendly marriage with an equal, Rohit Roy's understanding of a woman's role in the household comes off as one of the worst.
Also read - Kareena Kapoor, Carol Gracias and the birth of Pregnancy Pride
The women have a close bond that Roy cannot fathom. Manasi, on days when her cook Raju isn't around, would call up Rohit's mother for help. Instead of understanding this dynamic, or possibly feeling left out, Rohit says, "When Raju doesn't come, she freaks out. But she won't go do something on her own." Never mind that he can't cook to save his life.
When Manasi tries to object to his mansplaining, Rohit continues referring to her in third person with, "That doesn't mean she can't cook or is incapable. It just doesn't occur to her that she can cook."
The women aren't given a chance to speak.
Rohit, in full performance mode, continues talking about how when he married Manasi at first, she took time to adjust with his family. "Like typical mother and daughter-in-law, Manasi wanted to take control over the kitchen and mom won't let go. That was the only clash."
But as the show progresses, it becomes apparent that the women help each other out frequently. When Manasi finally wins the show over a Bengali recipe (also, Rohit's favourite), she must pay for getting it right.
While her mother simply beams at her, Rohit says, "Manasi may have won, but she's lost. Because mom, now on you won't cook. She has to."
Remember all the food challenges on Fear Factor that made you lose your appetite? This cooking show manages the same effect with regular food.