La La Land review: the sort of brilliance that hasn't been seen in decades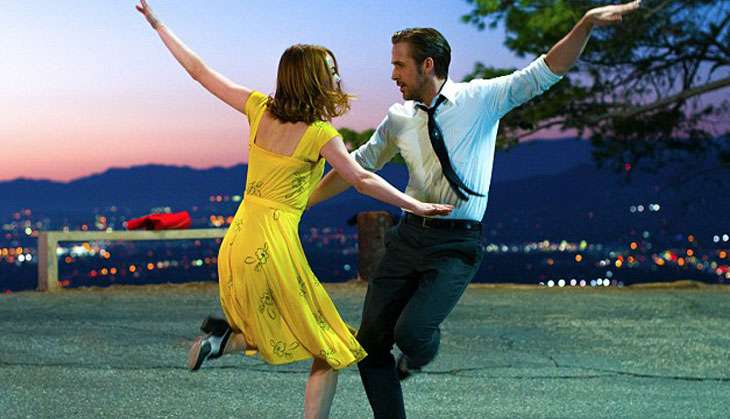 Damien Chazelle's Whiplash - about an electrifying battle between two jazz musicians - was one of 2014's standout movies. It was nominated for five Oscars, including Best Picture, and won three.
Chazelle's latest, La La Land, is well on its way to a new hall of fame. The vibrant and original musical, which looks all set to dominate the 2017 Golden Globes, is essentially about the tussle between love and ambition. It's about the relationship between Sebastian, a jazz pianist played by Ryan Gosling, and Mia, an aspiring actor (Emma Stone).
The movie, bound to be one of the major Oscar contenders, is a reminder that the world is still magical, despite how awful 2016 may have been. It's filled with more genuine moments of movie magic than nearly every movie I've had the fortitude to review this year, barring a few.
The trailer, when it initially came out, sold us a mix of Glee and Bollywood - what with its dramatic looking sequences. But the movie itself is a masterpiece of sorts - it's Broadway brought to the silver screen in a gorgeously surreal way. It's a rare mix of the nostalgic and the contemporary - and is full of homages to the Golden Age of Hollywood musicals. And despite being set in current times, it's got the '50s and '60s stamped all over it.
In other words, it's the kind of movie that hasn't been made in decades. And isn't likely to be made again in the near future, unless Chazelle has managed to infect people with his creative spark.
The opening ensemble, where people stuck on a freeway in Los Angeles perform a one-take exuberant song-and-dance number that must have take a terrible amount of practice to get right, is obviously Chazelle's way of helping the audience immerse itself in what's to come; to help the public shake out of the real world and jump headfirst into this fantastical little movie (no, not little. At two hours and nine minutes, it's one of the longer offerings of the year).
Now, Gosling and Stone aren't exceptionally singers, though Stone showed us how good she is at lip-syncing on Jimmy Fallon's show. But both dazzle and are in top form. The poignancy with which they bring the smallest emotions to life on their faces is proof of their star power.
There's one particularly magical scene in the Rialto theatre as they settle down to watch Rebel Without a Cause.
Both are graceful in their movements, conveying their chemistry with a few wonderfully choreographed dance numbers, particularly the one where they take a long walk over the Hollywood Hills exchanging jibes.
The song says 'nope' to their budding chemistry, but their movements betray them, making the audience aware of the magic that's already entered the two characters' lives.
All that jazz
Chapelle's vision is brought to life by cinematographer Linus Sandgren with one exquisite frame after the other. It's all expertly crafted.
Jazz, as it did in Whiplash, forms the backbone here too. Like so many great musicals, there is one song at the heart of their romance - a single piano ballad with unimaginable power that manages to carry both the main characters and the audience off to faraway places. The original songs and score by Justin Hurwitz are terrific, as is the high-flying choreography by Mandy Moore.
There's just no way you won't fall under its charming spell.
The romance is corny in parts, but again, it just makes everything that much more wholesome - taking it from being endearing to sexy to melancholic to just downright hilarious. The movie does sag a bit in the middle, but with all its deliberate idiosyncrasies, it all comes together to make the whole thing an enthralling watch.
Bonus: JK Simmons jumps in for a cameo. He's still as grumpy as ever, with a whiplash tongue that's always on the ready.
The verdict
It's a beautiful movie about love and dreams, and how the two impact each other. As much as the cynics will walk in with half a mind to hate it, they won't be so quick to dismiss the enticing musical once the last song is sung.
RATING: 4 out of 5