Lady Macbeth review: Florence Pugh is brilliant in this terrific period drama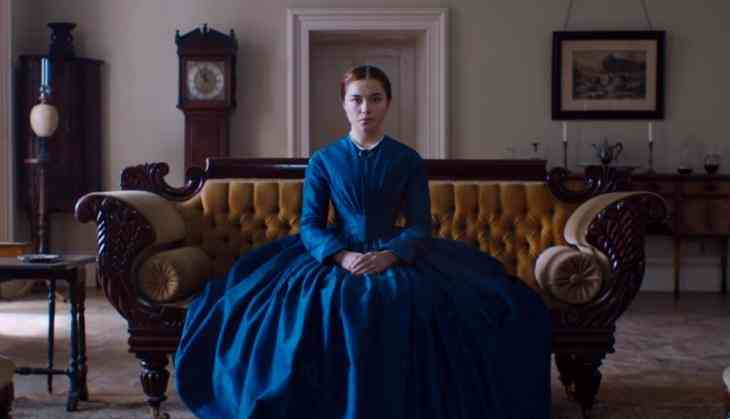 (Lady Macbeth film still)
Director William Oldroyd does a lot with a limited budget. His feature debut, Lady Macbeth, is fierce and dark. Don't be fooled by the title as this is nothing like Shakespeare. Instead, it's based on Nikolai Leskov's 1865 novel Lady Macbeth of the Mtsensk District and has been adapted by dramatist and screenwriter Alice Birch.
There's no sleepwalking and neither is there any rinsing of the blood. The leading lady Katherine (Florence Pugh), is smart, sexy, cunning and a remorseless killer.
This telling of Lady Macbeth is truly a Victorian noir set in the uncultivated uplands of northeast England. The chilling narrative opens with a teenage bride Katherine being married off to a rage-filled and hostile heir Alexander. It's 1865 in rural England and the only female voice Katherine hears is her own. She's clearly the odd one out as she doesn't know her husband, nor the wedding guests.
Alexander's father Boris (Christopher Fairbank) purchased the bride along with a piece of land "not fit for a cow to graze upon". Katherine is stuck in a hopeless and loveless marriage. Unhappy but unrelenting, Katherine catches the eye of Sebastian (Cosmo Jarvis), a worker on the property.
Once Alexander leaves for work, a young woman caged on this estate is let free. Katherine decides that Sebastian is going to be hers. A violent encounter leads to the start of an affair carried on despite several warnings from everyone else in the household.
At one point, her father-in-law says, "You have no idea of the damage you can cause." Actually, Katherine has a solid idea.
Oldroyd has made his name as a theatre director. For his feature debut, Oldroyd sticks to his strengths. Katherine (aka Lady Macbeth) is confined to the house and its stables, which is much like a gloomy prison from the inside. Outside, we aren't shown much of the exterior but we can hear the roaring wind flying by the unhinged Katherine.
When both the men are away on business, the women of the film, Katherine and the almost entirely mute maid Anna (Naomi Ackie) take over the screen like no other. Katherine goes from sleepiness to drinking and finally seducing her lover. Anna, on the other hand, is both emotional and strong.
She's determined to not let her duties take a hit but she's also not blind to the action unfolding in front of her eyes. Katherine's revenge could be seen as payback for the humiliation the leading ladies face. The movie also transcends class and race as the maid is black while the lover is of mixed race.
It's a tale of rebellion and even though Katherine is evil, she's always a lady first. From a feminist heroine to a disturbing character, Pugh plays the role with utter ease. Katherine is elegantly dressed in Victorian-era outfits and Pugh is mesmerising. Pugh is truly one of the most exciting and upcoming British talents. Oldroyd will most definitely be getting many more movies to direct after this.
The supporitng cast that includes Golda Rosheuvel and Anton Palmer deliver terrific performances that aid the main character and give heft to the film. The pacing of the film is swift - it's all over in 89 minutes - while the direction is extremely well thought out.
Should you watch the film?
It's an intense film that subverts the classic we've all read long ago during our school days. It's a slow burner that is eventually worth your time no matter whether you watch it on the big screen or not.
If you're not keen on seeing mindless over-the-top action in Kingsman: The Golden Circle and you'd rather not watch a film about election in a naxal-controlled town, definitely give Lady Macbeth a chance. If you miss it on the big screen, do not miss it when it comes to a smaller screen nearest to you.
Rating: 4.5/5