Ladies Room: this web series is a storm of fresh air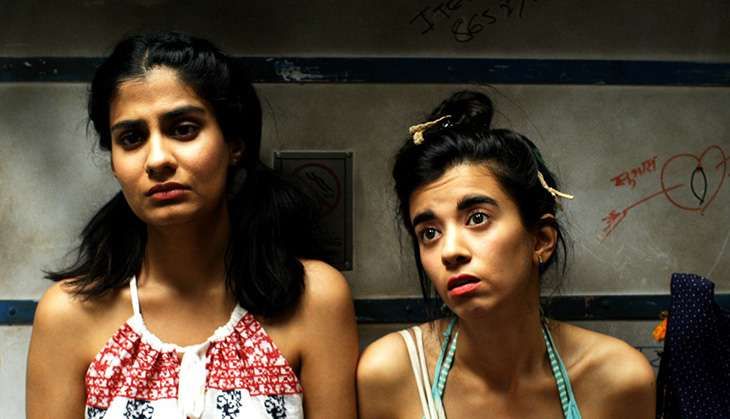 The single-location web series Ladies Room is not so much a whiff as it is a storm of fresh air.
Directed by JNU alumnus Ashima Chibber, and written by Ratnabali Bhattacharjee and Neha Kaul Mehra, the series features Saba Azad and Shreya Dhanwanthary, who play Dingo and Khanna.
Previously, Mehra had written the Girliyapa episode (also a web series), How I Raped Your Mother, an unsettlingly funny take on a not-so-funny subject: marital rape.
Each of the six segments of Ladies Room has been viewed more than a 1,00,000 times and total YouTube views stands at seven million. A full-length movie is also in the pipeline.
Khanna and Dingo are in their 20s and they talk about stuff that globalised 20-somethings talk about: experimenting with drugs (trippin' balls), sex on Tinder, fuck buddies, abortions, patriarchal bosses and the proverbial office slime ball.
What drew me in initially, was the dialogue. This is how a generation speaks, and the writers of the show have managed to capture the spoken idiom seemingly effortlessly.
What also makes the show different is that it isn't trying to send out an overt message (like Girliyapa was). The viewer is left to his or her own devices.
Tum jaise abortion types...
So while an episode called Dicks, Pics and Dick Pics is about female foeticide, the aesthetic that the makers follow is of uncompromising realism and not one of smuggling in a message while making you laugh.
The realism and the dark humour that comes with it forces viewers to read between the lines and face up to uncomfortable questions.
In Dicks, Pics and Dick Pics, Dingo and Khanna go to Lotus Maternity Clinic. Here, two Indias collide.
The first is an India where feisty single girls have premarital sex and are not shy of going in for an abortion - a woman owns her body. The second India goes to the same clinic to kill the female foetus.
The hypocritical hectoring nurse is nice to the latter but is snarky with the first. 'Tum jaise abortion types' she calls them, hinting at Khanna's loose morals. At the same time, she's totally accepting of the 'female foetus killer'.
Dingo and Khanna are characteristically irreverent about the medical procedure:
Khanna: Shitty Titty Didi (reference to the nurse) shook that probe around my vagina like an eggbeater ya.
Dingo: Is it weird that that turned me on just a little bit.
Khanna (unperturbed, blase): Yes, Dingo, it is. You seriously need to get laid, man.
Swipe right?
Meanwhile Achyut Garodia, Khanna's sleazy office co-worker, sends a message to Dingo on Tinder, which Dingo reads out aloud: 'Baby, you made me into an astronaut because I want to travel into your a*#s.'
Garodia's wife, we learn, has already had two abortions in her quest for a third son: "Last do baar gira ke laga tha ki is baar mere ghar mein khushiyan aayingi hi nahin."
She boasts about being married to Achyut: "Jaipur ke No. 1 bachelor, now Bombay's No. 1 husband."
But today is different; her illegal tests show it's going to be a boy.
On hearing the news, Aarti Girodia (who the girls called Fatty Girodia) gushes happily: "I guess doggy at sunrise does work, na!"
And all this happens on Valentine's Day.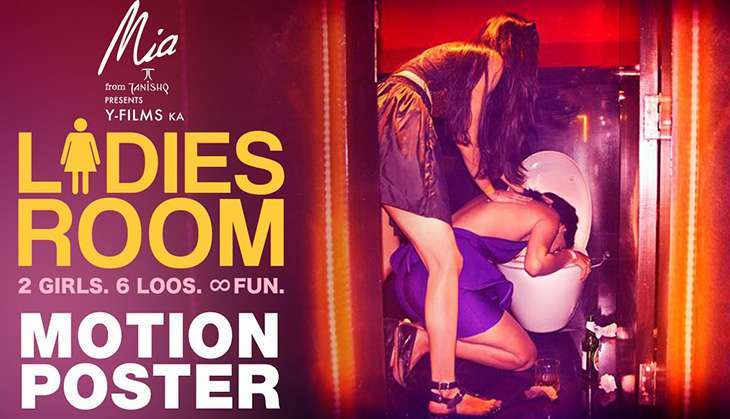 Female bros and more
While Ladies Room is a feminist show about 'girl bros', it would be unfair to pigeonhole it as just that. It's more than just rebooted chick- lit.
It's a crossover hit with as many men watching as women. In a sign of how pervasive the show's influence has been, guys with friends called Khanna in real life have started calling that friend 'Khanney', which is what Dingo calls her BFF.
Another aspect in which Ladies Room can be categorised as a post-feminist show is the language. We know young Indians in the metros speak like this but we've never heard them doing so, neither in films nor in books.
Chetan Bhagat's characters don't speak like this. Nor do the young Indians in 3 Idiots. And while the show's two characters happen to be women, the truth is that young Indian men speak the same way too: 'Beat him at his own game, bhain c#@d'; 'This looks like Bin Laden's messed up bunker bhain c#@d'; or, when the boss bangs the phone down on Khanna: 'Bhain c#@d kaat diya.'
Getting high and chilling ya!
None of this has ever been faithfully reproduced on film, just like they've never shown young people doing drugs as an acceptable recreation - a fact of urban reality.
Ladies Room demonstrates that while India's youth might be experimenting with ecstasy and MDMA, they don't necessarily end up being hopeless addicts who wouldn't hesitate to kill their mother to satisfy a craving.
We have realistic dialogue in our cinema but it rarely applies to the city-dwelling middle class. When it comes to this class, the dialogue writer invariably gargles with Listerine before putting pen to paper.
Realistic colourful dialogue is mostly restricted to the portrayal of dacoits (Bandit Queen), feudal west UP gangsters (Omkara), and cops and drug addicts (Udtaa Punjab).
But what about us? The bilingual class from which the writers and actors are drawn from?
Ladies Room succeeds in catching the speech of the urban young and just for that it is revolutionary.
A word about Y Films that financed the series, putting its money where the mouth is - it's a mark of the distance travelled. Yash Raj Films, the outfit that gave us wedding musicals like Dilwale Dulhaniya Le Jayenge, is now willing to back a Ladies Room. India has changed. YRF has changed. And Y not! Ladies Room shakes it up like none other.
(The writer's new book House Spirit: Drinking in India was published recently)
Edited by Jhinuk Sen