JLF at 10: attendees gush over Rishi Kapoor, then get back to shop & eat
The world's biggest literary carnival, sorry festival, entered its second day today with Bollywood actor Rishi Kapoor drawing a crowd that only an actor is capable of. Ignoring the parallel sessions which were hosting learned authors, I too decided to wait with scores of people on a terrace, to catch a glimpse of the yesteryear star from in-between the branches of a tree.
From the terrace I could see that the flurry of activity at the shops selling jewellery, clothes, and ethnic accessories - the norm during other sessions - had dropped. Everyone was holding on to their breaths waiting for Rishi Kapoor to arrive.
Rishi was there to officially unveil his memoir Khullam Khulla. The star, who can be cranky at other times, loved the thundering welcome. He decided to do his bit to humour his fans, endorse their "pyaar", never mind the fact most didn't exist when he was a star.
"I wrote my memoir because I wanted my fans to know my story," he said.
"It is my talent, my hard work, my perseverance that has paid off. I wanted to change the common perception that it is easy for a star's son or daughter to make it big in films."
The fans clapped and cheered.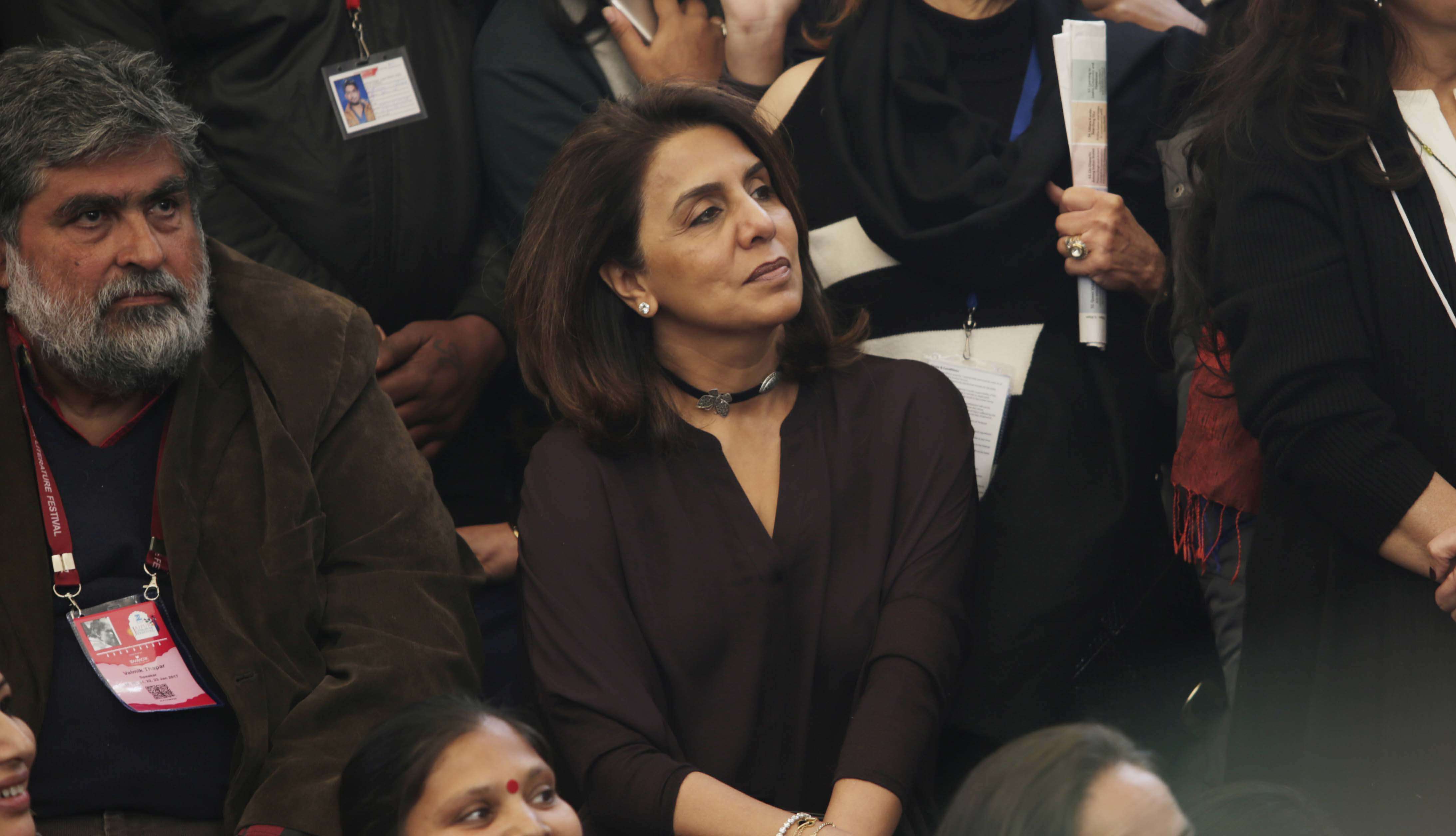 Rishi Kapoor's actor wife Neetu Singh at Jaipur Literature Festival (Manas Gurung)
The art of stealing the heart
He spoke in Hindi and English, regaled the audience with interesting anecdotes, even enacted a scene - but forgot to read an excerpt from his book, which usually is the practice.
"I struggled in a different sense. Struggle does not only mean that you have to sleep on platforms and have no money to eat. My kind of struggle was different," he said.
He said he had a fabulous dream launch with Bobby and after that he signed a couple of flop films.
He transported the audience to the 1970s when the trend of films was changing. Nobody wanted to watch romantic films. Every one was interested in "maar dhaad". Action films were the order of the day. Competition was stiff.
"I had to fight toofans (storms) such as Amitabh Bachchan, Dharmendra...How could I compete with them? I had no standing..."
The audience was hooked. He had stolen their hearts.
Why a memoir?
Rishi decided to write the memoir because no one from his family had written one. Not his grandfather, not father. Yet there were several books on his family by others.
"I had to tell the world khul ke (frankly, openly) about my struggle, about how I survived. It had to be a first person account."
"I have survived because of my hard work, my talent, my perseverance, and of course your love."
Loud cheers.
My journey had to be documented. "When people write books, they write about their great deeds. I did not do that. I have written about my mistakes with full humility. My story, my journey of 44 years as an actor, is very important for me, I had to share it with my friends, with my fans."
Starry tantrums
Rishi started throwing starry tantrums at the age of two.
"I was two years old when Shri 420 was being filmed. There was a scene where I had to walk with my siblings in the rain. However, I would start crying each time water would fall on me. So Nargis-ji promised to give me a chocolate if I didn't cry. So I quickly walked in the rain to get that chocolate."
"I started taking rishwat (bribe) back then."
He regaled the audience with other anecdotes as well. Most find a mention in the book too.
"When my father asked my mother if I could act in Mera Naam Joker, I was about 14-15 then, we were at the dining table. I pretended to look unaffected, then when my mother agreed, I quietly excused myself, ran to my room, and started practicising signing my autograph."
Prompted by the moderator, he talked about why his film Karz didn't do well, even though now it is seen as a cult film.
"It didn't work because a far more glamorous film Qurbani released just a week later. It had all the makings of a commercial movie."
He rued the fact that he was always offered romantic roles, for the best part of his career. He is happy that his second innings as a character actor has been more fruitful.
"Sometimes I show up as a gay school headmaster, sometimes as a villain, sometimes as a 90-year-old..."
"I should thank God that I am working in the same era as my son. This is rare. I am a character actor now and for the first time in my life displaying my acting skills. Do you realise I made a fool of you all for 25 years!"
He said the late filmmaker Yash Chopra called him one day to tell him how good an actor he was, and how he could never imagine him playing a middle-class man.
"I told him if you had given me a chance to act, I would have. All you did was make me wear a sweater, and romance with Sridevi or with Juhi."
He said he got cold feet when he was asked to play a villain in the Hrithik Roshan starrer Agneepath. "I told Karan Johar and Karan Malhotra - are you mad? I was insecure, not confident and didn't want to take the blame for a flop. I agreed only after I took the 'look test'."
The filmy first family
He said Neetu and him used to act in films together - "toh pyaar to hona hi tha. We were destined to fall in love, get married."
"There was little chance that anyone would have married a person like me. Neetu raised our kids while I was busy working. We had decided early that one of us will be homemaker, and the other breadwinner."
He celebrates his 37th anniversary on January 22.
"We have our share of fights. When this song 'Jhoota Kahin Ka' was shot we were not on talking terms. When Yash Chopra's last film Jab Tak Hai Jaan was being shot, we didn't talk to each other, yet we played this couple in love."
On Ranbir, his actor son, he said he had no reason to interfere with his son's career because his father never interfered with his.
"Ranbir likes to take risks, does one film a year, does offbeat films. It's great that his films have worked, or else he would have been without work."
Of course, Ranbir owes his success to fans. "It's your pyaar!"
More cheering. Whistling.
But despite all the fanfare, I didn't see any of his fans rushing to buy Khullam Khulla when he exited the stage. They stayed back to watch the next big discussion of the day, another offer from the entertainment sector - Baahubali.
Welcome to the 10th edition of the Jaipur Literature Festival.