Isle of Dogs review: This Canine fairytale is Anderson's ode to Japanese cinema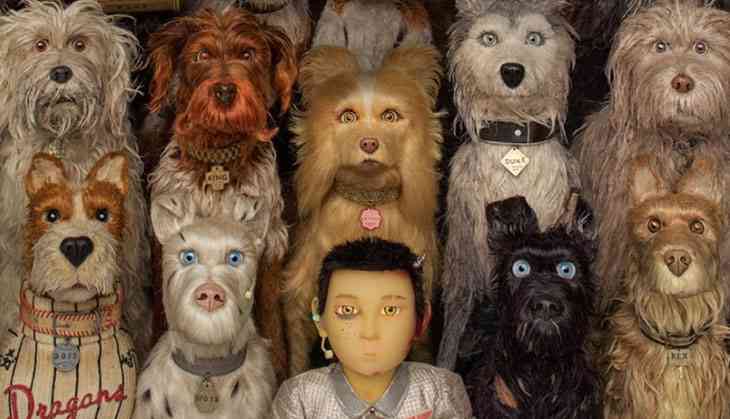 Wes Anderson's return to animation is one filled with delight. He's returned to stop-motion animation to be precise. Nine years after the wonderful Fantastic Mr. Fox, Anderson is back with a four-legged canine fairytale set in the dystopian Japan of the future. It's called Isle of Dogs.
With Isle of Dogs, the takeaway simply is that dogs are the best and we all love dogs. Wes Anderson's Isle of Dogs, is by the end of its 105-minute run time, a thoroughly delightful animated feature.
Wes Anderson probably chose the name because say it fast enough and it sounds like "I love dogs".
The stop-motion is minutely detailed, just like his previous works, and there is that deadpan humour that is so Anderson, one can spot it from a mile. In fact, the film opens with this notification: "All barks have been rendered into English."
Isle of Dogs is a tribute to four-legged canines and also the cinema and culture of Japan. At the heart of the film is a young's boy's quest for his lost pet. It's also, just like The Grand Budapest Hotel, a film about the extent of evil that mankind is capable of. It's distinctively Anderson. It's sophistication at its best. It's a visually controlled masterpiece. A completely handmade world from the house of Anderson.
The screenplay has been written by Anderson and Roman Coppola, Jason Schwartzman and Kunichi Nomura (who also voiced the villain -- dog-hating Mayor Kobayashi).
The conceptualisation of sick dogs abandoned on a Trash Island (a fiction place in Japan) seemed whimsical at first but somewhat misleading. Especially when the trailer came out. Yet, by the end of Isle of Dogs, I found it a heartwarming film filled with wit and many touching moments aided by the wonderful voices of its cast.
To top it off, Anderson combines spectacular visuals and an eye for canine behaviour that transcends the generations. It's got this kid-friendly charm that will even enthral the adults.
The film is set in the near future and is situated in the fictional Japanese city of Megasaki. All the dogs have been exiled to the offshore island trash dump of Trash Island under the pretences of "canine saturation", "dog flu" and snout fever" by Kobayashi.
One of the beasts is Spots (Liev Schreiber) whose devoted master is 12-year-old Atari (Koyu Rankin) and nephew of Kobayashi. The young boy flies a stolen plane to Trash Island in a quest to find and rescue Spots. Along the way, he is helped by a group of outlaws Chief (Bryan Cranston), Rex (Edward Norton), King (Bob Balaban), Boss (Bill Murray) and Duke (Jeff Goldblum).
Isle of Dogs is bleaker than any of Anderson's work before. The landscape is grim and the detailing is more notable, each more riveting than the previous. One can read Isle of Dogs as a metaphor for what's happening in today's world. With many stories of people being pushed to the margins, one can easily swap the dogs for humans and think this is reality being portrayed in the medium of animation. On the other hand, it's a heartwarming tale of a boy and his long-lost quest for his pet.
The crown jewel of the film is the gorgeous dump, filled with filth, that Anderson has managed to create. It harks back (as Anderson said himself) to Akira Kurosawa and Hayao Miyazaki among others. Each and every pile of trash has its own level of detail. There are discarded sake bottles that shine and then there is waste flowing through the rivers. Anderson takes his time with each and every film and it shows. Even the fight scenes are immaculately done. When they get into a scrap, they disappear into a cotton-ball dust cloud, in which, all you can see is limbs and snouts.
Cranston is the shining light as Chief. He's a dog who slowly learns how it is to love an owner. Along with the fantastical vocal cast, the soundtrack is as epic as any of the ones in Anderson's previous movies. It's got Taiko drummers, some snatches from Seven Samurai and even 'I Won't Hurt You' performed by The West Coast Pop Art Experimental Band. But one can even forget the soundtrack in Isle of Dogs. It's the whistling that masterfully carries the movie.
There were articles and reports of people falling asleep while watching Isle of Dogs. Anderson has both his detractors and admirers. The first half-hour of the film is heavy-headed for sure, but persevere and you'll be richly rewarded. This new film may be hard to digest, even weeks after viewing, due to the portrayal of how humans systemically abuse dogs, but it is one that is worth watching.
Still, watching the film and forgetting about the outside world, one realises this is a film about dogs. One just exits the hall with the feeling that they want to immediately pet a dog. That is one of the greatest feelings one can have. That, in itself, makes Isle of Dogs a worthwhile watch.
Verdict
Isle of Dogs is on the shorter end of feature-length films. At a running time of 101 minutes, the last half of the movie breezes by. It significantly picks up pace after you're settled in with who is who in the film.
There may be a lot of one-note characters in the film (barring Chief), and the film may not have a lot to say (though it does bring up a lot of subjects that aren't up for discussion), but Anderson's love letter to Japanese cinema will delight many of his ardent fans.
There is a lot to love for most people going to see Isle of Dogs but somehow it feels like Anderson has missed an opportunity.
Not his best movie, by a longshot, but still a worthy watch. The animation is absolutely stunning.
Rating: 3/5