I'd cast Fawad Khan & Mahira Khan in my next if I were producer, says film critic Raja Sen
Asad Ali
| Updated on: 10 February 2017, 1:46 IST
In an interview with Catch News, film critic Raja Sen talks about how the MNS are bullies and shouldn't be engaged with, why no one likes such controversies before a film for all the attention it gets and how, were he the producer, he'd not only retain Fawad Khan but would cast him in his next film with Mahira Khan opposite him. Because one shouldn't negotiate with "terrorists". Excerpts:
What do you think of the whole Karan Johar episode?
I think it's extremely shameful. We are a country that takes objections to the smallest things. But a mob like the Maharashtra Navnirman Sena (MNS) openly threats multiplex owners by saying the glass in their windows is expensive, and nothing is being done to curb that. There's no police action on this kind of absolute hate speech, which isn't being checked by anyone. It's shameful that someone like Karan Johar has to come out and say these things. No one's patriotism should need to be tested in this manner.
I think whatever he's doing is justified from his perspective and situation. But what the rest of us are doing, from the media to social networks is equally disastrous if not more. The only people who should be shut down are the MNS. There's a wave of pseudo-patriotism in the country... if there are people who want to go to a war, they can go ahead and do that. But no one should be forced to do it. We had a wheelchair bound person beaten up in a theatre recently because he couldn't stand up while the national anthem played - it's shameful. What kind of country are we living in now?
Should the Bollywood fraternity overall have been more vocal about protecting artists' rights irrespective of nationality?
I don't think it's about the Bollywood fraternity and movies alone. Anurag Kashyap may be an impulsive man but what he came out and said is right. Why on earth are people not boycotting and abusing Mr Modi for going to Pakistan and targetting Karan for making a film with a Pakistani actor? It's ridiculous. Cinema just happens to be a soft-target. You can say anything, do anything. But it's not one homogenous company, it's a bunch of artists trying to do something creative.
It seems our general instinct is to ban something we don't agree with. Do you feel the trend has gotten worse or is it just reported more these days?
It's gotten worse but yes, we're also obsessing about it. Because of things like social media people are more aware of things like this. It's like peer pressure and everyone feels the need to take a stand, even if they don't have anything much to say.
What's the earliest film you can remember that was properly 'banned' so to speak and did you get around to watching it?
Bandit Queen! I was young and, like in a lot of youngsters, it just created more excitement to watch the film. I was also quite young when Satanic Verses was banned. But that only made sure those of us who could, procured copies from the US and elsewhere. Though I got around to seeing it much later when I was around people who were either making movies or were really into it.
Anyway the Censor board is a bunch of monkeys... now, with this pseudo-patriotic thing going around and mob-like behaviour it's just depressing. But banning anything isn't the solution, nothing should be banned. Especially in today's world, if you want to watch something you'll be able to watch it.
Do you feel such controversies help the film instead of doing harm to it?
I don't think it helps. You have to understand the kind of pressure someone is in just before the release. I don't think Karan would willingly do this for any reason. The same thing happened with Udta Punjab and it went on to do well. But I asked Abhishek Chaubey and Pradeep Sharma later and they said that you can take away the whole collection but don't meddle with the release. That's the worst kind of situation to be faced with. That uncertainty is not healthy. The fact that the chief minister of a state has to come out and support a film for its release is really unbelievable. It's just a film, if you don't want to see it then don't see it. Don't abuse it or disrupt it.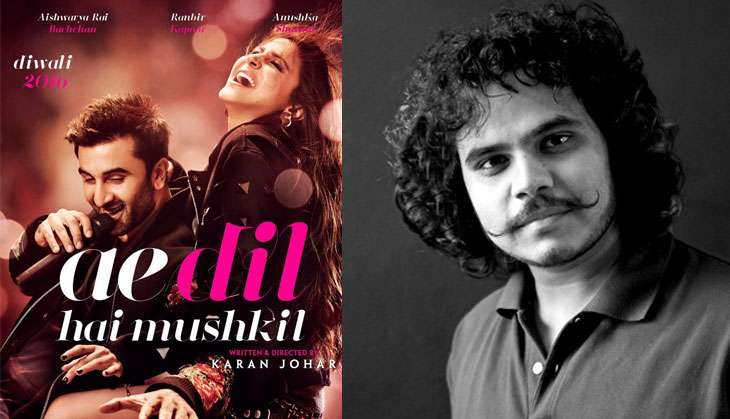 (L) A poster of Karan Johar's film (R) Raja Sen
Is helping K-Jo not fair to those without the same clout in the industry, those who can't take on such factions?
Well, if he had enough clout then even MNS could've been silenced. In fact he's faced such backlash before as well when he used the word Bombay instead of Mumbai. So I don't think it's a valid point.
If you were the producer what would you have done at this point? Kept Fawad or replaced him?
I would absolutely have kept him. I would've cast him in my next film as well. He would be the solo lead with Mahira Khan! That's how we need to do it. In all these movies and shows we see how governments say we won't negotiate with terrorists. Similarly, we shouldn't either. We shouldn't negotiate with bullies.
Also Reads -
Why did Censor board ban the film on assassins of Operation Blue Star head Gen Vaidya?
MNS stalls Pak film Bin Roye as Bajrangi Bhaijaan gets Eid release across border