Haraamkhor: A film about sexuality relevant to different ages, stages, sexes
When it comes to sex, India is inarguably the best at one thing - not talking about it.
We bottle up our sexualities, often living in spaces where the only privacy one gets is within our minds. Indians often treat sex as a job, a task, and not one they need to be good at either. And those who don't, lack access to information. We don't like to tell our kids about how babies are made, and yet, we make so many.
So when Shlok Sharma's Haraamkhor, a film shot in 16 short days and based in a rural space, manages to talk about sex with sensitivity, expertise and nuance, it does come across as a bit of a surprise.
Haraamkhor is an out and out character-based film. The story moves along like life does, not looking for a resolution, an ending... And a discussion of sexuality in such a space becomes naturally far more realistic than in cinema where the focus is the story, the drama, the debate.
MILD SPOILERS AHEAD
The Nawazuddin Siddiqui-Shweta Tripathi starrer sensitively traces the story of Sandhya, a 15-year-old girl's sexual relationship with her opportunist teacher Shyam. Shyam is a married man, and yet he pursues Sandhya on the side. In this film, there are many lives, many psychosexual spaces, intertwined with Shyam and Sandhya's, unlike the isolation in Nabokov's Lolita.
The homebound wife
Shyam (Nawaz) and his wife Sunita (Trimala Adhikari) have a sexually charged marriage. She's young, one of his ex-students, and possibly also a minor. The goal of their marriage isn't to have a baby, but she toys with the idea, just to get his attention.
She's feisty, restless, neglected, and relegated to the duties of a housewife. "Bechari ke liye bura lagta hai," says one of Shyam's young students in a light moment. (I feel sorry for the poor thing.)
While we don't know Sunita's story, it is pretty evident that she gave up her whole world to marry her teacher. But she doubts she can sexually satisfy him, and she sure can't trust him around his students. She attempts to put up a fight, as she sees herself as the woman Shyam should lawfully be faithful to. But eventually, she quietly resigns herself to her fate.
The entitled man
The power structures, in this story, work completely in favour of the man with the many dependents - his wife as well as students - around him.
Shyam controls the domestic space as much as Sandhya's (Tripathi) life, the minor he's intimate with. He has access to their bodies, as much as their belongings and their futures. The promise of love alone helps Shyam get sex when he pleases, a ride on a bike when he pleases, and the right to instruct the women in his life to tidy the house or study, their respective 'duties'.
The women are shown as vulnerable, without another shoulder to cry on. Except in our society where the man dictates what sex is, even if the women did have an escape, it wouldn't make him any less entitled.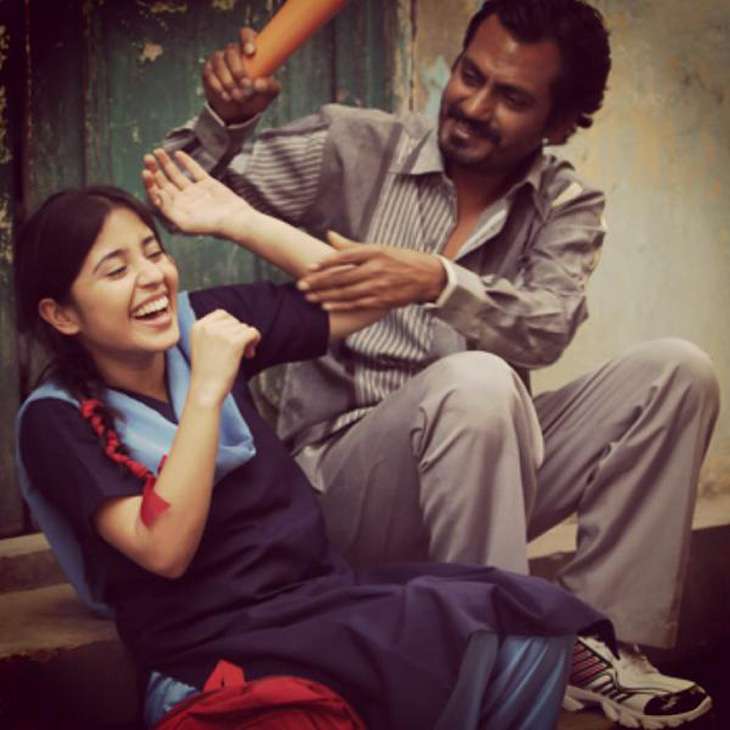 Two first loves
Sandhya is in love with her teacher. After a pregnancy scare, she gleefully slurps on some ice-cream and says, "Pyaar kiya to darna kya." (There's no room for fear in love.)
Shyam grimaces.
She protects him from her cop father after he thrashes some female students for no reason. She arranges to meet him whenever he wills, and lets him touch her how he pleases.
The best scene in the film is a jarring long shot, with the sounds of strong winds blowing, sans dialogue. Sandhya and Shyam, awkward at first, slowly move towards each other, till he removes her dupatta and grabs her, like a big cat preying in the jungle.
Sandhya learns sex as Shyam wants her to. Her body is for his pleasure, and while she's possibly in this alliance due to strong adolescent sexual urges, there's little or no room for her pleasure. In one scene, he oil-massages her head and she demands he put more pressure.
"Main yahan sar dabane aya hun kya?" asks a slightly irritated but playful Shyam in one scene. (Am I here to massage your head?) The next shot shows him dressing up to leave while Sandhya pleads with him to stay in bed. But Shyam's job here is done.
In a parallel but equally strong narrative, Kamal (Irfan Khan) and Mintu (Mohd Samad) are two young boys in Sandhya's class constantly in conversation about her. Mintu is convinced about her relationship with their teacher, meanwhile Kamal is too preoccupied with his feelings for her.
Sandhya barely acknowledges their existence. They're lesser than her in knowledge, in social status, in maturity, and in height.
But Kamal, with Mintu's nefarious ploys, keeps trying to get Sandhya's attention. They stalk her, click half-naked pictures of Kamal for Sandhya's viewing pleasure, trash Shyam's house, and are a general menace.
Kamal and Mintu, in contrast with Shyam, don't sexualise Sandhya. Their minds are filled with impossible romantic notions for Kamal and Sandhya, mostly ending in marriage.
The unlikely pair
Sandhya's father, a quiet, distant cop, drunk most nights, leads a parallel life with another woman. Unable to reach out to his daughter, he finds comfort in his relationship with Neelu, a nurse who knows how to keep secrets.
Neelu, shown as a noticeably androgynous woman, sees her childhood in Sandhya. She identifies her abandonment issues and quietly tries to warn the young girl of the perils of romantic dependency.
That Sandhya's father and Neelu's relationship is sexual is apparent. However, much like Sandhya's own, it's lopsided, with Neelu serving the role of a care-provider, a guardian angel. Her own existence is deemed sexless.
The beauty of the film lies in its ability to explore each of these relationships effortlessly yet sensitively. Perhaps the fact that the starting point - a student-teacher sexual relationship - is so taboo, that all the other relationships then become fairly approachable in comparison, making them easier to discuss.
While it's easy to see why our conservative censors would be so outraged by the movie, Haraamkhor is a masterclass in how to portray sexuality without making it a sleazefest.