First Pacific Rim Uprising. Then Ready Player One. Why are movies being cancelled in India?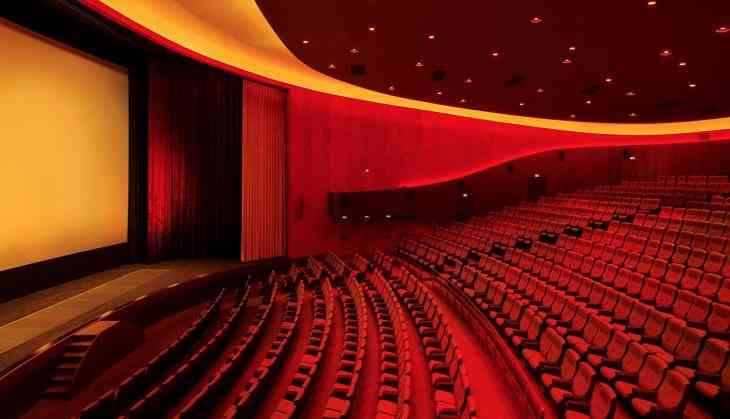 You and your friends excitedly plan for a movie, one of the new Hollywood releases, on a Thursday or Friday. Like most people, you manage to dodge through traffic (some emulating the cars in the Need For Speed video game) and reach with minutes to spare.
As you show your tickets at the entrance, you're told that the movie has been cancelled. Little to no information is disseminated to the viewers, leaving them hanging. That has increasingly been the scene for moviegoers, in India.
Last week, there was Thursday (22 March) shows for Steven S. DeKnight's Pacific Rim Uprising. Shows started as early as 3:30 PM. At PVR Cinemas in Vasant Kunj, New Delhi, there were a handful of hungry moviegoers munching on their big buckets of popcorn and nachos. The doors opened fifteen minutes late, and then, ten minutes later, one of the senior employees came in to tell everyone that the movie has been cancelled. When asked about any other theatre showing the movie, the manager simply replied, "because of technical issues, the movie has been cancelled at all PVRs across India!"
Fast forward to Thursday, 29 March). Almost a carbon copy. This time, it was Steven Spielberg's highly anticipated Sci-Fi film Ready Player One. Upon reaching the entrance of the hall, around fifteen people were told that the movie was cancelled and no explanation given. Upon prodding the manager, he told me that they are unable to play the movie and that all Cinepolis cinemas across India will be cancelling the shows "until further notice".
At the ticket counter, the answer to the burning question, "why have Ready Player One been cancelled" is that the Key Delivery Message (KDM) – the special electronic key that unlocks the encrypted film – hadn't been sent over the cinema. Hence the movie couldn't be played.
Fellow journalist and film buff Deepanjana Pal tells me that KDM dates aren't decided on a whim. "The thing is, KDM dates don't get decided casually. Why are they selling tickets if they don't know when they're getting the KDM?
"I know it's an electronic key, but usually, there's clarity on when it's being sent. To have this happen for movie after movie is all sorts of disorganisation," Pal says.
Dejected, I try the next door PVR Cinemas, where the movie is playing in IMAX. Same story there. This time the manager tells me that the distributor and cinema owners have been sparring over profit sharing and hence the movie isn't going to release. For this particular PVR cinema, it's a huge loss. The only movie scheduled to play in the single IMAX hall was Ready Player One. The manager tells a couple of moviegoers, "there will be no IMAX shows for three days".
Online also was the same. It just kept showing an error message and said there was a connectivity issue. They were a number of shows listed, and either that error message came or the show was mysterious, all of a sudden, sold out!

Book My Show
A group of six desolate foreigners and two despondent Indians scrambled to make alternative plans as no other English show was showing on Thursday after 8 PM. Baaghi 2 has taken up a majority of the screens across India and hence there is limited space for other movies to play. Maybe this is the reason Warner Bros India decided to cancel the release and delay it by a week.
Still, it isn't like there are a plethora of options for non-Hindi speaking moviegoers, and hence, the cancellation of a major Hollywood release (Spielberg nonetheless) is a major pain point.
Both cinema halls didn't know when the movie would eventually start playing and whether it would even show this upcoming weekend. This wasn't the situation only in Delhi. Pal had gone to PVR Cinemas, Phoenix in the Kurla West area of Bombay and was given the same explanation - "distributor issues" - for the cancellation of the show.
People across India were complaining to BookMyShow (BMS) (the largest ticketing agent), PVR Cinemas and Warner Brothers India (the distributors of the movie) on Twitter, Facebook and over the phone lines.
I was on the phone line for twenty minutes, this Friday morning, with a BMS customer care executive and he did find the movie, on the website, and told me that four cinemas were playing the movie. I asked him to book the movie. He got the same issue all of us had been getting for over a day. "Connectivity issue" with the cinema hall.
These are Pan-India cancellations and that increases the number of angry moviegoers showing up to these cinema halls. Some are local issues. Nonetheless, if a movie is to be cancelled, it should be hours before the show, not mere minutes before you'd ideally want to be sitting in front of the screen and getting mesmerised by the tales being told.
On Friday afternoon, the movie mysteriously disappeared from the BMS website for the Delhi region. Strangely, Delhi seemed to be the only one with a blackout.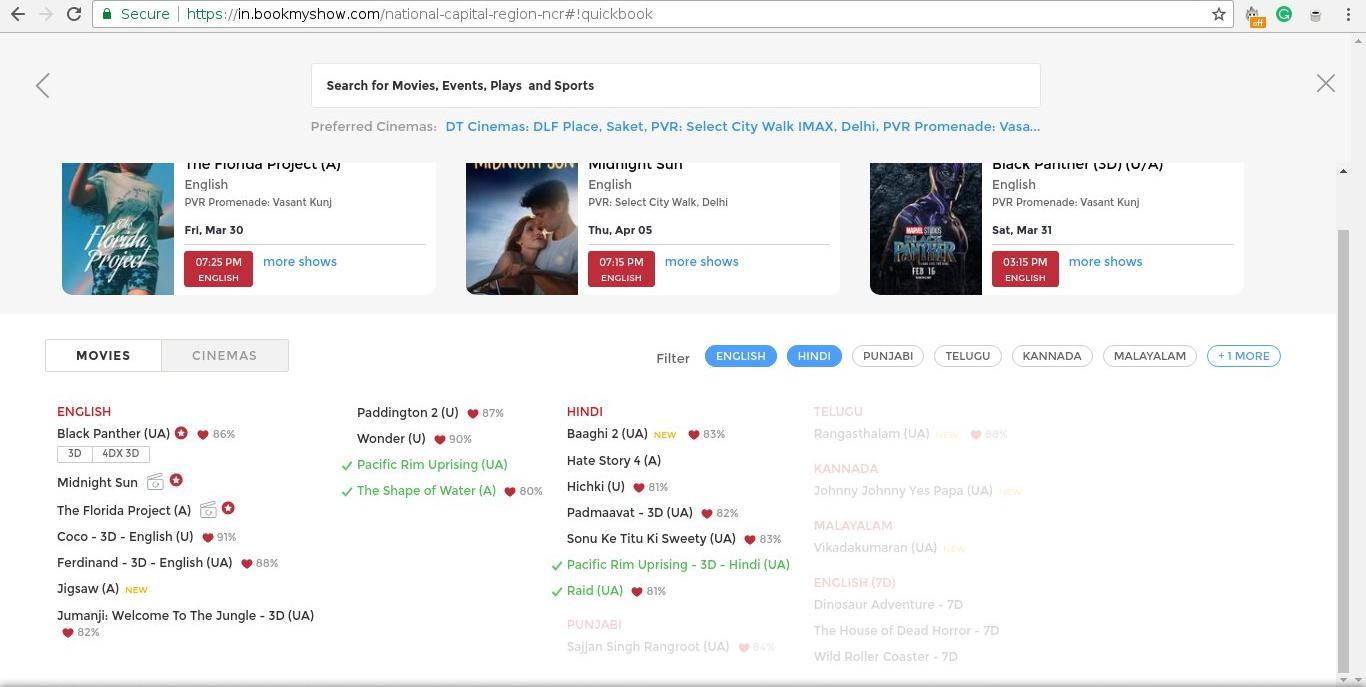 BookMyShow
Warner Brothers India issued a tweet saying that "We are excited that fans are enthusiastic about seeing Ready Player One, and we are working towards increasing more screen options". That update came about half hour later. Warner Bros India proudly issued a tweet saying that the movie is now playing at SPI Cinemas. Just SPI Cinemas and nowhere else in India. Nowhere in Bombay and nowhere in Delhi. Neither in Kolkata, nor Hyderabad.
#StevenSpielberg's Ready Player One is playing in the following cinemas. pic.twitter.com/tXlJNc7Q1M

— Warner Bros. India (@warnerbrosindia) March 30, 2018
Again, this isn't a first. A couple of days before A Wrinkle in Time was supposed to release in the USA (26 February), it appeared on the BMS website. By the time it was Friday, the movie disappeared from the website completely. A new tentative date of December 2018 was put up on the movie page on the BMS website! A Wrinkle in Time is distributed by Walt Disney Studios Motion Pictures.
UPDATE on Monday, 2 April: Sources from those who are privy to the situation have confirmed to Catch that the issue is two-fold and it isn't due to the lack of screening space. The real reason why Ready Player One isn't releasing in India is:
1. There is infighting between Warner Bros Entertainment and its subsidiary, Warner Bros India. Some people are saying that the rift/issue is because of profit sharing.
2. SPI Cinemas got ahold of the movie and are the only cinema chain across the country to be playing Ready Player One. This is because they bypassed Warner Bros India completely and directly dealt with Warner Bros Asia.
Because of the rift between the two Warner Bros companies, there is a lack of clarity on 'profit sharing' between Warner Bros India and cinema chains across the country.
Furthermore, there is a high likelihood that the movie will not get a wide release anymore. This is due to Warner Bros India shifting their entire focus to their next release, Rampage, starring Dwayne 'The Rock' Johnson. Rampage releases on 13 April.
We've tried contacting PVR's head of operations for Mumbai but multiple phone calls have gone unanswered. Again, we will update the story as and when information comes through.
Dissemination of Information
The problem with a movie being cancelled isn't that the moviegoers will be missing a fantastic movie. They'll eventually see a movie if they really want to. if not on the big screen, then on their television sets at home.
It's more to do with cinema owners and ticketing websites being transparent when cancelling or changing show timings of a movie and distributors peddling their movie all over social media, but then failing to respond when asked about the status of the tickets, showtimes and the release of the movie across India.
It's a shame, really. Cinema owners and film distributors across India complain and wonder as to why Indians don't want English films releasing here. In fact, it is quite the opposite. Indians increasingly want Hollywood films to release in India. Seven out of ten times a Hollywood movie releases in India, citizens flock to their nearby cinema to catch it on the big screen in huge numbers.
@bookmyshow_sup Show was cancelled by @_PVRCinemas , how will my money be refunded? I was appalled by the experience. We cancelled multiple plans to get to the theatre, and they cancelled the show! @warnerbrosindia whats the issue with RP1 @IMAX 3D? They say the file was corrupt.

— Manu Srivastava (@srivmanu) March 29, 2018
#WarnerBros has cancelled the distribution of #ReadyPlayerOne in our whole country(India) all of a sudden and we don't even know if the movie gets released here or not. Thanks a lot for ruining my day WB.

— Vahni Teja (@vahni7) March 29, 2018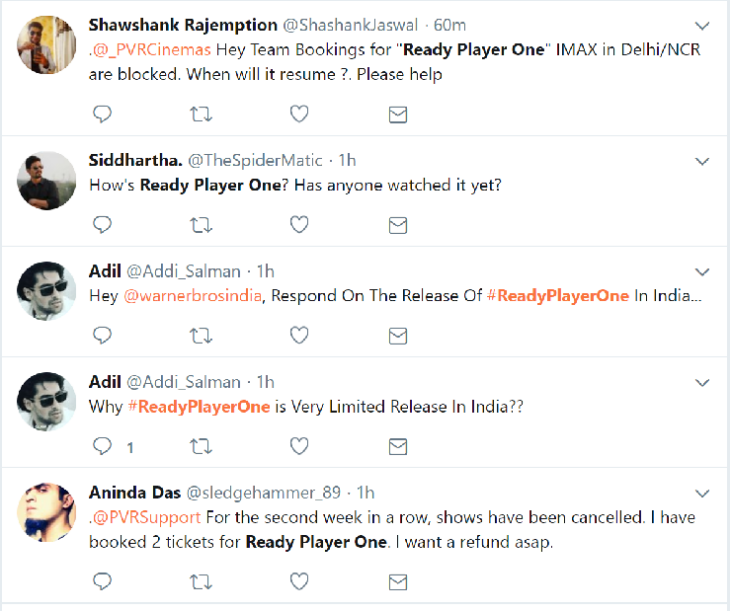 Twitter screenshot
The Friday morning update from Warner Bros India definitely wasn't enough. Angry fans are still complaining about last minute cancellation of shows and no sight of the movie in the near future. Here's one reason for the cancellation, according to an angry reply to Warner Brothers India's tweet.
Nothing to do with increasing more screens. There's an internal dispute b/w WB America and WB India that they don't want coming out to public. Too bad I exist.

— we belong dead (@psemophile) March 30, 2018
Another one saying that his show was cancelled due to "distributer issues".
Carnival Cinemas, IMAX, Wadala. Distributor issues.

— no u (@krazyfrog) March 29, 2018
Here's one person whose show was cancelled because the apparently minimum tickets hadn't been sold. He faced this issue at Cinepolis in Meenakshi Mall, Bangalore.
No explanation given, they just said we have cancelled. When I pressed they said hadn't sold minimum of five tkts

— Tareque Laskar (@tarequelaskar) March 29, 2018
One more who was just angry to be missing out:
So, not a single theatre in south India has gotten a print of Ready Player One to screen. How do I know this? Am currently at an Inox where I was politely explained the situation and turned around with a refund. This sucks :( Get it together Spielberg!

— Aishwarya S (@Hyper_aice) March 30, 2018
These may be the most recent incidents, but it isn't the only time cancellations happen. Shows frequently disappear from BMS for no apparent reason.
It's becoming a trend now. Shows just disappear from book my show.

— Sanchit Varma (@SanchitVarma) March 29, 2018
Some are Pan-India cancellations and some are specific theater issues. Either way, without any 'official' information coming to the way of the moviegoer, the angry tweets, emails, and shouting matches outside cinema halls continue unabated.
Some of the issues also stem from the fact that BMS, PVR Cinemas and others are still showing the showtimes for Ready Player One at a few cinemas across India.
Misleading the viewers
For Ready Player One, Warner Brothers India were happy enough to show the movie to the press and get all the reviews out. They even went on with the Paytm 'paid preview' in Delhi (and probably other major cities). So the word has gotten out that this great movie (all the reviews are on the positive side) is coming to a cinema hall near you and that you must book tickets.
If you're not ready to release a movie on the stipulated date, then why even bother showcasing the movie to the press. The showtimes are all over the papers, and people had adjusted their weekend plans accordingly. Now, they'll have to change them yet again.
Last week, with Pacific Rim, the movie started playing only on Saturday. A full two days of show timings wasted. A full two days of calling up customers, apologizing for cancellations and offering refunds. This time, with Ready Player One, there isn't even any guarantee of that happening. For now, all we know is that it is only playing at SPI Cinemas.
It's a pity that this happens, especially when it is the only Hollywood movie to release in the week. When the only other option is a film like Baaghi 2 (starring the great Tiger Shroff), you really are leaving the moviegoers with no other option but to find an alternative plan that definitely doesn't involve filling your cinema chains' coffers.
If it's a dispute between the local distributor and their parent company, then that is an even bigger problem. Then the cinema owners suffer at the hands of the distributor for absolutely no fault of theirs.
Ultimately, it is the customer that suffers the most. They change plans accordingly, eagerly book themselves seats for a movie and reach the cinema hall only to be turned away. Once it happens, you'll come back. If it keeps on happening, people might just prefer to download or stream a movie and watch it at home.
The convenience of timing is unparalleled. The charm of the big screen movie watching is being lost. Cancellation after cancellation has ruined the whole experience. Whoever is to blame needs to sort out their problems quickly, or else Indians aren't going to be giving money to foreign blockbusters coming each and every week.
Note: I've tried reaching out to Warner Brothers India and PVR Cinemas (India's largest cinema chain) for an explanation but their landlines have gone unanswered. If I manage to get an answer from either of them, this piece will be updated.
Update 2: I've tried calling the head of operations for PVR in Mumbai but his mobile phone has gone unanswered for a whole day.