Fantastic Beasts and Where to Find Them review: an exciting return to Rowling's magic
Most of us grew up with Harry Potter. Much like millions of JK Rowling fans across the world, I wanted to walk down the cobblestones of Diagon Alley, dreamt of being a student at Hogwarts and playing Quidditch. Of learning how to 'swish and flick' my wand and make objects fly.
I'd stand in line for hours, fight with my family as to who got dibs on reading the latest book first. Rowling's series had that inexplicable power over most of us.
Hell, we even fought over who got to read the Cursed Child first. But while that was disappointing for a wide variety of reasons, Rowling's debut as a scriptwriter is not. Her magic is as potent ever.
Fantastic Beasts and Where to Find Them is charming and witty in all the right places, and is among one of the most entertaining movies to have released this year. If you're a fan, there's no chance you'll feel that its over two hour runtime is lengthy even for one second.
The movie was adapted from the Hogwarts textbook Fantastic Beasts and Where to Find Them, written by one Newt Scamander (Eddie Redmayne). Luckily for Rowling, and us, since it was never much more than a footnote, she had a blank slate to work with to create a new story for Scamander and launch a new movie franchise based in her fantastical wizarding world.
David Yates is back in the director's chair after his turn helming several Potter movies. Being well steeped in Potterverse, he does it justice.
The movie starts when amiable and eccentric British "magizoologist" Scamander arrives in 1926 New York, and smuggles a magical briefcase full of strange beasts through customs.
But he's not exactly good at keeping them in there. He loses a few after his case inadvertently gets switched for a similar one by a Muggle - in New York they're called No-Majs - named Jacob Kowalski (Dan Fogler, easily the movie's most likable character).
What Scamander doesn't know is that anti-wizard sentiment has been brewing for a while in the city as a dark force has been laying parts of it to waste - so it's clearly not the best time to have a variety of magical creatures running about and wreaking havoc.
Most of the narrative is driven by his and Kowalski's hunt for the beasts, and they quickly come under the radar of the Magical Congress of the United States of America (MACUSA), when a witch named Porpentina Goldstein (Katherine Waterston) spots them in the middle of chaos.
It's a very Rowling universe, with its focus on small human interactions that bring the whole story to life.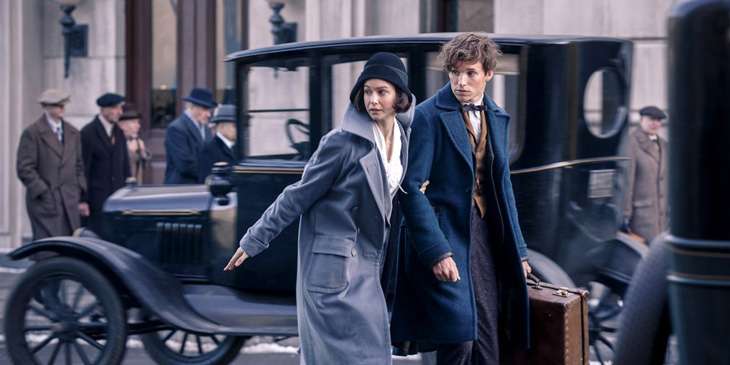 Warner Bros.
Timely tale
There's also a creepy anti-witch activist Mary Lou (Samantha Morton) and her adopted son Credence (Ezra Miller) running around town, spewing venom about witches. It's the Salem Witch Trials all over again.
But Credence has some kind of connection with top MACUSA auror Percival Graves (Colin Farrell), who we see initially at the government headquarters of MACUSA, the greatest governmental body of the American wizarding population, which is lead by a female president (Carmen Ejogo).
A powerful and commanding female president at that.
It's not surprising that the themes that Rowling incorporated reflect today's times, particularly last week's events, considering how vocal she is on Twitter. There's a lot of subtext embedded throughout. In fact, one of the first few frames shows a screaming newspaper headline questioning, "Is anyone safe?", with an image of the Statue of Liberty right under it.
The movie is also a parable of persecution and the 'other'. But in its cheeriness and wittiness, it also gives us timely themes of acceptance and unity: Kowalski's budding romance with Porpentina's sister Queenie (a delightful Alison Sudol), despite the law which states No-Majs and wizards can't marry, is proof that hate isn't always the answer.
It's a delightful performance from Redmayne (as always), who is a pretty fantastic beast himself. But the real standout performance comes from Fogler, who is effortlessly hilarious as Kowalski, spending a large part of the movie suspended in a childlike state of disbelief.
If a criticism is to be made, it's that the movie's action sequences are excessive, with New York being destroyed all over again in CGI. As it is in nearly ever superhero movie. Or alien movie. Or natural disaster movie. Pretty much half the movies this year and the last.
Visually, the pre-Great Depression world is gorgeous and lush, but it's the digitally-created beasts themselves that are the most easygoing part of the movie. One very endearing and lovable kleptomaniac, Niffler, steals every scene . The sight of Redmayne performing a mating dance for a giant hippo-monster will slay you.
And for those who still miss the magic of the British wizarding world, there's a few sly name drops - from Hogwarts to Albus Dumbledore. It'll have you cheering, I promise.
The verdict
It's a triumphant return to the wizarding world and Rowling's limitless imagination. Reports say Rowling and her team are currently editing the script for the second movie, which is scheduled to begin filming next year.
Can't wait.
RATING: 4 out of 5