Call me a Shah Rukh fanboy. But go watch Raees for its politics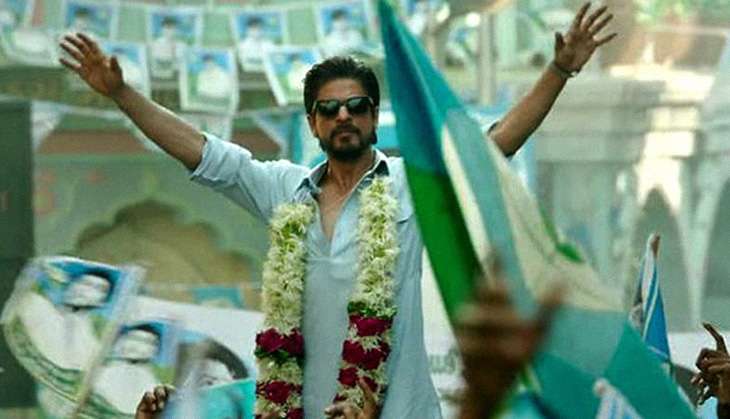 Koi dhanda chhota nahi hota; dhande se bada koi dharam nahi hota (No work is lowly; and no religion is greater than your work) - that's the essence of Raees. And Shah Rukh Khan delivers the line looking straight at the camera, at you and me.
Pidgin philosophy? Perhaps. But it's worth the 142-minute runtime of this Rahul Dholakia film. (Okay, maybe minus a song here and there). Worth more so at a time when our great middle class is busy chasing mythic greatness.
In a way, Raees too is about chasing greatness, but at a more mundane level. Not by the mainstream middle class, but by the outlier, the 'other'. It is about the clash of two value systems, with their warts and all.
Raees could be the story of a young man from anywhere. But it is the story of a young man from Gujarat. The state, whose history would have to be written as before and after 2002. Bollywood, though, has largely shied away from taking up projects based on what happened in Gujarat that year.
Dholakia's Parzania was among a handful of exceptions. But though he received a Swarna Kamal for directing it, the film didn't find many viewers.
With Raees, Dholakia returns to Gujarat, the Gujarat before 2002, with an equally important tale: well written and well executed. Going by the mood of the current dispensation, he perhaps won't be in the running for another national award, but this time he is sure to get much more eyeballs.
Which brings us to Shah Rukh Khan, an actor who has often tried to pass himself off as 'just an entertainer'. At other times he has expressed his wish to make at least a handful of films that he can leave behind as his legacy. Raees will be in that list. It is among those films which prove that when he wants he can be much more than a bundle of energy. Without hamming.
He is Raees, and Raees is him. Not every actor can boast of author-backed roles. But then not every one can carry them out with panache. Raees has the structure of a Shakespearean tragedy and Shah Rukh becomes the tragic hero effortlessly.
But then that is expected of him. How he ups the game is the conviction he brings in to the politics of the film. Raees is a political film, a rarity in the Bollywoodscape. The politics of Raees is not in your face. But it is unabashedly there: the politics of 'us' and 'them'; of 'votebanks'; of nexus and of peddling values.
Dholakia's biggest success perhaps is in making Shah Rukh a vessel to deliver that politics. Not that he has thrown all his mannerisms out of the window, but he commendably delivers what was required. Not more. Not less. Had he not been able to keep his character evolving throughout this film where its politics remains constant, Raees would have reached a dead end.
But it does not. It is kept pretty much alive until the end thanks to the world that Dholakia's crew and the rest of the cast creates around the central character. If Parzania had Naseeruddin Shah and Sarika, Raees has Nawazuddin Siddiqui as the foil to Shah Rukh. His character of cop Jaideep Ambalal Majmudar has two purposes in the film.
He is the sutradhar of Raees: the conductor of a hand-crafted tale. He is the string that binds the story together. Simultaneously, he is the propeller that takes the narrative forward, through to its logical end. A lesser actor perhaps would not have been able to resist the temptation to make it over-the-top. A lesser director perhaps would not have been able to bring out the counter-conviction.
In fact, Nawaz is not alone in this. Most actors in the film have commendably carried out this task of keeping their characters believable. Be it Mohammed Zeeshan Ayub as Raees's Man Friday, Mahira Khan as his wife, or Atul Kulkarni as a benefactor-turned-foe. Sunny Leone's Laila remake is not only a treat to watch, but a crucial plot point.
Their performance, together with the detailing that Dholakia's team has put together sets a perfect stage for the drama that has been mounted. KU Mohanan captures it brilliantly with his lens without showing off. Editor Deepa Bhatia has managed to keep the film moving throughout its runtime. Shaving off 10 minutes wouldn't have harmed though.
The team of writers: Dholakia himself, Harit Mehta, Ashish Vashi and Niraj Shukla deserve kudos. Dholakia more so for using Masala Shah Rukh effectively to tell the tale of a Gujarat gone by; with a hint of what a society could have become had it not chosen the path it did.