Bhansali stoops, goondaism wins: The same old Bollywood story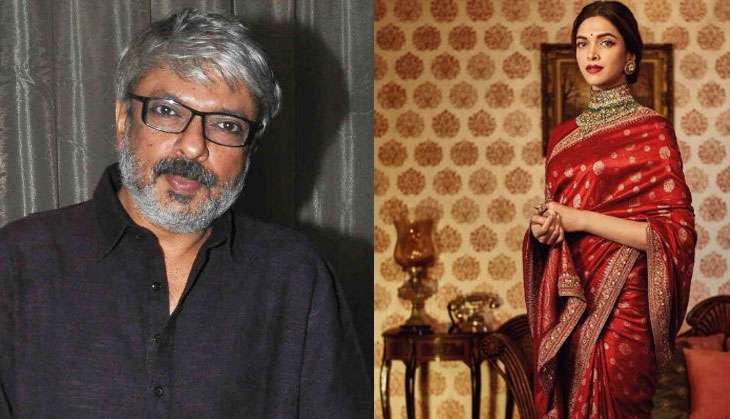 In December 2015, filmmaker Sanjay Leela Bhansali was accused of distorting history to create his epic romance Bajirao Mastani. The objection, among many others, then was that Ranveer Singh, as Bajirao, had crossed a line while dancing to the song Malhari.
"To show such a legendary figure dancing while vigorously moving his Shendi in the song Malhari is highly unacceptable. We don't even dance like that during Ganpati celebrations," Shiv Sena MLA Pratap Sarnaik, who had raised the objection, had told The Indian Express.
The Bajirao Mastani matter died down for while the 'Shendi' [a long clump of hair growing out of the crown of a man's head] is an orthodox Hindu symbol, there is no textual evidence to support that Bajirao didn't really wave about his head much.
But this wasn't the first time a Bhansali film had courted controversy. In 2013, Jalandhar Police booked Bhansali, Ranveer Singh and Deepika Padukone under IPC Section 295A (deliberate and malicious act intended to outrage religious feelings) due to the name of the film Ram Leela.
Eventually the film was released with slight tweaking in the title, as Goliyon Ki Raasleela: Ram-Leela. Never mind that the film was actually a modern adaptation of Romeo & Juliet and had nothing to do with Lord Rama.
Bhansali, after taking a major risk with his original title - undeniably cheeky - saw sense and bowed down before the righteous saviours of Hinduism.
Brawn over brain
Today, Bhansali finds himself yet again in a position where the rumoured content of Padmavati has the Rajput Karni Sena up in arms against the filmmaker. This would be Bhansali's third project with Ranveer-Deepika, and also yet another brush with the self-declared bastions of Hindutva.
On the pretext that Padmavati would wrongly project a romance between Rani Padmini of Chittor and Sultan Alauddin Khilji, the Sena stormed the sets of the film in Jaipur, vandalising it and physically assaulting Bhansali. The filmmaker was humiliated, slapped and his hair pulled, all on camera, videotaped by one of the miscreants.
Soon after the incident, the industry stood behind Bhansali, sending out strongly worded messages in 140 characters. One would think that physical assault would result in some sort of outrage in the industry, or at least expect Bhansali to fight back.
Instead, the filmmaker has "assured" the Rajput Karni Sena, telling them everything is fine. The film, apparently, has no love scenes between the Sultan and the Rajput queen.
And going by Bollywood's past record, the Sena would be pacified, the film would be shot, the title would be tweaked, everyone would make money and go home. End of story.
Where's the fight?
The example set here is that Bollywood has creative license only so far till it offends any group. While one can't endorse SLB's brand of cinema where he feels the need to constantly revisit history, using names of real people who lived, distorting their histories, it is baffling to learn that arm-twisting is the norm.
Bhansali, with his quick move to pacify, has normalised the violence he was subjected to. By saying, "Here, my film is clean. Have a look." he has essentially destroyed any scope for filmmakers to push back against goondaism.
But he alone cannot be blamed for this culture. Bollywood speaks up only in time for the release of a film.
Raees had Shahrukh Khan writing an op-ed in The Indian Express, where he argued that Bollywood appears silent and defeatist due to the lack of a neutral avenue to express oneself.
"After Meryl Streep's speech, asking me why Indian actors are not doing the same is weird. It is like asking me suddenly why I am not playing golf like Tiger Woods. I appreciate what she said and think it was very brave of her to say that in an event organised by the Hollywood Foreign Press Association. Our actors do speak. So do our actresses, filmmakers, producers and journalists.
"But the bottom-line is, you've got to speak to people who understand what you are saying," writes SRK.
What his argument misses is that when actors/filmmakers do speak, it is never to question the larger political concerns plaguing the nation, and if it is, they are also the first to retract. Shahrukh's op-ed may be brilliantly timed to assert his identity as a minority voice, as in his film, but it doesn't negate the truth that he had to visit Maharashtra Navnirman Sena leader Raj Thackeray and convince him that Raees' heroine Mahira Khan - a Pakistani - won't come to India to promote the film.
Who holds the power?
Bollywood glitters but is not all gold. And most of the gold that is there comes out of tiptoeing around the interests of political groups such as the Shiv Sena and the MNS.
Karan Johar, a man who runs a TV show fuelled by irreverence, had to reach a settlement with Raj Thackeray at Maharashtra CM Devendra Fadnavis's office with regard to his film Ae Dil Hai Mushkil. Pakistani actor Fawad Khan was the bone of contention.
As Ankur Pathak writes, "Raj Thackeray demanded a ban on the film. Johar remained mum. If he spoke, he spoke with slouched shoulders and a defeated voice. He pleaded for something that no filmmaker should be bending down for. Ever."
Power politics though can be best observed in what is endorsed by actors or filmmakers. Especially when it's a free endorsement.
Aamir Khan, an actor known for expressing dissent, one of the rare few, found himself endorsing the Modi government's demonetisation move, one that left over 90 people dead and hundreds more hungry. Khan has in the past refused to apologise for his involvement with the Narmada Bachao Aandolan, a movement to help the indigenous population, that resulted in his film Fanaa being banned in the state of Gujarat.
But in December 2016, the same man decided to endorse the Rs 500 and 1000 note ban. The reason? He was promoting Dangal.
"I think these issues which are concerning our country [black money] are more important. We shouldn't see the short term impact of it," he said.
"The things that we need to do for the country, we should do it. Even if it (demonetisation) causes loss to my film, I will see it as a small thing," he added.
Hold the torch
Bollywood is far from getting its own Meryl Streep. How can an industry, that cannot even stand up for itself, stand up for the rest of the population?
Bhansali had a chance as once the fraternity had shown support they couldn't take it back. He could have made this a movement, one that fought the extremist brigade always out to bully. Instead, by cowering in front of their might, he has caused irreparable harm.
It is one thing for the likes of SRK to say that it isn't Bollywood's responsibility to use the platform they have to raise issues, but what would King Khan have to say about Bollywood's inability to protect itself?
For an industry based on art, based on culture, the very tools necessary to bring about social change, it is appalling to see how completely Bollywood fails in positively affecting society. Delivering one Taare Zameen Par and talking briefly about learning disabilities, or one Chak De! India and talking about the condition of Indian sportswomen does not social reform make.