Best of the best: Here are 9 movies to watch at the Habitat International Film Festival in Delhi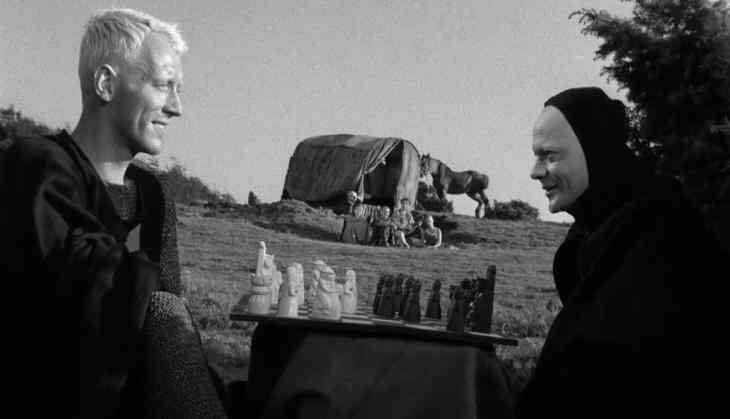 (A film still from The Seventh Seal)
It's that time of the year again. India Habitat Center is holding the 2nd edition of the Habitat International Film Festival in New Delhi from 23 March till 1 April. The best part of this festival is that it is completely free with tickets being given out on a first-come-first-serve basis. If last year's edition is anything to go by, people will be thronging the India Habitat Center over the course of the next 10 days.
The film festival opens with the Iranian movie A Man of Integrity at 6:30 PM on 23 March and ends with the 2017 Palme d'Or winner, The Square on 1 April at 9 PM. The drama film Man of Integrity is about corruption and injustice within the Iranian society and has been set in a small village. This is director Mohammad Rasoulof's sixth feature.
The satirical drama Square was Sweden's entry to the Academy Awards and was one of the five films nominated for the Best Foreign Language Film award at the Oscars. "A prestigious Stockholm museum's chief art curator finds himself in times of both professional and personal crisis as he attempts to set up a controversial new exhibit," reads the IMDB description of the movie.
The Habitat International Film Festival will bring you a diverse set of films from across the world and present to you stories in many different languages. This year's edition will also be hosting a "100 Years Of Ingmar Bergman" in association with the Swedish Embassy. Here's the schedule of the retrospective, with one movie being played per day.
Wild Strawberries - 26 March at 6.30 pm
Bergman Island – 27 March at 7 pm
The Seventh Seal – 28 Match at 7 pm
Autumn Sonata – 29 March at 7 pm
Persona – 30 March at 7 pm
Fanny and Alexander – 31 March at 6.30 pm
While you'll surely want to check out the opening and closing films of the Habitat International Film Festival and the retrospective, here's a list of a couple of other movies that you definitely shouldn't miss out on.
1. The Insult (Lebanon)
Director: Ziad Doueiri
Language: Arabic, French
Cast: Adel Karam, Kamel El Basha
Running time: 112 minutes
When is it playing: Saturday, March 24 at 9 PM
Synopsis: "After an emotional exchange between a Lebanese Christian and a Palestinian refugee escalates, the men end up in a court case that gets national attention."
2. Firstborn (Latvia)
Director: Aik Karapetian
Language: Latvian
Cast: Kaspars Znotiņš, Maija Doveika, Kaspars Zāle
Running time: 90 minutes
When is it playing: Saturday, 24 March at 4 PM
Synopsis: "A psychological thriller about a middle-aged intellectual who, in an attempt to restore his reputation in his wife's eyes, accidentally commits a murder. As time passes he begins to see a link between the deceased, his wife's pregnancy, and the mysterious blackmailer who is forcing him to act against his will"
3. Pop Aye (Singapore)
Director: Kirsten Tan
Language: Thai
Cast: Bong, Thaneth Warakulnukroh, Penpak Sirikul, Chaiwat Khumdee, Yukontorn Sukkija, Narong Pongpab
Running time: 102 minutes
When is it playing: Sunday, 25 March at 11 AM
Synopsis: On a chance encounter, a disenchanted architect bumps into his long-lost elephant on the streets of Bangkok. Excited, he takes his elephant on a journey across Thailand, in search of the farm where they grew up together.
4. On Body and Soul (Hungary)
Director: Ildikó Enyedi
Language: Hungarian
Cast: Alexandra Borbély, Géza Morcsányi, Réka Tenki, Zoltán
Running time: 116 minutes
When is it playing: Sunday, 25 March at 6:30 PM
Synopsis: "Two introverted people find out by pure chance that they share the same dream every night. They are puzzled, incredulous, a bit frightened. As they hesitantly accept this strange coincidence, they try to recreate in broad daylight what happens in their dream"
5. Felicite (Senegalese)
Director: Alain Gomis
Language: French
Cast: Véro Tshanda Beya Mputu, Gaetan Claudia, Papi Mpaka
Running time: 129 minutes
When is it playing: Tuesday, 27 March at 8:30 PM
6. The Happiest Day in the Life of Olli Maki (Finland)
Director: Juho Kuosmanen
Language: Finnish
Cast: Jarkko Lahti, Oona Airola, Eero Milonoff
Running time: 92 minutes
When is it playing: Friday, 30 March at 4 PM
Synopsis: "Summer 1962, Olli Mäki has a shot at the world championship title in featherweight boxing. From the Finnish countryside to the bright lights of Helsinki, everything has been prepared for his fame and fortune. All Olli has to do is lose weight and concentrate. But there is a problem – he has fallen in love with Raija"
7. Before We Vanish (Japan)
Director: Kiyoshi Kurosawa
Language: Japanese
Cast: Masami Nagasawa, Ryûhei Matsuda, Hiroki Hasegawa
Running time: 129 minutes
When is it playing: Saturday, 31 Marrch at 2 PM
Synopsis: "Three aliens travel to Earth in preparation for a mass invasion, taking possession of human bodies."
8. Loveless (Russia)
Director: Andrey Zvyagintsev
Language: Russian
Cast: Maryana Spivak, Aleksey Rozin, Matvey Novikov, Marina Vasilyeva, Andris Keišs,
Running time: 127 minutes
When is it playing: Saturday, 31 March at 9 PM
Synopsis: "A couple going through a divorce must team up to find their son who has disappeared during one of their bitter arguments."
9. Close Knit (Japan)
Director: Naoko Ogigami
Language: Japanese
Cast: Toma Ikuta, Kenta Kiritani, Rinka Kakihara
Running time: 127 minutes
When is it playing: Friday, 30 March at 6:30 PM
Synopsis: "After being neglected by her mother, a little girl is taken in by her uncle and his transsexual girlfriend, who create a loving home for her."
Please note: All sypnosis of the films have been taken from the Habitat International Film Festival website or from IMDB's website.