Bareilly Ki Barfi movie review: Watch it for a good laugh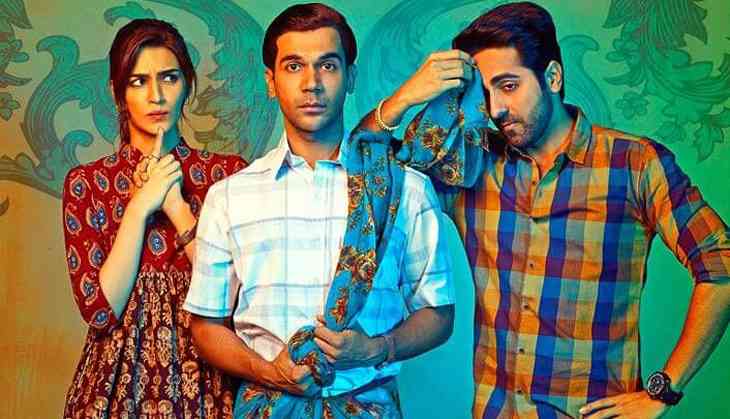 A young woman from Bareilly Bitti Mishra (Kriti Sanon), who is apne mammi ki beti and papa ka beta, is looking for someone who understands her. Rejected by many men, she finally finds her ideal man in an author who has written a character a lot like herself.
Except, the author on the book cover Pritam Vidrohi (Rajkummar Rao) never wrote the book. It was written by a rakish Chirag Dubey (Ayushmann Khurrana) who forced Vidrohi to take the credit, for he didn't want to be associated with anything as uncool as writing.
That little detail gets in the way of Chirag's perfect love story, resulting in the comedy that is Bareilly Ki Barfi.
Little rom, lots of com
Director Ashwiny Iyer Tiwari, known for the beautiful Nil Battey Sannata, tries her hand at a romcom with this film, and somewhat succeeds. The comedy in the film is on point, especially with Rajkummar Rao and Ayushmann Khurrana in the same frame, often at odds with each other.
Despite such a dynamic duo leading the film, the real hero is the script. Written by Nitesh Tiwari, Shreyas Jain and Rajat Nonia, the film has some of the best comic dialogues since Tanu Weds Manu Returns. While the Anand L Rai film gave us 'Adrak ke tarah kahin se bhi badh raha hai', this one gives us, 'Asteen ka anaconda'.
Sample these:
1. Chirag is trying to woo Bitti, but her mother has decided that Pritam is the best guy for her. So she tries to get Chirag to fix Bitti and Pritam up.
Bitti's mom: Sakshat Sita-Ram ki jodi hai. Tum Hanuman banke humare kaleje se bhar utha lo.
(They're as perfect as Sita-Ram. You become Hanuman and lift their weight off my chest.)
2. Chirag, on being asked why he's setting Pritam up for failure: Pados ke ladke ko aam ke pedh pe chadhao. Neeche utre toh aam milega, gir ke mar jaye toh tervi ka khana milega.
(Get the neighbours son to climb the mango tree. If he comes down, you'll get mangoes. If he falls and dies, you'll get to eat at his funeral.)
Lyrical, colloquial and delivered well, especially by Chirag's jigri yaar Munna (Rohit Choudhary), the dialogues also serve hide the lack of situational comedy in the film. The set ups are poor, made worse by the fact that it would've been almost too easy to put a sitcom spin on it.
Herogiri
It's actually quite satisfying to watch a hero who is a true grey character. Chirag's goondaism isn't celebrated by the film unlike every Salman Khan film ever, and yet, he is progressive in his own way, albeit selfish.
Chirag and Munna bully Pritam, rather violently, and while the film doesn't address how problematic this is, it lets Pritam vent, thereby making him less of a caricature. In a scene with his mother trying to feed him for being too dubla, Pritam lashes out – of course, only at a woman – and says, "Hum mein hi hai sab khamiyan?!" (Are flaws all I have?)
As for Bitti, Kriti Sanon is a great fit for the manic pixie dream girl fad. Despite the film seemingly being based on her, we don't get her side of things. No feelings, emotions, nothing, nada, nil battey sannatta. Bitti is perfectly okay with her life being discussed by everyone and having no say whatsoever in the matter.
Women, in general, don't have a say in the film. And this is doubly ironic because the film starts with a little speech about how unfair the society is towards women. It's acceptable for Chirag and Pritam and every boy in the mohalla to reject or fight for a girl, but Bitti's BFF Rama (Swati Semwal) must adjust with her suitor picking Bitti over her.
Jane Austen's 18th century heroines got more agency than that, and Bitti is a bit of a modern day Elizabeth Bennet, what with her decision to live by her rules, etc etc.
When the film starts, it's truly promising, especially with the book trope. By the end, none of it really matters.
Bareilly's music is annoying, and the film falls flat with editing. The anti-climax could've been bettered in a 100 different ways, but it's annoyingly predictable.
Despite it's many flaws though, Bareilly will make any Hindi-speaker laugh. And that's more than one can say of any other Bollywood film in the theatre. (Hint: Toilet: Ek Prem Katha and Jab Harry Met Sejal)
Should you watch it?
If it has been a while since you took your folks out for a Hindi movie, this one would do.
Rating: 3/5