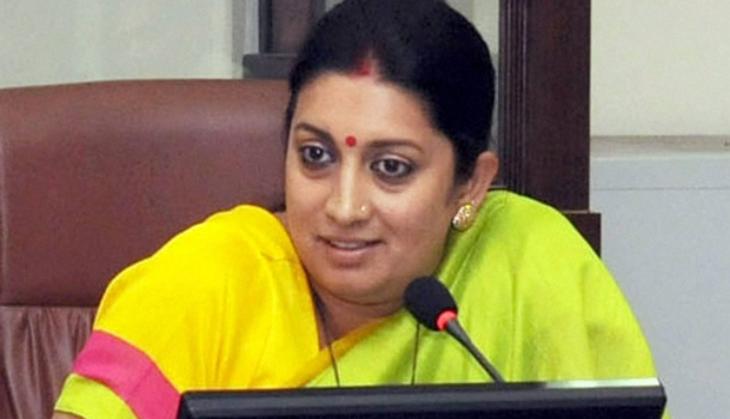 An unidentified person's speech, lambasting HRD minister Smriti Irani has just gone viral. The person, probably an NRI, attacks Irani's decision to introduce Sanskrit in the Indian Institutes of technology (IITs).
"If there is an IQ test, all these ministers will fail the test. They have no idea how the world works," the man in the video says. "85 per cent software engineers in US are from Andhra Pradesh, mostly Hyderabad. These guys can't talk in Hindi, and you want them to learn Sanskrit," he adds.
He goes on to explain that the Hindutva agenda will not help people representing India outside the country. Comparing Sanskrit as the language of priests, he asks, "Do we want our IT engineers to be dhonge pandits?
"Better idea is to create jobs here, not introduce Gita in syllabus or read Sanskrit in engineering."
He also asks, "Why should our Muslim brothers read Sanskrit? They can ask us to read the Quran tomorrow. Forcing things on others is not democracy. You can't push your agendas for electoral gains. That's not democracy. Democracy is right to freedom- freedom of speech, freedom of expression, freedom of faith, freedom of religion."
He also asks, how can Smriti Irani, who lost the elections, be given the charge of such an important ministry?
Referring to the Aligarh University Vice-Chancellor issue, the man says, "How can you challenge the intelligence of such a senior official and military-retired personnel? You should just come to office, drink tea and coffee and let officials under you take decisions."
"You've created a fear among Indian citizens. But, we live abroad and we are not scared of you. We can speak on their behalf, how they and their children will be affected in future," he adds.
He asks Irani to take a backseat and recommends Ratan Tata for the position. "There's no better person than him - he's got no vote bank, a Parsi, handled big companies. In America, we feel so proud to see Jaguar and Rover."
Watch the video:
The post was shared by Mohan Guruswamy, Chairman & Founder, Centre for Policy Alternatives and former advisor to the Finance Minister (1998), on his Facebook timeline.