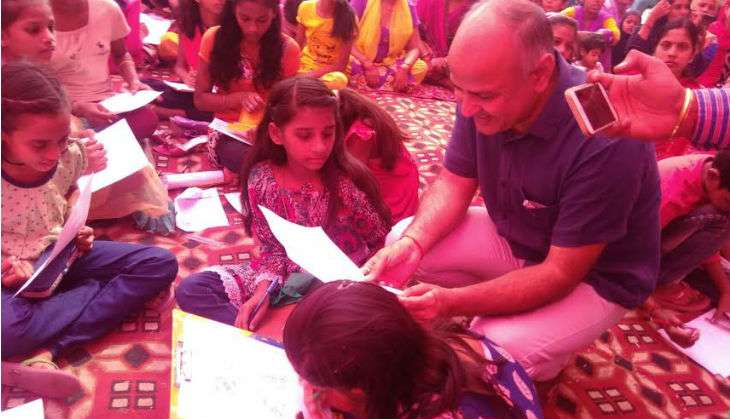 Delhi's Deputy Chief Minister and Education Minister Manish Sisodia has raised concerns about the format of the Central Advisory Board of Education (CABE) meeting, calling it a data-based "report card" that does not tackle real issues in education.

The 64th meeting of the CABE, held on 25 October in New Delhi, was attended by education ministers from all states and was presided over by Union Human Resource Development Minister Prakash Javadekar. At the meeting, the ministers discussed education-related data as well as issues like the no-detention policy, learning outcomes and joyful learning.

After the meeting, Sisodia told Catch that the CABE meetings were currently only about presenting state-based facts - such as number of boys and girls and school buildings.

"We have been in this meeting for five-six hours. Each minister is presenting their state's data, facts and perspective in front of everyone for a few minutes. But what after that? This is not report card meeting, where state governments relay data to the central government and vice-versa. Where is the apex advisory body of the nation? We need to raise issues in education faced by the country," he said.

He said that the meeting of the country's top education advisory body should, instead, focus on resolving issues such as no-detention, stopping violence via education and quality of teachers, to name a few.

Also Read: No call on CBSE Class 10 Boards, states free to decide 'no detention' for Classes 5 & 8: Javadekar

"Data and quality have no relationship. Instead, CABE should discuss how to stop violence in the country through education, how to improve teacher quality and overall quality of education," he said.

The minister also suggested that each high-level education meeting should focus on one issue - such as the no-detention policy or quality of teaching - and then take steps to resolve it. These meetings should be held once a month, where both the centre and states should look back at education policies and analyse the gaps, Sisodia said.

""I am an advocate of the no-detention policy but as of today, I am against it as we have implemented it without preparing the ground for it. Teachers have not been trained according to the policy, curriculum has remained the same and teaching methods are still the same. We should remove it right now but should note that it has to be brought back in the future," Sisodia said.

Also Read: Class X Boards score over school-based exams as parents fear label of 'medium standard' child

Sisodia also said that teachers should focus solely on imparting education. He stressed that other work, like creating family registers or acting as block-level officers, must not be assigned to teachers. "There should be room for creative work and experiments in classroom at the national level," he said.

Sisodia also requested that the Centre increase expenditure on education. Currently, India spends around 4.5% of its GDP on education.

At a press conference after CABE meeting, HRD Minister Prakash Javadekar said: "There is a need to increase efficiency of expenditure in education."