Latest update: After protests, the Jamia administration has withdrawn the show cause notice issued to research scholar Imran on 22 July.
In an infringement of freedom of speech and expression, the Jamia Millia Islamia (JMI) administration has issued a show cause notice to a university research scholar for raising issues on civic amenities and giving statements to the media.
Imran Khan, a PhD student in International Relations at JMI, allegedly spoke to a Hindi newspaper highlighting the institute's infrastructure problems. "There's a shortage of chairs in the reading room of the library. I have raised the issue thrice, submitting official complains each time. Also, there's massive water logging in the campus. Instead of taking action, I was handed over a show cause notice," says Khan.
On 22 July, the university administration issued a show cause notice to Imran for 'maligning JMI's image'.
A copy of the show cause notice accessed by Catch alleges: "Where it has been reported that you have given statement to 'Awam-e-Hind' published on 16 June 2016, that there was a shortage of chairs in Jamia Library reading room. Again as reported in 'Awam-e-Hind' on 16 July 2016, you have put allegation on Jamia Administration that Jamia hostel campus is flooded with water and administration is coolly sleeping. Such irresponsible behaviour of yours of giving misleading accounts amounts to unbecoming a Ph.D student of Jamia Millia Islamia."
Khan further alleges that his supervisor, Professor GM Shah, has been strictly warned by university VC Talat Ahmad to stop signing his research document.
When contacted, Shah admitted that Imran has been issued a show cause notice, but denied any knowledge of the university asking him to not sign research work. "There's been no written communication from the institute to stop assisting or signing his work. No, there's no reason to doubt otherwise," he told Catch.
According to institute sources, the administration is keeping a tight check on information released to the media after the Ministry of Human Resource Development sought an inquiry on VC Talat Ahmad. The VC has been accused of financial irregularities to the tune of Rs 2.39 crore along with several other accusations.
Also Read: 6 reasons Irani's MHRD wants Jamia VC probed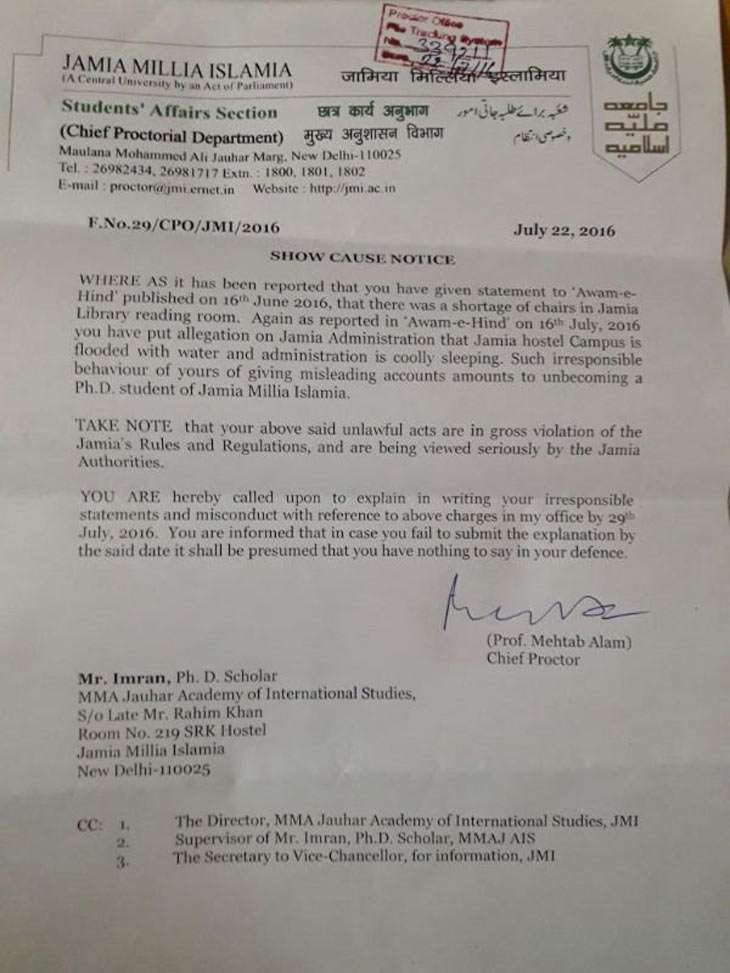 The institute spokesperson however dismissed it entire incident as a disciplinary issue. "This is a case of breach of discipline. Objections were raised against non-issues. And going to the media to discuss the same is uncalled for."
Edited by Abha Srivastava