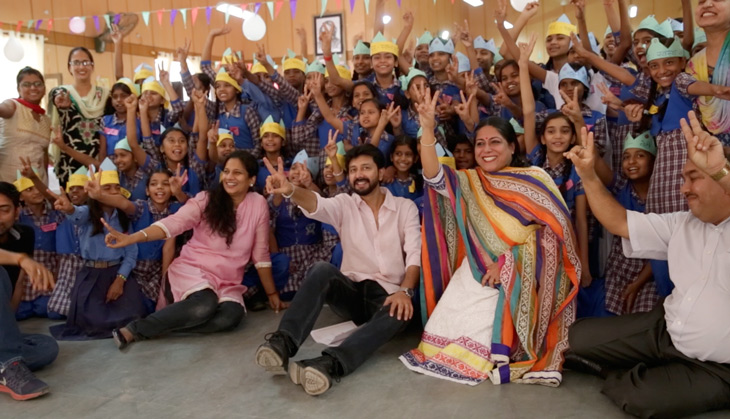 On an early May morning, 54 girls troop in through a school gate, talking animatedly, giggling at little things. They settle down in three groups in a large hall. Each group has a supervisor, asking them to pipe down, then briefing them about the day's activities.
Over the next three hours, these girls read story books, sing songs and enjoy role play-cum-theatre.
Sarvodaya Kanya Vidyalaya (SKV) in Sultanpur is one of the many government schools in Delhi conducting summer camps for the first time ever.
For many of these SKV girls, summer camp was an unheard of concept, till the beginning of 2016.
Then in May 2016, Delhi's Aam Aadmi Party (AAP) government took the initiative to organise free summer camps for all government schools in the state, much like the ones conducted by private schools, many of which charge a fee.
"For the first time, the Delhi government has introduced free summer camps for Class VI students in government schools. This is a unique initiative. The concept of summer camps was only heard of in private schools. No one's ever heard of such a thing in government schools," says Anju Chawla, principal of SKV Sultanpur.
"Not only are these kids, many of whom come from impoverished families, experiencing such fun activities, parents are also happy to send them here, getting a few hours of relief. Children at home can be quite a handful," laughs Chawla.
According to Atishi Marlena, a social activist and member of Aam Aadmi Party, "Summer camps are generally conducted by private schools. Such extra-curricular activities and activity-based learning have a high cost. But for the first time, we are providing such unprecedented access through these camps to children from government schools."
Also Read: I couldn't clear JEE Mains and my parents won't talk to me'
Meanwhile, back in the hall, a group of 10 girls start practicing a small skit in Hindi.
Arti, Rishu and Bhawna are a part of this skit.
Arti is the daughter of a gardener and a domestic help. Rishu's family irons clothes for a living while Bhawna's father is a shopkeeper. These girls are excited to perform, singing and dancing in an excited manner.
We ask, "Kaisa lag raha hai summer camp? Kya kya sikha?" (How do you feel about the summer camp? What all did you learn?)
One of the girls answers, "Maja ata hai. Acha lagta hai." (It's fun. I like it.)
The other two chip in, "Painting, singing, talking, bahut kuch hai." (Painting, singing, talking, there's more.)
Talking? How can you learn talking? We seek an explanation from the school principal.
"Most of these children are from MCD schools. In the order of hierarchy, MCD schools are at the lowest slab. Our aim is to provide basic knowledge and build confidence. Government school children never have confidence. We are trying to bond with them and teach them spoken English," says Chawla.
Explaining this, Marlena says, "MCD schools are till Class V, and then they directly come to government schools. These camps help them ease in to the new school. It builds confidence. Plus, school education is like a straitjacket. But with this initiative, students have crossed over and incorporated activity-based learning."
The primary topics of learning in the summer camps are food, air and waste management.
The AAP government has also allotted Rs 20 for snacks for each student. "In our school, we give a banana, a fruity and a packet of biscuit to each child," says Chawla, adding, "We tried to give them buttermilk instead of Fruity (which has high sugar), but none of them drank it!"
At SKV Sultanpur, 93 students of the 282 Class VI students have enrolled for the summer camp this year, she said.
She also proudly points out that due to a large number of volunteers and guest teacher participation, the teacher to student ratio is around 1:40, quite a feat by government school standards.
On regular school days, the teacher to student ration is 1:200 or more.
The Delhi government is currently trying to enroll more teachers, give proper teacher training and improve infrastructure. About 300 teachers have received training and some will even be sent abroad for the same.
"We will introduce new buildings, new toilets and improve everything - from desks to water coolers. We have also provided estate managers to help maintain sanitation and hygiene in schools," said Prasenjit Chanda, General Secretary AAP (Chattarpur Vidhansabha and SMC coordinator.
So while the heat is on, a bunch of bright young kids are actually soaking in fun in the sun!
Video by Shadab Moizee
Also Read:

AAP minister Manish Sisodia will Tweet responses to public queries every evening