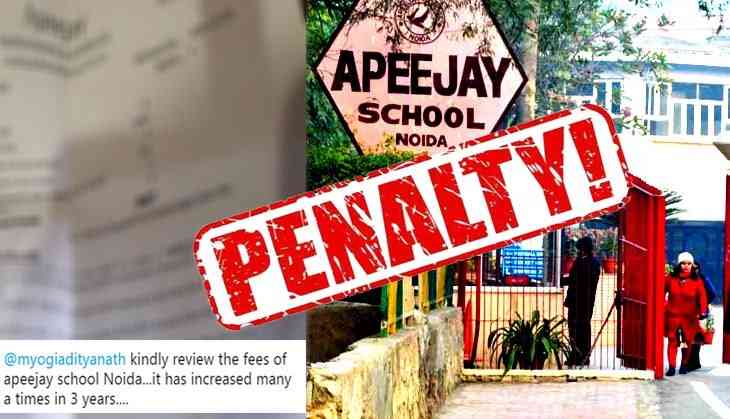 A fine of Rs 1 lakh has been imposed on Apeejay School in Noida by the District Fee Regulation Committee (DFRC) on Tuesday (19th February) after the school increased its fee abruptly in the mid-session.
The action has been taken against the school after students' parents filed the complaint against the Apeejay School in Noida's Sector 16A for increasing its fee.
However, the school has been asked to refund the excess fees, officials said.
The DFRC came into action days after it had sought an explanation from the school in the wake of a complaint filed by the All Noida School Parents' Association (ANSPA) last month about hiking the quarterly fees by nearly Rs 5,000.
However, increasing school fees abruptly is considered as a violation of the UP Self-Financed Independent Schools (Fee Regulation) Act, 2018".
Even parents and guardians took the issue about unnecessary fee hike by the school on the micro-blogging site as well.
@myogiadityanath kindly review the fees of apeejay school Noida...it has increased many a times in 3 years.... pic.twitter.com/rSgwI2hfq2

— Triveni Arora (@AroraTriveni) January 24, 2019
@myogiadityanath

Hi Sir
I am a resident of Delhi and my 4 year old child is studying in one of the reputed schools of Noida i.e. Apeejay school. He has almost completed 1 year in this school and he will be promoted to kindergarten this year. They have increased the fee by 26%

— Himanshu Verma (@Himansh76634688) February 13, 2019
@PrakashJavdekar ,@myogiadityanath What is Govt doing for education regulations,the way private schools are increasing the fees school will become privilege in coming years Example Apeejay Noida has increased the fees third time in last 2 years Govt is sitting blindfolded shame

— Vikas Verma (@vermaavikas) January 20, 2019
As per District Magistrate BN Singh, also the Chairperson of the DFRC told TOI that Apeejay School has imposed the fee hike without taking any sort of permission from the fee regulation committee. Therefore, considering it as a violation of the act, they have imposed the fine of Rs 1 lakh on the school so that other schools of Noida also learn the example from this.
Also, the school has been asked to refund the excess fees to all parents. 'We have advised a review of the existing fee structure of the school to see if it matches with the norms of the UP fee regulation act. If it doesn't, then an entire revision of the school's fee structure will be advised,' said district inspector of schools PK Upadhyay.
However, this is not the first time when the fee hike complaint against Apeejay school come to light, last year also, parents had protested against the school for increasing the fee.
@myogiadityanath Honorable Sir, please do something against Apeejay School Noida.The school has a very low teaching quality, very low infrastructure, very low ethics but a very high https://t.co/7ZBQANPjks also runs a stationery shop and a dress shop in the school which is banned

— ARNAV (@arnav_ee) September 10, 2018
@narendramodi @narendramodi @SumitVohraVR1 Please get the Apeejay School Noida regulations & fee data statistics verified and then comment. Don't get fantasized by management. 32k per quarter fees with 50 students in class for basic facilities, 27-30% increase, is this nominal?

— Uhr (@Uhr44192229) August 10, 2018
#Apeejaynoidaloot Why such a partiality with Apeejay Noida? Why Apeejay school fee in Delhi is 50% lower than Noida? No improvement on facilities. every year improvement is on fee only. What is the breakup of one time admission fee?@myogiadityanath @CMOfficeUP @ArvindKejriwal

— bhawna (@bhawna_manish) August 2, 2018
Respected Sir, kindly look into the fee system set up by Apeejay School Noida. Year on year hike by the school. 27-30%, 32,000/- is the fees for Primary Classes with 50 students in a class. https://t.co/0LVl1mUwpm

— URH (@URH29896277) August 1, 2018