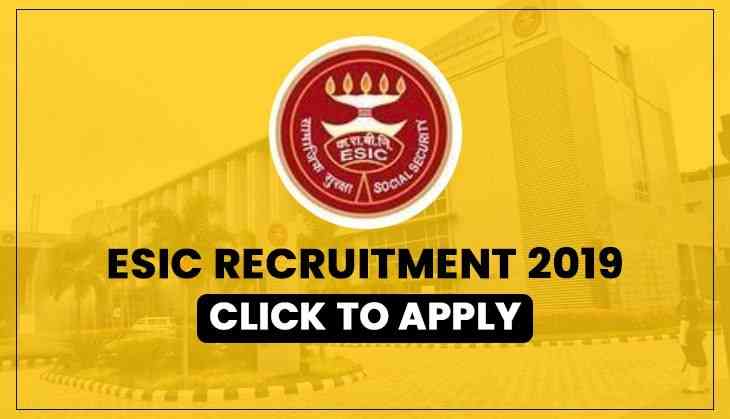 ESIC Medical College invited application forms for the recruitment of Faculty and other posts on its official website. Candidates who are interested in the vacancies will have to apply on the official website. The Employees' State Insurance Corporation (ESIC) will conduct the walk-in-interview for the selection on the various posts.
Interested and eligible candidates are advised to submit their application form on or before June 24, 2019.
These vacancies on multiple posts have released by ESIC Medical College, Hyderabad.
Applicants can check more details about vacancy released by ESIC Medical College, Hyderabad:
1. Professor, Associate Professor, Assistant Professor
2. Senior Residents (For Medical College Hospital & Super Speciality Hospital)
3. Super Specialist (Non-Teaching)/ Full Time/ Part Time Specialist
4. Junior Resident
5. Tutor
Important Dates To Remember:
Last date to apply for ESIC vacancy- 24 June 2019
Walk-in-interview will be held from June 27 to 03 August 2019
Candidates who would apply for the vacancy will have to appear for an interview on the following date:
Professor, Associate Professor, Assistant Professor-
Pathology- 28 Jun 2019
Pediatrics- 01 Jul 2019
General Medicine- 02 Jul 2019
Blood Bank- 29 Jun 2019
General Surgery- 03 Jul 2019
Psychiatry- 04 Jul 2019
TB/ Chest- 08 Jul 2019
Orthopedics- 05 Jul 2019
Community Medicine- 12 Jul 2019
Anesthesia- 09 Jul 2019
Biochemistry- 18 Jul 2019
ENT- 10 Jul 2019
Radiology- 02 Aug 2019
Dentistry- 01 Aug 2019
Senior Residents (For Medical College Hospital & Super Speciality Hospital)-
OBGY- 27 June 2019
Pediatrics- 01 Jul 2019
Ophthalmology- 16 Jul 2019
Orthopedics- 05 Jul 2019
General Surgery- 03 Jul 2019
Neurology- 06 Jul 2019
Anesthesia- 09 Jul 2019
Radiology- 02 Aug 2019
General Medicine- 02 Jul 2019
Endocrinology- 13 Jul 2019
Gastroenterology- 15 Jul 2019
Oncology (Medical)- 20 Jul 2019
ICU/MICU (Med)- 02 Jul 2019
Neonatology/ NICU (Paed.)- 01 Jul 2019
Cardiology- 03 Aug 2019
Pediatric Surgery- 26 Jul 2019
Urology- 22 Jul 2019
Neuro Surgery- 29 Jul 2019
Pediatric Critical Care- 26 Jul 2019
Nephrology- 30 Jul 2019
Super Specialist (Non-Teaching)/ Full Time/ Part Time Specialist-
CTVS/ Vascular Surgery/ Transplant Surgery- 31 Jul 2019
Gastroenterology- 15 Jul 2019
Haematology/ Hematooncology- 29 Jun 2019
Radiology- 02 Aug 2019
Psychiatry/ Neuro Psychology- 04 Jul 2019
Paediatric Surgery- 26 Jul 2019
Neurology- 06 Jul 2019
Endocrinology- 13 Jul 2019
Cardiology- 03 Aug 2019
Specialist (Non Teaching)/ Full Time/ Part Time
Pathology- 28 Jun 2019
Junior Resident-
TB/Chest- 08 Jul 2019
Dermatology- 27 Jul 2019
Orthopaedics- 05 Jul 2019
Paediatrics- 01 Jul 2019
ENT- 10 Jul 2019
OBGY- 27 Jul 2019
Ophthalmology- 16 Jul 2019
Psychiatry- 04 Jul 2019
General Medicine- 02 Jul 2019
General Surgery- 03 Jul 2019
Anaesthesia- 09 Jul 2019
Dentistry- 01 Aug 2019
Tutor-
Physiology- 11 Jul 2019
Biochemistry- 18 Jul 2019
Anatomy- 17 Jul 2019
Community Medicine- 12 Jul 2019
Microbiology- 19 Jul 2019
Pharmacology- 24 Jul 2019
Forensic Medicine- 25 Jul 2019
Pathology- 28 Jun 2019
Salary details:
Professor - Candidates who will be selected for the post will get Rs.1,77,000/- Per Month
Associate Professor - Selected aspirants will get salary of Rs.1,16,000/- Per Month
Assistant Professor - Rs.1,01,000/- Per Month