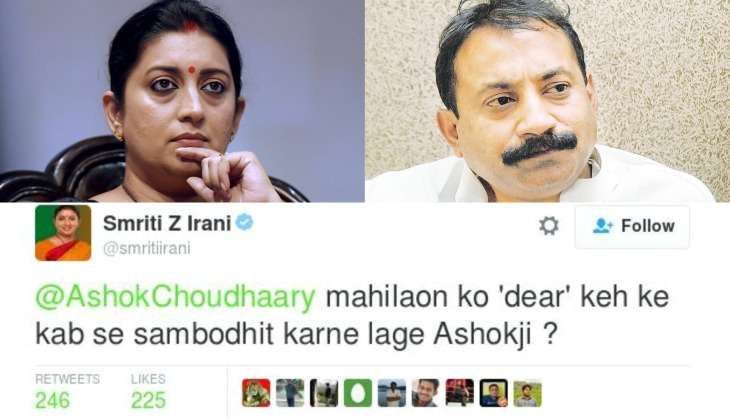 There's no denial of the fact that Human Resource Development (HRD) minister Smriti Irani has an aggressive persona on Twitter. She's quick with her responses and doesn't shy away from hitting back with words.
More often than not, opposition parties have used this against her, provoking her fierceness on Twitter.
On Monday, 14 June, this is what exactly happened between Irani and Ashok Choudhary, Minister for Education & IT, Bihar.
Choudhary started off the war of words with this tweet:
"Dear .@smritiirani ji, कभी राजनीति और भाषण से वक़्त मिले तो शिक्षा निति की तरफ भी ध्यान दें"

— Dr. Ashok Choudhary (@AshokChoudhaary) June 14, 2016
Irani's first response was witty and funny, simply asking that since when did the minister start using 'dear' to address women. She tweeted, "When did you start addressing women as 'dear', Ashokji?"
@AshokChoudhaary mahilaon ko 'dear' keh ke kab se sambodhit karne lage Ashokji ?

— Smriti Z Irani (@smritiirani) June 14, 2016
Not to be dissuaded with her light banter, the Congressman kept pestering her.
Here's why Choudhary's statements fall flat:
1. His tweet was banal and pointless and lazy and showed a clear intention to provoke the minister. What do you make of a statement that tells a union minister that she is not focusing on her work, without evidence or substantiation! And, she hammered him back with facts.
Next time he targets her, it would be a good idea to be armed with facts.
2. Choudhary, while berating a minister and mocking her over the education policy, first needs to look into his own backyard. Before asking the HRD minister to focus on education, one can question the state minister's contribution to education in his state.
Bihar Board has been shamed across the world for picking toppers who know zilch about the subjects they supposedly aced. Not to forget, the main accused in Bihar merit scam, Bachcha Rai, is still absconding!
3. In a federal structure, the state and Centre are supposed to work in tandem and not against each other. His tweet is a classic example of burning bridges. The government must remember that education is what shapes the future generation.
Also Read: Another day, another fight. Battle-ready Smriti Irani grills Bihar Congress' Ashok Choudhary