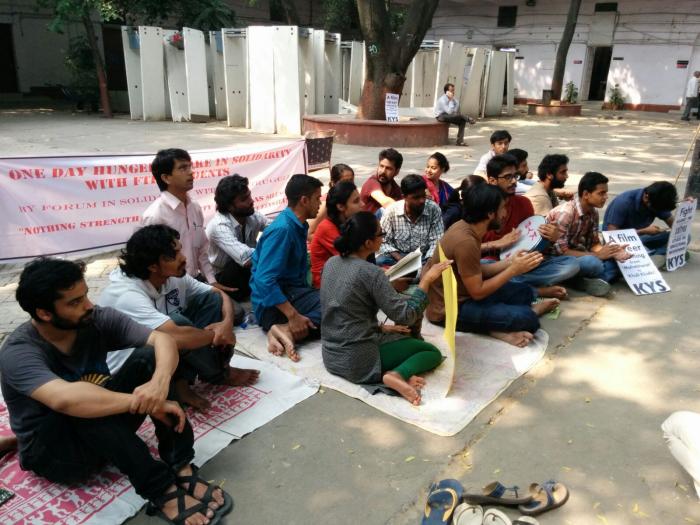 Students from various universities, on 15 September, came together to protest against appointment of Gajendra Chauhan as FTII chairman. They all joined FTII students to sit on a day-long hunger strike outside I&B Ministry's office in Delhi.
Students from FTII, Pune, Delhi University, Jawaharlal Nehru University and Jamia Millia Islamia squatted on the road outside Shastri Bhavan here which houses the I&B Ministry and were forcibly removed by the police which claimed that they had not taken prior permission for the demonstration. 12 students were detained.
"They had no prior permission to stage any sort of demonstration. The detention has been done considering law and order issues," a senior police officer said.
Sakshi Gulati, an FTII student said, "Our students are on hunger strike. Some have already been hospitalised but there has been no response from government which shows they do not care for students at all". "Arun Jaitley can tweet about Prime Minister Narendra Modi's visit to (Mark) Zuckerberg, but he cannot talk on our issue," she said.
Asked about whether the issue is being politicised, another FTII student Kislay said, "It is the government which is saffronising FTII and other institutes. We have appealed all political parties to extend their support to our cause."
Kislay said that the agitating students will hold a similar strike in Mumbai tomorrow and in Patiala on 18th of this month. "On 19th, when the agitation will enter its 100th day, nationwide protest will be held. In Delhi, the protesting students will carry out a rally from Mandi house till Jantar Mantar," he said. "We have also invited people from the artistic community in Delhi who will also participate in the rally on 19th," Kislay added.
The strike by students of the prestigious Film and Television Institute of India entered 96th day today with academic activity on the campus on a stand still since June 12 in protest against the appointment of Chauhan, a BJP member, best known for playing the role of Yudhishthir in epic TV serial Mahabharat.
(with inputs from PTI)